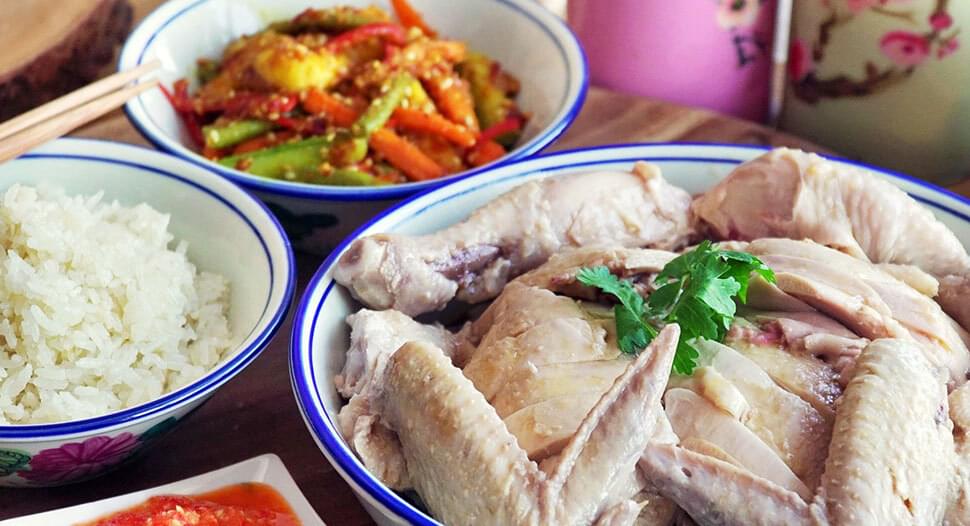 Ah Ma's Chicken Rice
Ingredients
Chicken

Chicken

1.6 kg

Spring onions

6

Bentong ginger

5 slabs

Salt

2 tsp

Water

3 l

Chicken Bouillon

cubes, no added MSG

2

Sesame oil

optional to apply on chicken after cooking

2 tbsp

Rice

Thai Hom Mali rice

450 g

Glutinous rice

50 g

Butter

2 tbsp

Shallot oil

2 tbsp

Sesame oil

2 tbsp

Bentong ginger

5 slabs

Garlic bulb

cut half cross wise

1

Salt

1⁄2 tbsp

Pandan leaves

(tied in a knot)

6

Lemongrass

(bruised)

2 stalks

Reduced chicken stock

(adjust to preference) – refer to instruction 8. under "Steps to make the chicken"

650 ml

Sauce

Light soy sauce

3 tbsp

Reduced chicken stock

– refer to instruction 8. under "Steps to make the chicken"

3 tbsp

Sesame oil

2 tbsp

Sugar

1 tsp

Chicken rice chilli sauce

Chillies

3

Chilli padis (adjust to preference)

4

Sliced ginger

30 g

Garlic bulb

5 cloves

White vinegar

2 tbsp

Reduced chicken stock

1⁄4 cup

Calamansi

(juice only)

5

Salt

to taste

Sugar

to taste

Chicken oil

(to mix in after blending) – derived from cooking the chicken stock

2 tbsp
How to cook
Steps to make the chicken
1. Rub chicken with salt on both the inside and outside.
2. Stuff spring onions and Bentong ginger slices in chicken cavity and seal up the cavity by stitching the opening with a toothpick.
3. Leave the chicken one side to let it come to room temperature.
4. Bring to boil 3 litres of water in a big pot with 2 Chicken Cubes (No Added MSG). (Alternatively, you can use 3 liters of homemade chicken stock.)
5. Add chicken feet to stock (cut feet from whole chicken).
6. Hold the chicken by its neck or hang it on a metal S-shaped hook, and bath the chicken in the boiling stock using a ladle until the skin tightens.
7. Sit chicken in the stock along with the chicken feet and bring it to boil. Cook chicken in the boiling stock for 10 minutes uncovered.
8. Turn off the heat, cover the pot and let it continue to cook with its residual heat for 40 minutes.
9. Remove chicken from pot and soak in ice bath fully.
10. Bring the stock back to boil till it is reduced to half its original amount. Set aside for later use.
11. Remove aromatics from chicken cavity and cut chicken into serving portions along with sliced cucumbers.
Steps to make the rice
1. Soak Thai rice and glutinous rice in water for 30 minutes. Strain and set aside for later use.
2. Melt butter in pan along with shallot oil.
3. Add Bentong ginger slices and garlic bulb. Stir fry until fragrant.
4. Add strained rice mixture and season with ½ tbsp salt. Stir fry until fragrant and transfer everything to a rice cooker.
5. Add 650ml of the reduced chicken stock, 2 bruised lemongrass and pandan leaves knot. Set to cook.
6. Once cooked, remove the aromatics (lemongrass, pandan leaves, ginger and garlic), fluff and loosen rice.
Steps to make the chicken sauce
1. In a bowl mix together light soy sauce, reduced chicken stock, sugar and sesame oil to drizzle over the chicken.