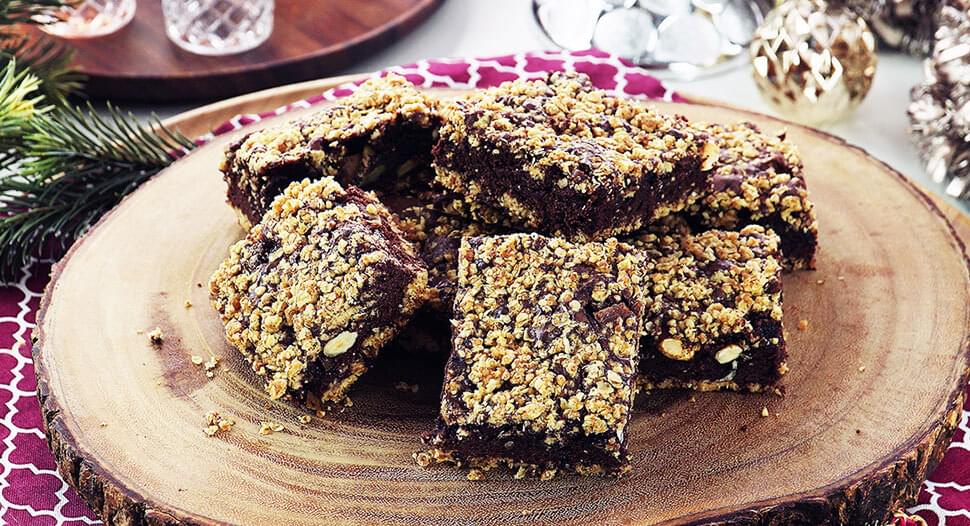 Apple & Hazelnut Oats Brownies
Ingredients
| | |
| --- | --- |
| Instant Captain Oats | 2 cups |
| Plain flour | 1⁄2 cup |
| Brown sugar | 1⁄2 cup |
| Melted unsalted butter (115g) | 1⁄2 |
| Baking powder | 1 tsp |
| Instant chocolate brownie mix | 1 box |
| Water (adjust to brownie mix requirements) | 85 ml |
| Vegetable oil (adjust to brownie mix requirements) | 50 ml |
| Egg (adjust to brownie mix requirements) | 1 |
| Green apple (cut into cubes) | 1 |
| Toasted hazelnuts | 1⁄2 cup |
How to cook
Step 1
Mix Instant Captain Oats, plain flour, brown sugar, baking powder and melted butter in a bowl and mix well.
Step 2
Layer the bottom of a 9-inch square baking tin with half the oats mixture. Bake in 180 °C for 10 minutes.
Step 3
Mix together brownie mix, water, oil and egg.
Step 4
Add chopped green apples and toasted hazelnuts to brownie mixture.
Step 5
Pour brownie mixture into baking tin. Sprinkle the remaining oats mixture on top of evenly.
Step 6
Bake in 180 °C for 25 to 30 minutes. Insert a skewer in the centre and if it comes out clean, the brownie is done.
Step 7
Set aside to cool down and cut into desired smaller squares.