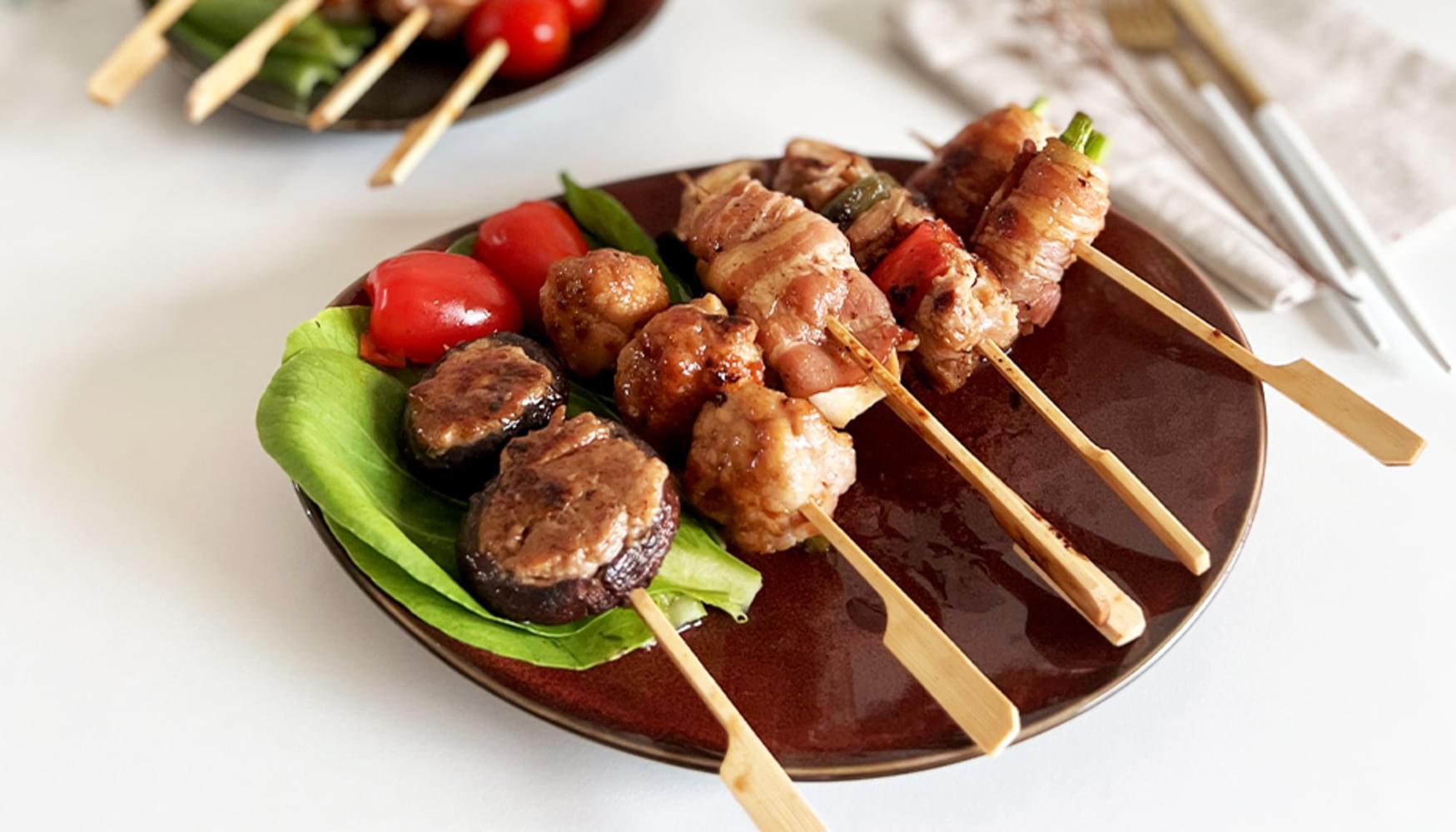 Assorted Grilled Yakitori (Japanese Skewers)
Ingredients
Chicken Thighs (cubed)

250 g

Teriyaki Sauce

1 tbsp

Ginger (grated)

20 g

FairPrice Streaky Bacon

4 slices

Red Capsicum

6 g

Green Capsicum

6 g

Thin Asparagus

10 pieces

Shiitake Mushrooms (rehydrated with stems removed)

2

King Mushrooms (sliced thinly)

2

Cherry Tomatoes

3

Vegetable oil, as needed

Bamboo skewers (soaked for 30 mins)

Yakitori Sauce

Brown Sugar

1 tbsp

FairPrice Light Soy Sauce

2 tbsp

Sake

2 tbsp

Mirin

2 tbsp
How to cook
Prepare the yakitori sauce and chicken
Prepare the yakitori sauce by combining light soy sauce, sake, mirin and brown sugar in a small bowl or cup. Set aside.
Reserve 80g of the cubed chicken thigh to mince. Marinate both in the teriyaki sauce and ginger.
Fill the cavity of the shiitake mushrooms with 1 tbsp of the marinated minced chicken.
Divide the rest of the minced chicken into six portions and shape them into even balls. Add vegetable oil to a pan on medium heat and fry until brown. Skewer the minced chicken balls onto two sticks once cooled.
Grill vegetables and skewer the remaining ingredients
Cut the red and green capsicums into small, even sizes. Wrap each of the king mushrooms in a slice of streaky bacon.
Alternate the filled shiitake mushrooms, wrapped king mushrooms, green and red capsicums on the bamboo skewers.
Brush a hot grill with vegetable oil and cook all of the skewered food until golden-brown. Pour the rest of the yakitori sauce over and enjoy!
Tried this recipe? Rate it!