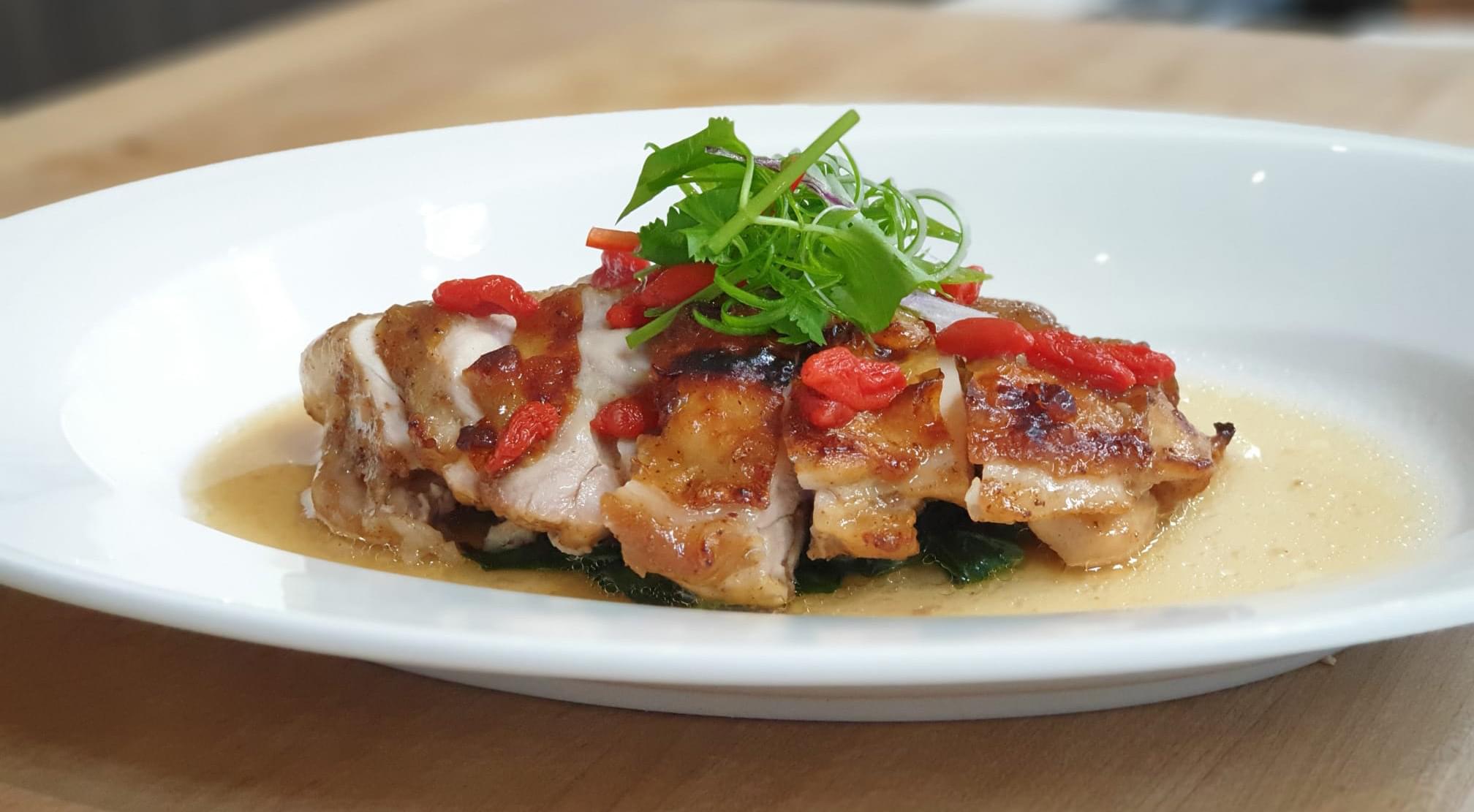 Baked Boneless Dang Gui Chicken with Wolfberries
Ingredients
Boneless Chicken Leg

500 g

Dang Gui

(toasted & pounded into powder)

1

GOLDEN CHEF Premium Oyster Sauce With Dried Scallop

1 1⁄2 tbsp

Fresh Spinach Leaves

100 g

Dried Orange Peel

(toasted & ground into powder)

1

Wolfberries

(pre-soaked in Chinese Wine)

10

Cornflour

1 tsp

Sugar

1 tsp

Cooking Oil

2 tsp

Chicken Powder

(optional)

1 tsp
How to cook
Step 1
Score the back of the chicken and set aside.
Step 2
In a large mixing bowl, add all ingredients except the chicken, spinach and wolfberries. Mix evenly.
Step 3
Add the chicken and coat evenly. Set aside and allow it to marinate for 15 minutes.
Step 4
Place the marinated chicken on greaseproof paper on a baking tray. Bake in the oven at 180 °C for 12 to 15 minutes.
Step 5
Increase the heat to 220 °C and continue to bake for 2 to 3 minutes.
Step 6
In a pot of boiling water, blanch the spinach leaves with 1 tsp of sugar, ½ tsp of salt and 1 tsp of oil.
Step 7
Place the blanched spinach leaves on a serving plate and the baked chicken on top of it. Drizzle some juice from the baking tray and garnish with soaked wolfberries.
Ready to serve.