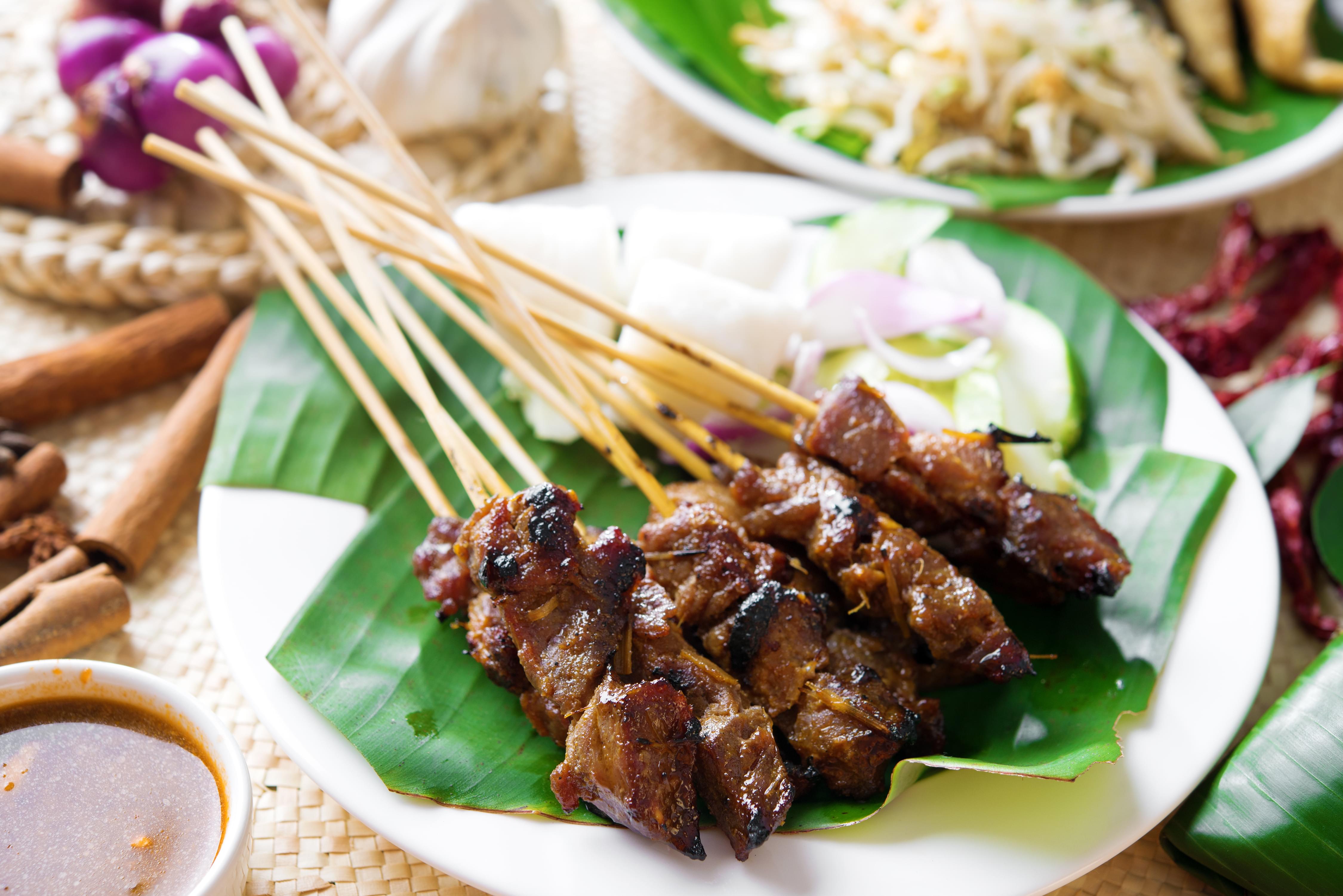 Beef Satay
Ingredients
Beef

(small cubes)

1 kg

For the Beef Marinade

Chilli Powder

1 tsp

Coriander Powder

2 tbsp

Turmeric Powder

2 tsp

Shallot

80 g

Garlic

20 g

Lemongrass (white part only)

(white part only)

4 stalks

Sugar

1⁄4 cup

Salt

1 tsp

Oil

1⁄4 cup
For the Spice Paste

Chilli Powder

1⁄3 cup

Coriander Powder

1 1⁄2 tbsp

Water

2 tbsp

Cumin Powder

3⁄4 tsp

Galangal

20 g

Garlic

20 g

Shallots

20 g

Lemongrass (white part only)

(white part only)

3 stalks

Sugar

1 1⁄2 tbsp

Salt

1⁄2 tsp

Oil

1 tbsp

For the Peanut Sauce

Oil

1⁄3 cup

Seedless Tamarind Pulp

20 g

Roasted Skinless Peanut

3⁄4 cup

Water

3⁄4 cup

Salt and Sugar for taste
How to cook
Step 1
Soak 20-30 bamboo skewers in water for at least 1 hour. This will allow the skewers to withstand the heat from grilling.
Step 2
Blend all items for the marinade and mix in the beef cubes to marinate for at least 6 hours, or best overnight.
Step 3
Blend all ingredients needed for spice paste and stir-fry on a non-stick frying pan until fragrant and the oil slightly separate from the paste. Add in tamarind juice, peanuts and water, mix well and bring it to a quick boil before turning the heat low to simmer for another 5-10mins. Season with sugar and salt for taste and set aside.
Step 4
Thread 4-6 pieces of the beef onto the bamboo skewers and grill the beef satay skewers for 2-3 minutes on each side until the meat is fully cooked and the surface is nicely charred, on both sides. Baste and brush with some oil while grilling.
Step 5
Once the beef satay is cooked, serve it with the peanut sauce, raw red onions, cucumber and ketupat.