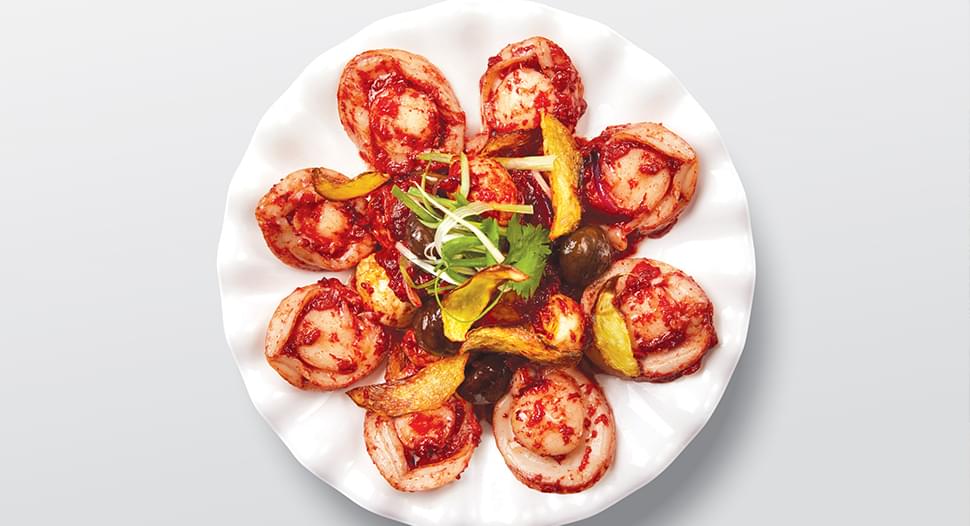 Braised Australian Baby Abalone in Red Yeast Sauce
Ingredients
| | |
| --- | --- |
| Golden Chef Australian Baby Abalone 8s | 1 can |
| Roasted chestnut | 1 packet |
| Quail eggs, hard boiled and deshelled | 12 |
| Old ginger (medium sized), sliced | 1 |
| Garlic, sliced | 2 cloves |
| Shallot, sliced | 2 |
| Soya sauce | 2 tbsp |
| Sugar | 1 tbsp |
| Rice wine | 100 ml |
| Red yeast paste | 2 tbsp |
| Chicken stock | 100 ml |
| Spring onion, sliced for garnish | 1 |
| Coriander leaves, for garnish | 1 stalk |
| Cornstarch, for thickening (optional) | |
| Canola oil | 2 tbsp |
How to cook
Step 1
Boil Golden Chef Australian Baby Abalone in can for 15 minutes. Set aside to cool before opening. Drain well.
Step 2
Fry old ginger in hot canola oil over slow fire till lightly brown.
Step 3
Remove ginger and fry the quail eggs.
Step 4
Removed the eggs, strain the oil from the wok. In the same wok, add in shallots, garlic and red yeast paste, and fry till fragrant.
Step 5
Add in rice wine to deglaze the wok, add chicken stock and all other ingredients (except abalone) and quick fry in high heat.
Step 6
Add baby abalone and toss well. Thicken with cornstarch.
Step 7
Garnish with spring onions and coriander leaves. Ready to serve.