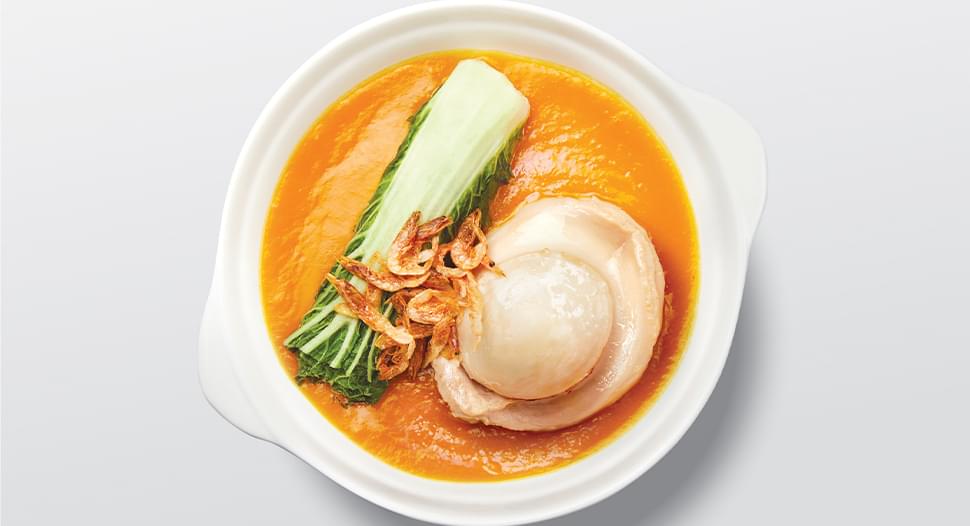 Braised Australian Premium Wild Abalone in Golden Sauce
Ingredients
| | |
| --- | --- |
| Golden Chef Australian Premium Wild Abalone | 1 can |
| Wawa cai (cut into halves) | 3 |
| Pumpkin, seeded and cut into pieces | 300 g |
| Chicken stock | 600 ml |
| Sakura prawns (dried) | 3 tbsp |
| Chicken powder | 1⁄2 tsp |
| Sugar | 1⁄2 tsp |
| Golden Chef Abalone Sauce | 1⁄2 tbsp |
| Canola oil | 1 tbsp |
How to cook
Step 1
Boil Golden Chef Australian Premium Wild Abalone in can for 15 minutes. Set aside to cool before opening. Drain well before slicing the abalone.
Step 2
Fry Sakura prawns with canola oil till crispy and set aside.
Step 3
Bring chicken stock to a boil and add in Wawa Cai to blanch until soft. Set aside.
Step 4
Add pumpkin, sugar, Golden Chef Abalone Sauce and chicken powder into the stock. Cover for 15 minutes over medium heat.
Step 5
Use a hand blender to puree the stock and pumpkin into a smooth paste.
Step 6
Pour the sauce over a deep dish and place the Wawa Cai and abalone on the sauce.
Step 7
Garnish with Sakura prawns. Ready to serve.