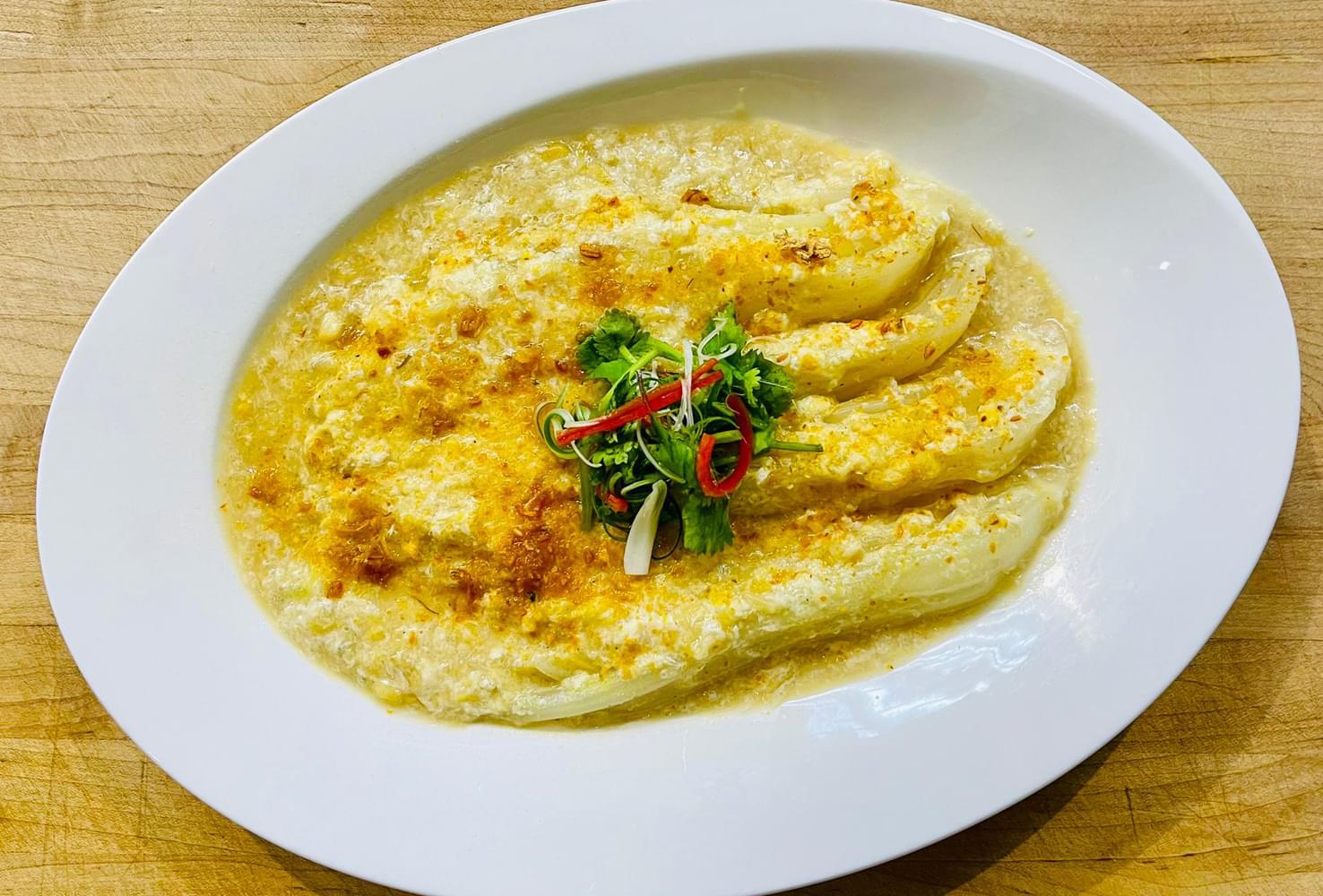 Braised Long Cabbage with Sweet Corn and Egg White Sauce
Ingredients
Long Cabbage

500 g

Fried Dried Sole Fish (break into smaller pieces)

(break into smaller pieces)

1

Fresh Eggs (separate egg white and egg yolk)

(separate egg white and egg yolk)

2

GOLDEN CHEF Premium Oyster Sauce With Dried Scallop

2 tbsp

Chicken Stock

650 ml

Corn Kernel

100 g

Ginger

3 slices

Cornstarch

1 tsp

Chicken Powder (optional)

(optional)

1 tsp

Pepper
How to cook
Step 1
Cut the long cabbage vertically into 4 parts and set aside.
Step 2
Heat up oil in a wok pan and fry sliced ginger until fragrant.
Step 3
Add dried sole fish pieces, chicken stock, long cabbage and corn kernels. Simmer over low heat until soft.
Step 4
Braise it for another 15 minutes or until cabbage is soft.
Step 5
Remove the cabbage from the stock onto a serving plate. Remove the dried sole fish and grind it into powder. Set them aside.
Step 6
Blend the remaining stock for 1 minute and pour it back into the wok pan. Bring it to a boil.
Step 7
Add chicken powder, pepper, oyster sauce and mix evenly. Thicken the stock with cornstarch.
Step 8
Whisk the egg whites and add it gradually into the sauce while continuing to stir. Cook over medium heat until the egg white is cooked evenly.
Step 9
Pour the sauce over the cabbage and garnish with dried sole fish powder. Ready to serve!