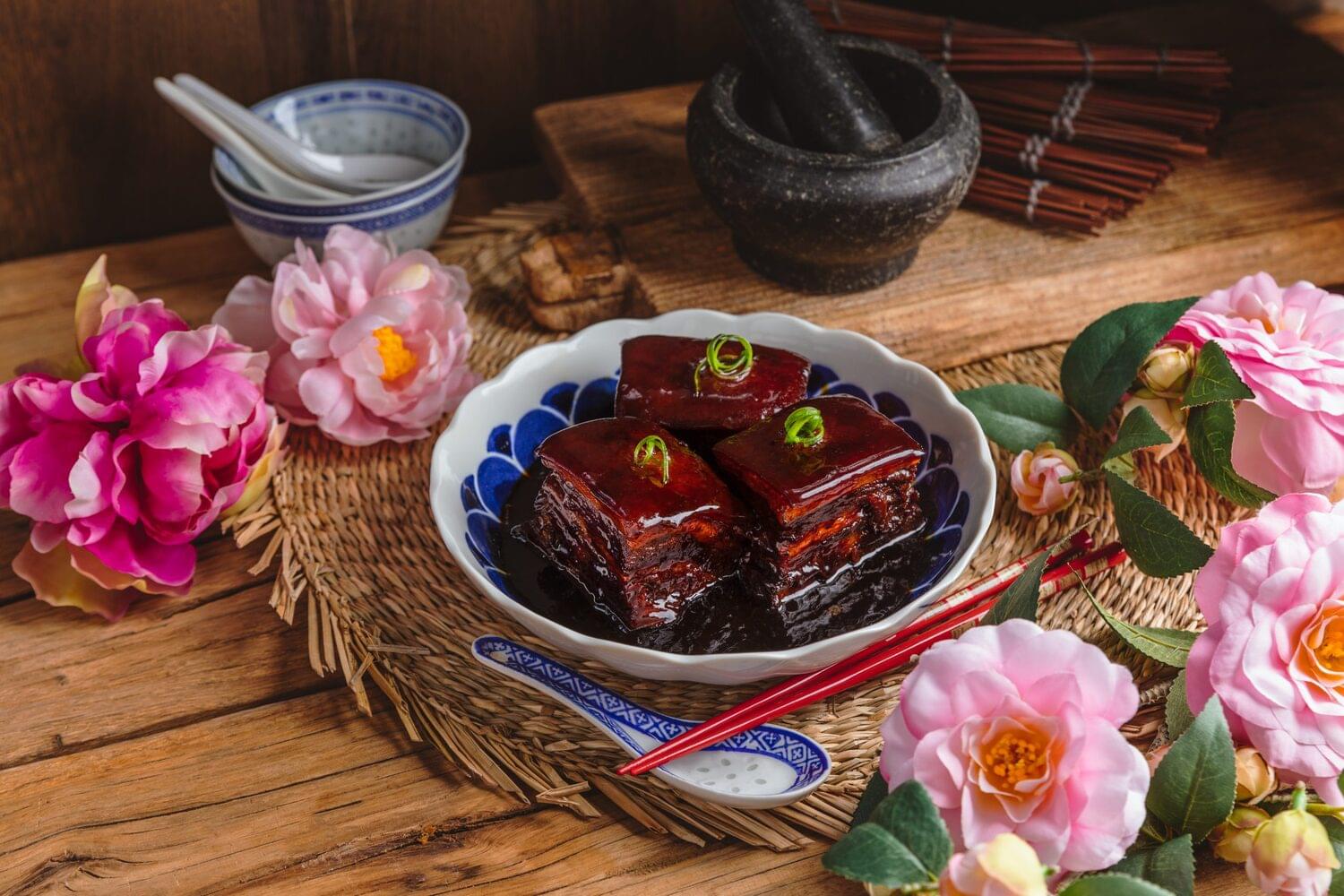 Ingredients
Tight Fitting Tray

deep enough to fit the height of the belly, but should have only 1-2 finger spacing between the pork and the tray wall.

Pork Belly

1 kg

Ginger

sliced

8

Spring Onion

each stalk cut into 3

7 stalks

Sauce

Shao Xing

2 cups

Light Soy Sauce

1 cup

Rock Sugar

to taste

125 g

Star Anise

3

Dark Soy Sauce

1⁄3 cup

Water

2⁄3 cup
Garnish (Optional)

Spring Onion
How to cook
Prepare the oven
Preheat the oven to 180°C.
Prepare the pork belly
In a pot, add the pork belly and enough water to cover the pork.
Bring to a boil over medium heat (about 10 minutes).
Remove the pork belly and let cool.
Cut each pork belly into 4-5cm cubes.
Prepare the sauce
Add the Shao Xing, light soy sauce, dark soy sauce, rock sugar, star anise and water into a pot.
Bring the mixture to a boil then reduce to a simmer until all sugar has melted.
Start cooking
Layer the scallions followed by the ginger slice on the base of the tray (to prevent the pork from sticking).
Place the pork belly cubes (skin side down) on top of the scallion and ginger layer.
Pour the hot boiling sauce over the pork belly.
Quickly cover the tray with aluminium foil and bake for 1 hour.
After 1 hour, flip the belly skin side up and continue baking for another 1 hour until tender.
Remove the pork belly carefully into a saucepan and strain the sauce over it (just enough so the sauce is just below the pork fat).
Bring to a boil and reduce to a simmer over medium-low heat.
Cook uncovered for 30 minutes, basting every 10 minutes until sauce is thickened and reduced to a third.
Garnish with spring onion (optional), serve hot.
Tried this recipe? Rate it!