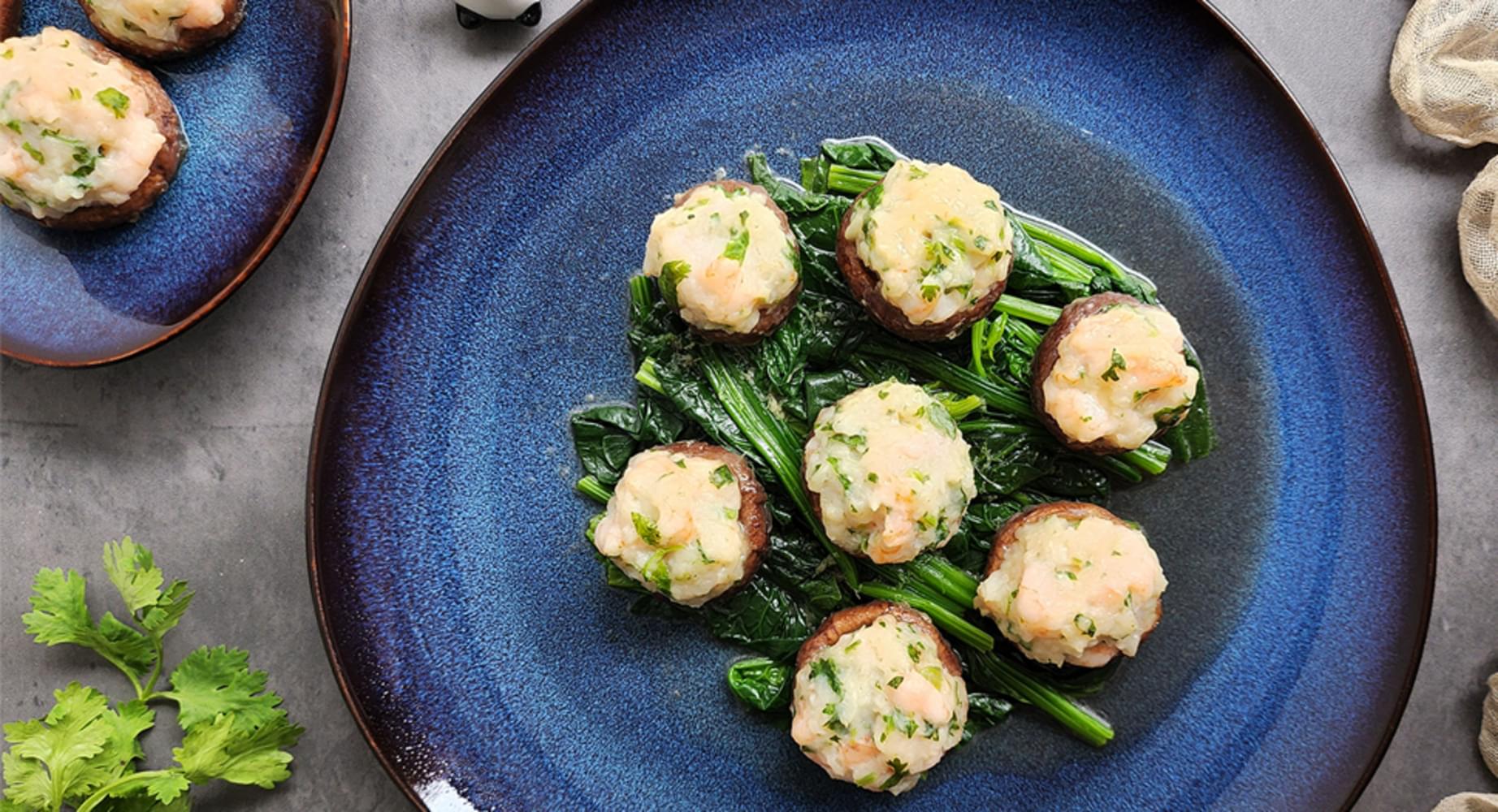 Braised Stuffed Shiitake Mushrooms with Greens
Ingredients
Shrimp Paste

150 g

Shiitake Mushrooms

150 g

Spinach

80 g

Fresh Chinese Parsley

1 bunch

Chestnuts

50 g

Ginger

grated

1 tsp

Broth

of your choice

1⁄4 cup

Salt

1 tsp

White pepper

1 dash

Marinade

Oyster Sauce

1 tbsp

Sesame Oil

2 tsp

Corn Flour

1 tbsp

White pepper

1 dash
How to cook
Prepare the mushroom caps and stuffing
Remove the mushroom stems. Marinate the mushroom caps in oyster sauce, sesame oil, corn flour, and a dash of pepper for 30 mins in the fridge.
Peel and dice the chestnuts, then chop the Chinese parsley finely. Set both aside.
Add the shrimp paste, Chinese parsley, diced chestnuts, salt and pepper in a bowl and mix well.
Blanch the spinach
Bring a pot of water to a boil. Add a few drops of cooking oil and blanch the spinach for 1 min. Remove from the pot and drain spinach in a colander. Place it under cold running water to halt the cooking process, then transfer it to the serving plate.
Use a scoop for perfectly portioned shrimp paste, and place them carefully into the marinated mushroom caps.
Boil water in a wok. Place the mushroom caps on a heat-resistant plate and rack, then cover the wok. Lower the heat and allow to steam for 8 mins.
Remove the mushroom caps from the wok once this is done and top them with the blanched spinach.
Get the broth ready
Grate some ginger (and some minced garlic if you like) and set them aside. To make the broth, heat a pan with some oil, fry grated ginger (and garlic) until fragrant before adding the broth and then finally, bringing it to a boil.
Pour the broth over the mushrooms gently. Serve hot & enjoy!
Tried this recipe? Rate it!