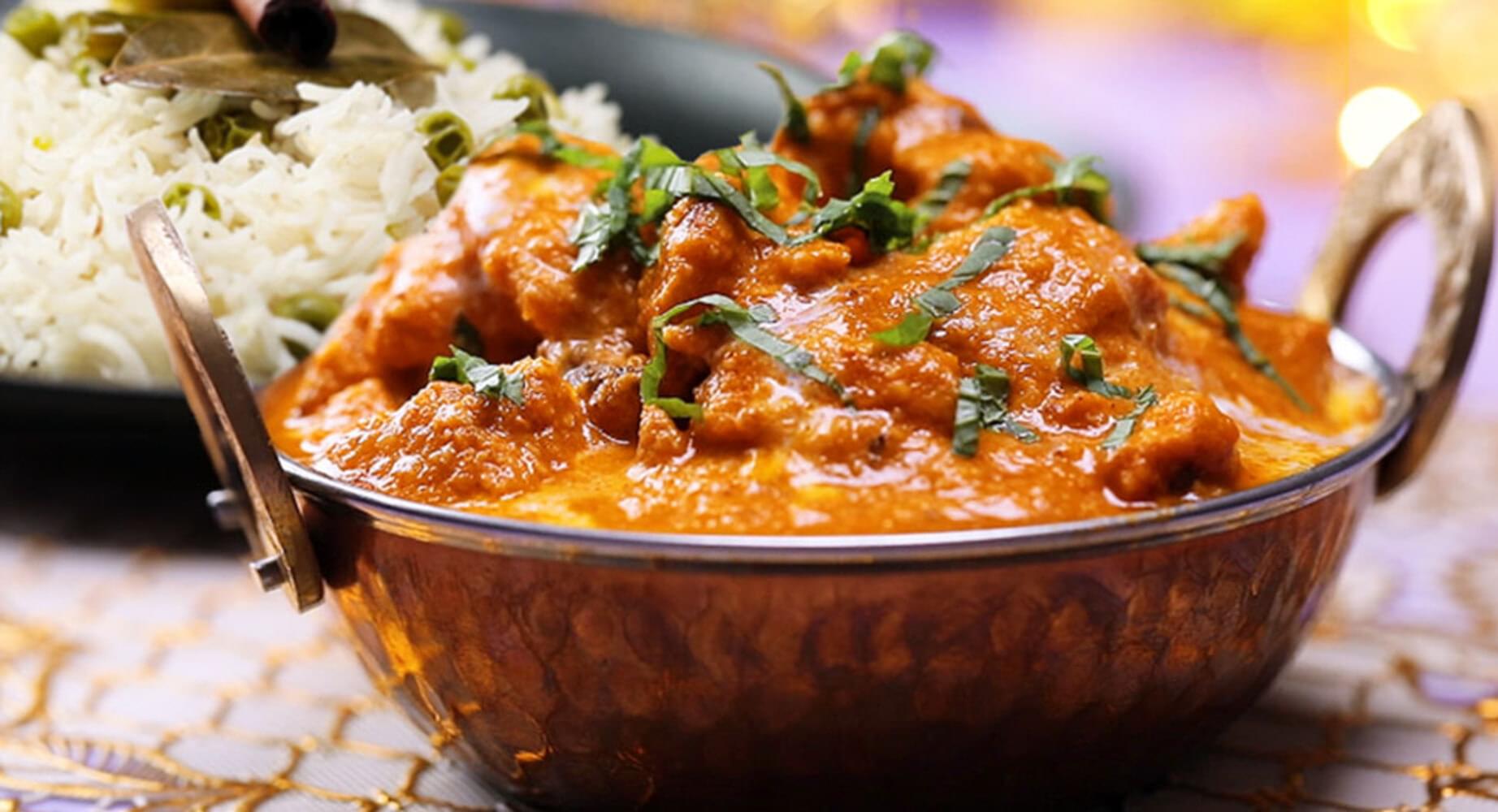 Butter Chicken Masala served with Pilaf
Ingredients
Chicken Marinade

Boneless and Skinless Chicken Thigh

400 g

Plain Greek Yoghurt

2 tbsp

Ginger

grated into ginger paste

7 g

Garlic Clove

grated into garlic paste

1

Chilli Powder

red

1 tsp

Paprika Powder

1 tsp

Salt

1⁄4 tsp
Pilaf Rice

Basmati Rice

220 g

Water

375 ml

Frozen Peas or Mixed Vegetable

optional

80 g

Green Chilli

cut into 4

20 g

Cloves

4

Bay Leaves

2

Cumin Seeds

1 tsp

Cinnamon Stick

1 inch

Star Anise

1

Oil

1 tbsp

Salt

1⁄2 tsp
Part 1 of the Masala Gravy

Oil

1 tbsp

Tomatoes

cut into wedges and halved

500 g

Red Onions

cut into wedges and halved

100 g

Baked Cashew Nuts

50 g

Unsalted Butter

15 g

Garlic

grated into garlic paste

1 clove

Paprika Powder

1 tbsp

Chilli Powder

1⁄2 tbsp

Salt

1⁄4 tsp

Water

1⁄4 cup
Part 2 of the Masala Gravy

Unsalted Butter

45 g

Cooking Cream

3 tbsp

Honey

can be replaced with 4 tablespoon of white sugar

2 tbsp

Green Cardamom

4

Bay Leaf

1

Cinnamon Stick

small

1

Cumin Powder

1⁄2 tsp
How to cook
Marinate the chicken
In a large bowl, add in the chicken, greek yogurt, red chilli powder, paprika powder, garlic paste, ginger paste, and salt.
Mix well and cling wrap the bowl.
Place the bowl in the chiller and allow it to marinate for at least 1 hour.
Prepare the rice while the chicken is marinating
Wash and soak the rice for at least 15 minutes.
Drain the water, transfer the rice into the rice cooker and add in 375ml of water.
In a pan, heat up the oil and add in all the cumin, cloves, bay leaves, cinnamon, star anise, green chilli and peas - sauté for 2 minutes until the fragrance releases.
Pour all the ingredients from the pan into the rice cooker and add in salt.
Cook the rice on "white rice" mode.
Grill the chicken
In a non-stick pan, heat up 2 tablespoon of oil.
Grill the marinated chicken for 2 minutes on each side.
Once the chicken is fully cooked, transfer to a plate and set aside.
Prepare the first part of the masala gravy
In a clean pan, cook the oil, butter and onion until the onion turns slightly brown.
Add in tomatoes, cashew nuts and grated garlic - cook till it's fragrant.
Mix in chilli powder, paprika powder, salt and water - cook for 10 minutes till the tomato and onion have softened.
Transfer the gravy mixture into a large bowl and blend the ingredients into a fine puree with a hand blender or table top blender.
Strain the gravy into another bowl.
Start cooking
In a clean frying pan, add the butter, green cardamom, bay leaf and cinnamon stick - sauté for 10 seconds.
Add the strained gravy and cumin powder - let it simmer for 5 minutes.
Add in the grilled chicken, honey and cooking cream.
Stir and let it simmer for 5-7 minutes.
Garnish it with some cream (optional) and serve it with the pilaf rice or ready-made Naan.
Tried this recipe? Rate it!