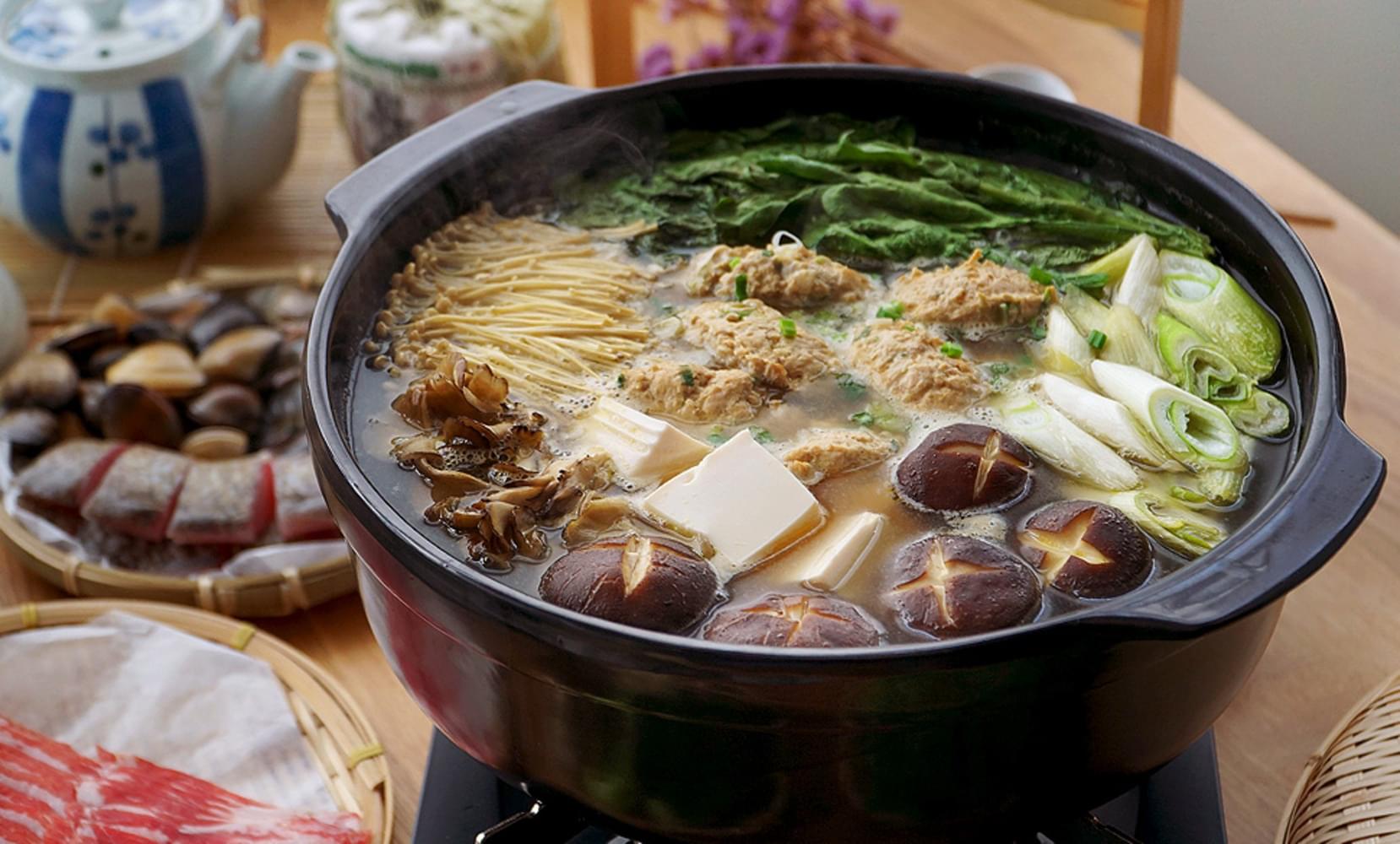 Chanko Nabe (Sumo Hot Pot)
Ingredients
To prepare chicken stock

Chicken Bones

500 g

White Onion

cut to thick slices

1

Spring Onion

4

Garlic

sliced

1

Ginger

sliced

50 g

Water

3.5 l

To prepare meatball

Minced Chicken

500 g

Egg

1

Spring Onion

chopped

3

Ginger

grated

1 tbsp

Corn Starch

2 tbsp

Sesame Oil

2 tbsp

Soy Sauce

1⁄4 cup

White Pepper Powder

3⁄4 tsp
Hotpot toppings (customised to preference)

Prawn

12

Grouper Fillet

cut into slices

500 g

Sliced Pork Belly

250 g

Daikon

2

Carrot

2

Leek

2

Shiitake Mushroom

8

Enoki Mushroom

200 g

Maitake Mushroom

200 g

Tang Oh

200 g

Xiao Bai Cai

200 g

Silken Tofu

1 packet

Dashi Miso Paste

2 tbsp
How to cook
Prepare chicken stock
Blanch chicken bones in boiling water for 5 minutes. Remove the bones and set them aside.
In a pot with water, add chicken bones, onion, garlic, ginger and spring onions.
Bring to boil and simmer for at least 2 hours.
Prepare meatballs
In a bowl, mix minced chicken with egg, sliced spring onion, grated ginger, corn starch, soy sauce and white pepper powder.
Marinate for 10 minutes.
Spoon minced chicken into meatballs.
Prepare hot pot
Lay out vegetables, mushrooms and tofu into the hot pot.
Add miso paste into the hot pot.
Pour in chicken stock and bring to a simmer.
Bring to a boil and cover for 5 minutes.
Serve with a choice of seafood, meatballs, slice meats and assorted vegetables.
Tried this recipe? Rate it!