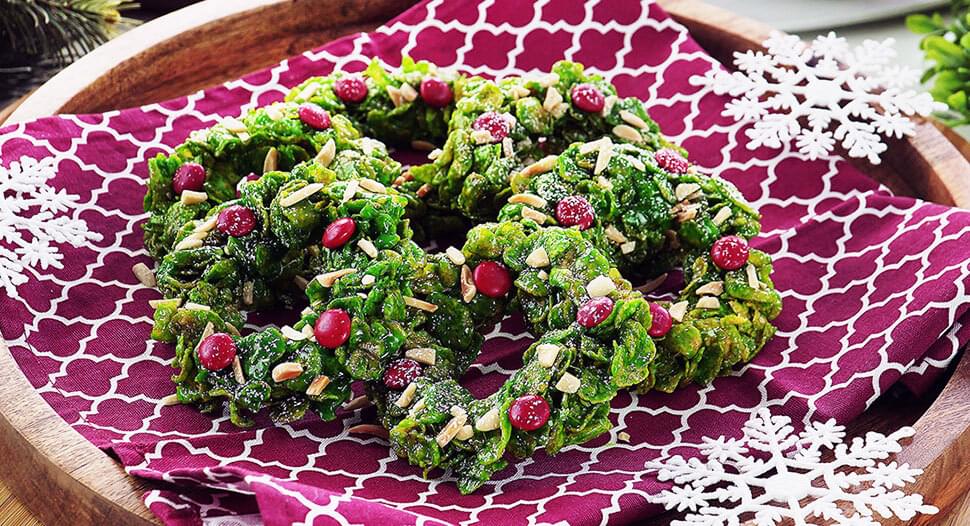 Christmas Cornflakes Wreaths
Ingredients
| | |
| --- | --- |
| Kellogg's Cornflakes | 3 cups |
| Marshmallows (150g) | 1 package |
| Unsalted butter | 50 g |
| Vanilla extract | 1 tsp |
| Green apple food coloring | 5 drops |
| Red M&M | 1⁄2 cup |
| Toasted almond shards | 1⁄2 cup |
| Icing sugar for dusting | |
How to cook
Step 1
Melt butter in a sauce pot. Add marshmallows.
Step 2
Stir on low heat until marshmallows melt completely.
Step 3
Stir in vanilla extract and green apple food colouring, mix well.
Step 4
Add Kellogg's Cornflakes and coat completely with melted marshmallows.
Step 5
Remove from heat, wet your hands and mould a portion cornflakes mixture into the shape of Christmas wreaths on a tray layout with baking paper. Make sure to pack them tightly together. The amount makes 6 wreaths.
Step 6
Decorated the wreaths with red M&M and toasted almond shards.
Step 7
Refrigerated to let wreaths set and cool down. Dust icing sugar on top before serving.