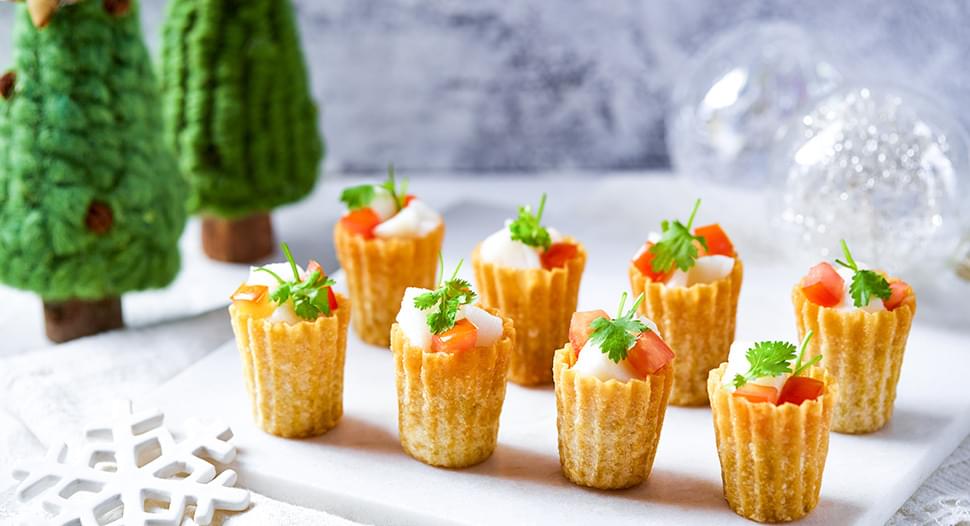 Christmas Kuih Party
Ingredients
| | |
| --- | --- |
| Ocean Fresh Delite Frozen Cod Fish | 200 g |
| Japanese cucumber, chopped | 1⁄2 |
| Extra virgin olive oil | 2 tbsp |
| Salt | 1 pinch |
| Pepper | 1 pinch |
| Lemon juice | 2 tbsp |
| Avocado, chopped | 1⁄2 |
| Tomato, chopped | 1⁄2 |
| Water | 500 ml |
| Kueh pie tee shells | 8 |
| Coriander leaves | |
How to cook
Step 1
Toss the Japanese cucumber with 1 tbsp of extra virgin olive oil in a bowl to make a cucumber mix. Season with a pinch of salt and pepper to taste.
Step 2
In another bowl, gently mix the avocado with 1 tbsp of lemon juice to make an avocado mix.
Step 3
Whisk 1 tbsp extra virgin olive oil, tomatoes and 1 tbsp of lemon juice for the dressing.
Step 4
Pour the water in a pot and place the cod fish steak in to steam for about 20 minutes.
Step 5
Remove the fish and cut into cubes, approximately 1.5cm by 1.5cm.
Step 6
For each kueh pie tee shell, add a layer of cucumber mix followed by a layer of avocado mix.
Step 7
Add the cod fish cube and drizzle with a teaspoon of dressing. Top it off with coriander leaves and it's ready to serve.