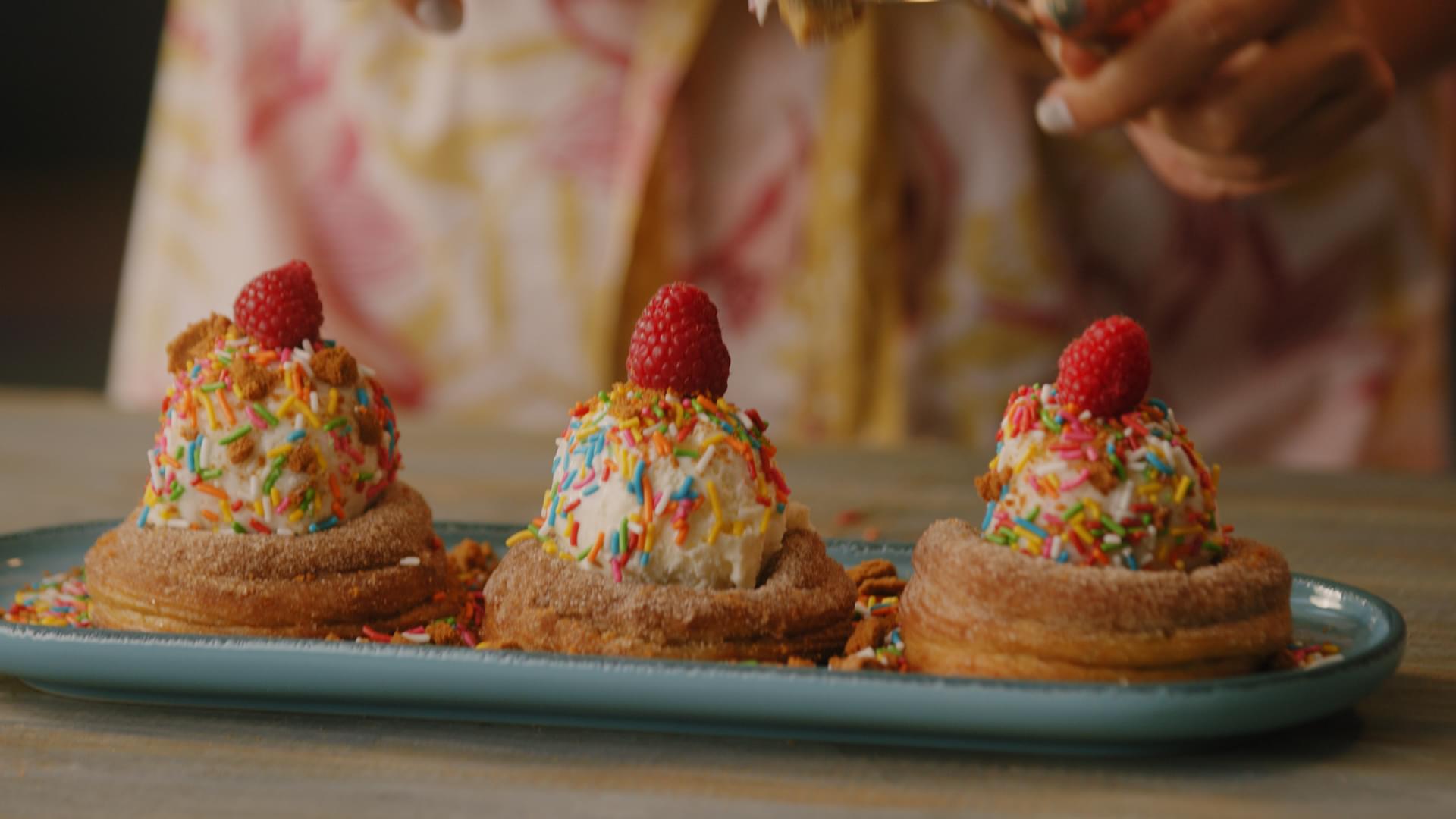 Churros Ice Cream Bowl
Ingredients
Baked Churros Batter

unsalted butter

40 g

white/brown sugar

10 g

salt

1 pinch

water

75 g

plain flour

50 g

eggs

2

vanilla extract

1 tsp

Cinnamon Coating

unsalted butter

melted

2 tbsp

white sugar

1 cup

salt

1⁄4 tsp

cinnamon powder

1 tbsp
How to cook
Step 1
Preheat the toaster oven to 200 ̊C.
Step 2
In a medium saucepan, add water, brown sugar, salt, and butter. Cook until everything is melted and dissolved.
Step 3
Once it's simmering, whisk in the flour. Stir the dough around with a wooden spoon and cook for 2 – 3 minutes on low heat.
Step 4
Remove from the heat and spread out the dough in a large bowl.
Step 5
Add vanilla extract to the beaten eggs. Gradually incorporate the beaten eggs into the dough in 6 parts. Make sure the dough is of a tacky consistency.
Step 6
Transfer the cooled dough to a pastry bag fitted with a wide-hole nozzle.
Step 7
Pipe the base of the dough into 8cm – 10cm circles. Continue piping along the rim of the dough and upwards to form a cup-like shape.
Step 8
Spray water onto the dough before baking.
Step 9
Line a baking sheet with parchment paper and bake the pastry at 200 ̊C for 20 minutes then 180 ̊C for 10 minutes.
Step 10
Let the pastry cool for 5 minutes before brushing it with melted butter. Toss it in the cinnamon and sugar mixture.
Step 11
Serve with ice cream and sprinkles.