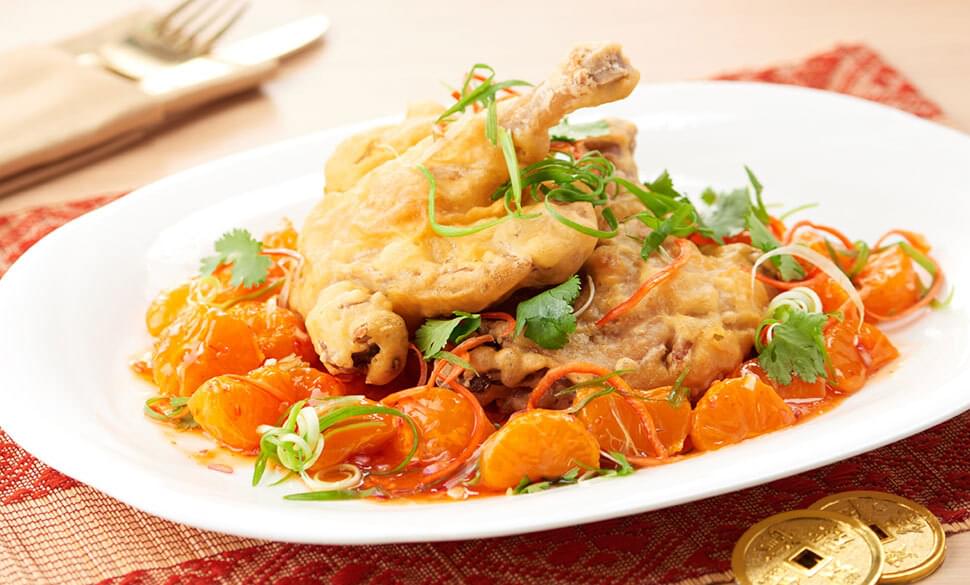 Crispy Duck Leg with Mandarin Orange
Ingredients
Knife 100% Pure Groundnut Oil

500 ml

Duck Legs

2

Mandarin Oranges (peeled slices)

2

Salt

5 g

Chicken Powder

1 tsp

stks Spring Onion

2

Ginger

1 piece

Star Anise

1

Cinnamon Stick

1

White Peppercorn

1 tsp

Hua Tiao Chiew

50 ml

Batter

Plain Flour

90 g

Baking Powder

7 g

Corn Flour

15 g

Water

125 ml

Cooking Oil

25 ml

Sauce

Sweet Chilli Sauce

1⁄4 cup

Calamansi Juice

1 tbsp

Chilli Padi (chopped)

1

Shallot (chopped)

1

Some Orange Zest
How to cook
Step 1
Poke the duck legs evenly with needle, and rub the duck leg with salt and chicken powder. Set aside for 20 mins.
Step 2
Place the duck legs on a tray and cover with spring onion, ginger, star anise, cinnamon stick, peppercorns and Hua Tiao Chiew. Steam for 40 mins.
Step 3
Mix the ingredients for the batter and set aside.
Step 4
To prepare the sauce, mix the ingredients in a large bowl with mandarin oranges and keep it preferably chilled.
Step 5
Remove the duck legs from the steamer, and set aside.
Step 6
Heat up the oil in a large pot.
Step 7
Dust the duck legs with corn flour, coat with batter, and deep fry till golden brown. Set aside on absorbent paper.
Step 8
Spread the sauce on the plate and lay the fried duck legs on top.
Step 9
Garnish with spring onions, chilli and coriander leaves, and serve.