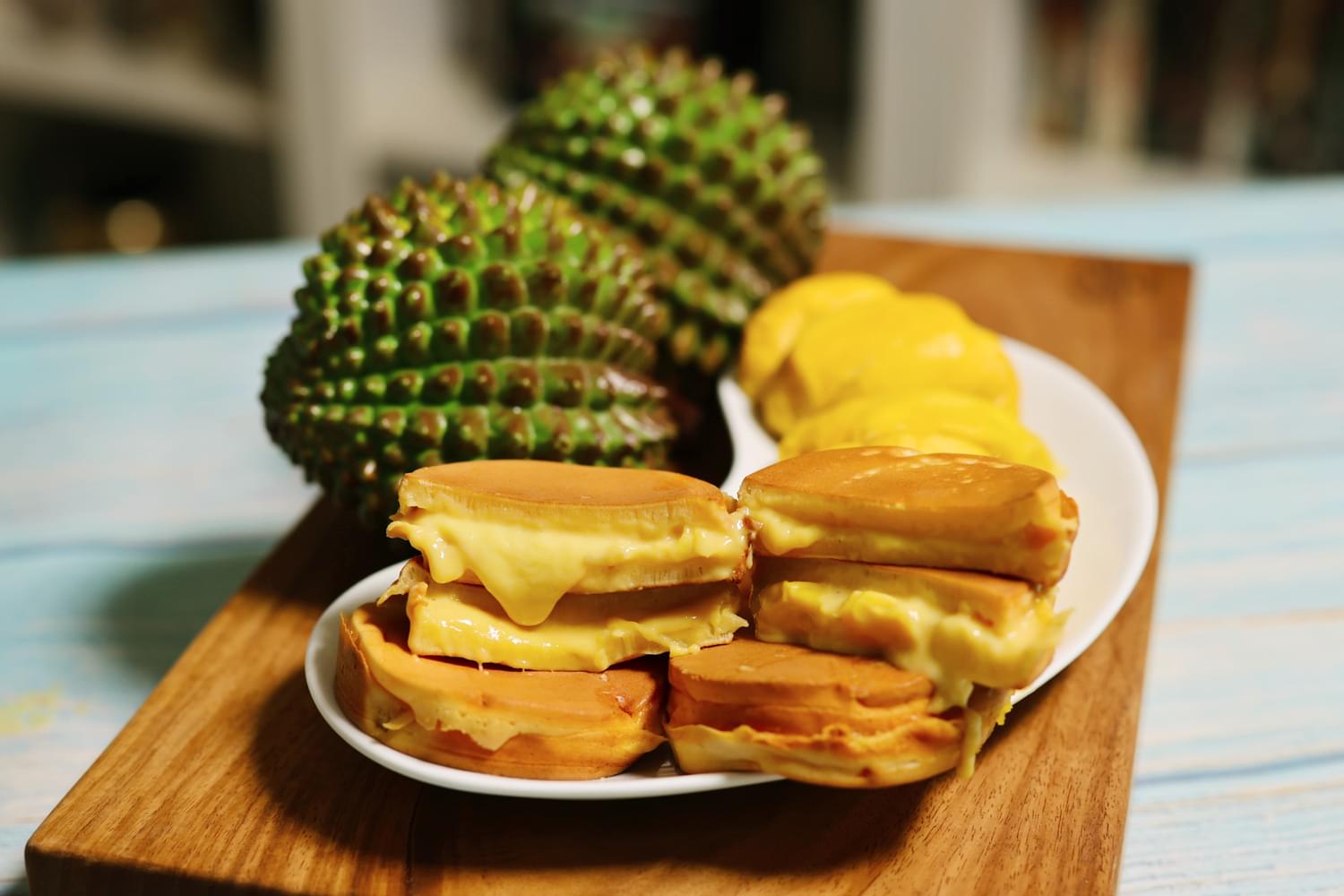 Durian Cream Pancakes
Ingredients
Pancake Batter

Cake Flour

1 1⁄2 cups

Eggs

2

FairPrice Full Cream Milk

200 ml

Granulated Sugar

7 tsp

FairPrice Fine Salt

1⁄2 tbsp

FairPrice Canola Oil

2 1⁄2 tbsp

Baking Powder

2⁄3 tsp
Durian Custard Cream

Durian Flesh

200 g

Egg Yolks

3

Granulated Sugar

1⁄3 cup

Corn Starch

2 tbsp

FairPrice Full Cream Milk

310 ml

Vanilla Extract

1⁄2 tsp
How to cook
Make the pancake batter
Mix the eggs, salt, and sugar in a bowl. Pour in the milk slowly and continue to stir until well combined.
Place dry ingredients in another bowl and mix well. Add the egg mixture and mix until there are no lumps.
Add cooking oil and keep mixing until the batter turns smooth. Set it aside in a measuring cup as this will make it easier to pour it all out during cooking later.
Make the durian custard cream
Warm the milk in a pot on low heat. Add vanilla extract and keep stirring until the sides start to form bubbles. Turn off the stove; set the warmed milk aside.
Combine the egg yolks, sugar and corn starch in a bowl. Stir until the sugar has completely dissolved or the mixture is light yellow.
Pour the warmed milk into the egg yolk mixture. Mix well, then bring it back to the stove at a low heat still.
Add the durian flesh and continue stirring so it doesn't burn. Turn off the heat once the mixture thickens into a cream. Cover it in the pot with cling wrap, then place it in the freezer.
Take the cooled custard out from the fridge and give it a stir after 20 mins.
Cook the pancakes
Heat the egg frying pan on low heat. Fill half of each slot with the pancake batter.
Raise the edges of the batter with the back of a spoon quickly. This will help to create thin, crisp edges!
Watch the edges as they brown. When bubbles start to form on the surface of the batter, start to carefully scrape the edges of the pancake with a wooden stick.
Place a spoonful of durian custard cream in the middle of a pancake. Cover with another pancake and press down lightly to form a bun.
Slowly take it out of the egg frying pan once cooked. Serve immediately!