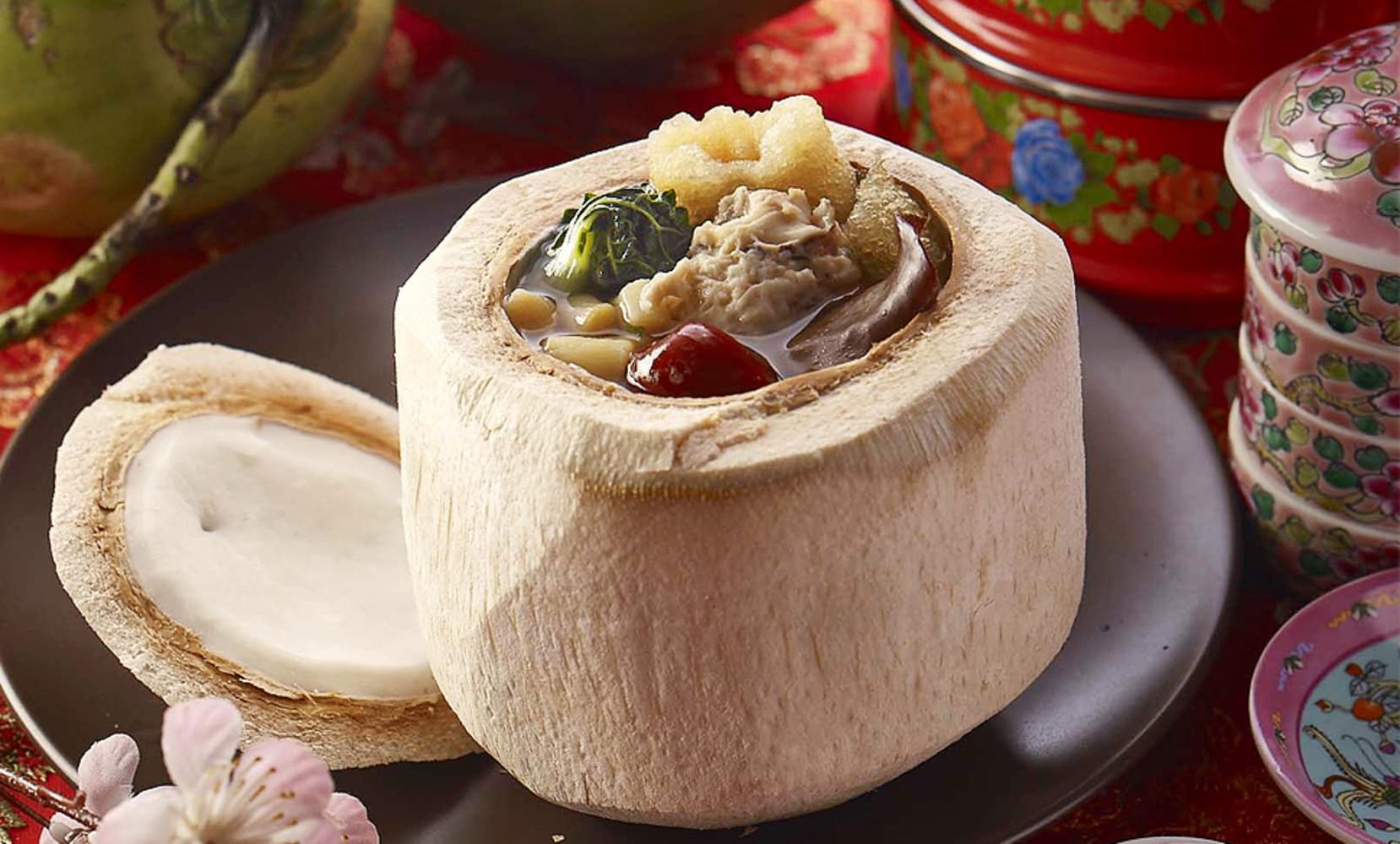 Fish Maw Soup in Young Coconut
Ingredients
Dried Fish Maw

soaked

1

Chicken Broth

750 ml

Nai Bai Vegetable

blanched

4

Young Coconuts

4

Coconut Juice

500 ml

Dried Black Fungus

soaked

8

Dried Scallops

soaked (keep the scallop water)

4

Red Dates

pitted and soaked

8

Chinese Mushrooms

soaked until soften

2

For Meatballs

Prawn Meat

minced

100 g

Chicken Meat

minced

200 g

Egg

use egg white

1

Coriander Stems

sliced

4 stalks

Tapioca Starch

1 tbsp

Sesame Oil

1 tsp

Sugar

1⁄2 tbsp

Salt

1⁄2 tsp

Ground White Pepper

1 dash
How to cook
Prepare meatballs
Mix the ingredients together and refrigerate for 10–15 mins to let it marinate.
Portion the meat into 30g balls each and set aside.
Start cooking
Bring the chicken broth and coconut juice to boil in a stockpot over high heat and simmer for 10 mins.
Blanch the Nai Bai vegetables in the stock and set them aside.
Add the soaked dried scallops, red dates, black fungus, and meatballs into the stock and bring to a boil.
Put all the ingredients into the coconut and pour enough stock into the coconut husk to submerge the ingredients.
Steam with the lid on for 25 mins.
Garnish with the Nai Bai vegetables before serving.
Tried this recipe? Rate it!