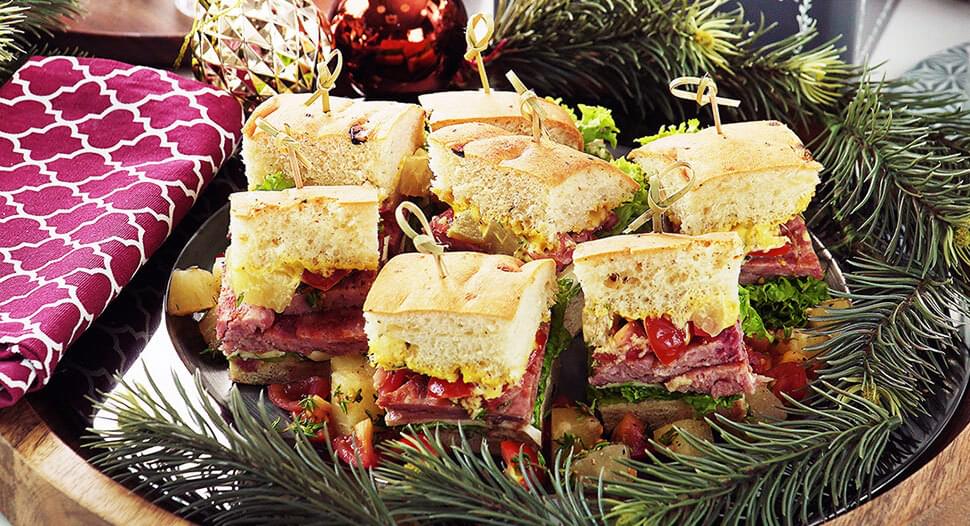 Focaccia Pork Shoulder Sliders
Ingredients
| | |
| --- | --- |
| Tulip Pork Shoulder tin (340g) | 1 |
| Focaccia (220g) | 1 loaf |
| Cherry tomatoes | 100 g |
| Pineapple chunks in syrup | 100 g |
| Apple cider vinegar | 3 tbsp |
| Fresh thyme | 10 sprigs |
| Honey mustard | 3 tbsp |
| Cheddar cheese | 3 slabs |
| Green coral lettuce | 100 g |
How to cook
Step 1
Cut cherry tomatoes and pineapple chunks into quarters.
Step 2
Add apple cider vinegar and thyme leaves from 10 springs of fresh thyme. Mix well and set the salsa aside.
Step 3
Cut Tulip Pork Shoulder into thin slices and grill on a pan until it starts to char.
Step 4
Slice focaccia loaf into half, spread honey mustard on one side of the loaf.
Step 5
Layout green coral lettuce on the loaf followed by cheese slices and grilled pork shoulder slices.
Step 6
Spoon tomato and pineapple salsa over pork shoulder slices and cover loaf.
Step 7
Cut loaf into 10 sliders and secure each with a cocktail toothpick.