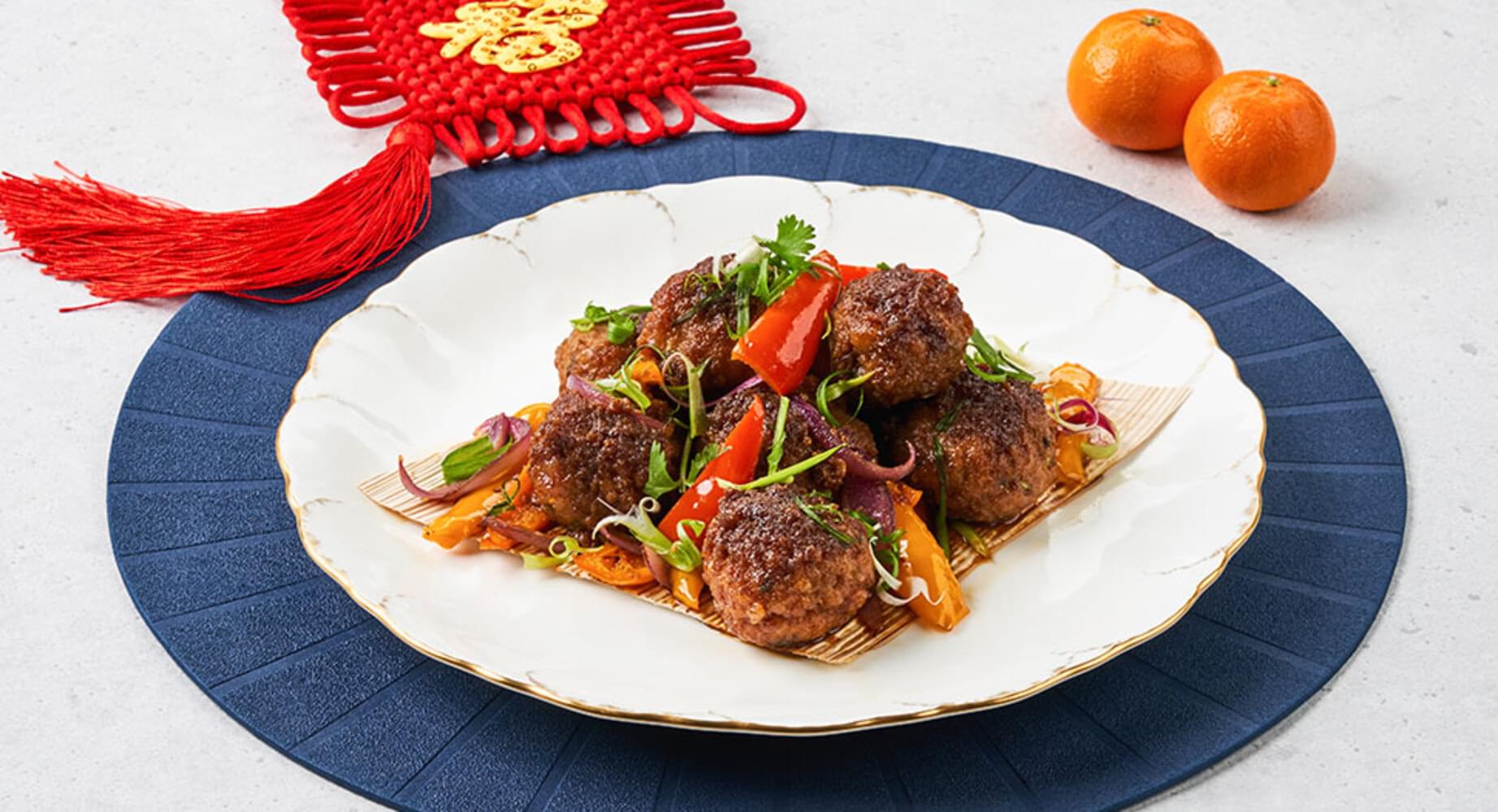 Ingredients
Frozen Sea Scallops

8

Minced Pork

200 g

Cooking Oil

400 ml

Marination for Scallops

Egg

use egg white

1⁄2

Sugar

1⁄2 tsp

Chicken Powder

1⁄2 tsp

Corn Flour

1 tsp

Marination for Minced Pork

Fresh Coriander

leaves, chopped

1 stalk

Water Chestnut

small diced

2

Corn Flour

1 tsp

Light Soy Sauce

1 tsp

Sugar

1⁄2 tsp
Garlic Ginger Soy Glaze Sauce

Garlic

minced

1

Young Ginger

thumb-size grated

1 thumb

Rice Wine

50 ml

Mirin

50 ml

Soy Sauce

50 ml

Brown Sugar

30 g

Water

50 ml

Garnishing

Onion

sliced

1⁄2

Mini Mixed Bell Peppers

rough cut

60 g

Spring Onion

curls

Fresh Coriander

leaves
How to cook
Prepare scallops & minced pork
Marinate scallops (thawed overnight) with egg white, chicken powder, sugar and cornflour. Mix well and set aside for 10 minutes.
Marinate minced pork with coriander leaves, water chestnut with light soya sauce, sugar and cornflour.
Divide the minced meat into equal portions, flatten the minced meat and dust it with cornflour so that the scallop will stick to the minced meat.
Wrap the scallop in minced meat and roll into a ball shape, and dust some cornflour on the outside of the scallop meatball.
Start cooking
Add cooking oil into the pan and fry the meatballs over medium-high heat oil until golden brown. Set aside.
Add cooking oil. Stir fry mini bell peppers and onion over high heat until golden brown and fragrant. This is for the garnishing.
To prepare the garlic ginger glazing sauce, place all the ingredients into a saucepan and bring to a boil. Simmer until reduced by half.
Add the scallop meatballs into the sauce and continue to simmer until the sauce thickens.
Serve and top with the garnishing (stir-fried bell peppers and onion, spring onion curls and coriander leaves).
Tried this recipe? Rate it!