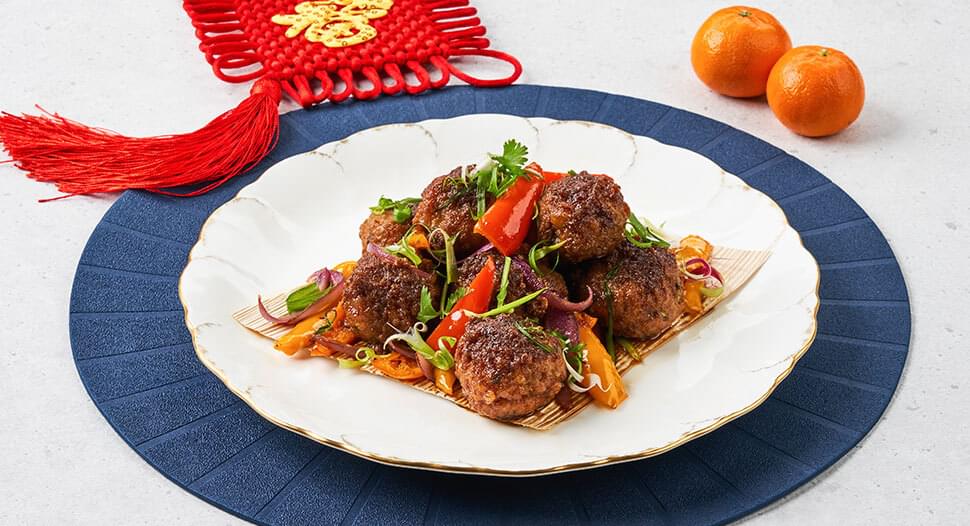 Glazed Scallop Meatballs
Ingredients
Fukuyama Frozen Hokkaido Scallops

8

Minced Pork

200 g

Cooking Oil

400 ml

Marination for Scallops

Egg White

1⁄2

Sugar

1⁄2 tsp

Chicken Powder

1⁄2 tsp

Corn Flour

1 tsp

Marination for Minced Pork

Fresh Coriander

leaves, chopped

1 stalk

Water Chestnut (Small Diced)

2

Light Soy Sauce

1 tsp

Sugar

1⁄2 tsp

Corn Flour

1 tsp

Garlic Ginger Soy Glaze Sauce

Garlic bulb (Minced)

1

Young Ginger

Thumb-size Grated

1 thumb

Rice Wine

50 ml

Mirin

50 ml

Japanese Soy Sauce

50 ml

Brown Sugar

30 g

Water

50 ml

Garnishing

Red Onion (Sliced)

1⁄2

Mini Mixed Bell Peppers (Rough Cut)

60 g

Spring Onion Curls

Fresh Coriander

leaves
How to cook
Step 1
Marinate scallops (thawed overnight) with ½ egg white, ½ tsp chicken powder, ½ tsp sugar, and 1 tsp cornflour. Mix well and set aside for 10 minutes.
Step 2
Slice red onion and cut mini bell peppers.
Step 3
Marinate minced pork with coriander leaves, water chestnut with 1 tsp of light soya sauce, ½ tsp of sugar and 1 tsp of cornflour.
Step 4
Divide the minced meat into 8 portions, flatten the minced meat and dust it with cornflour so that the scallop will stick to the minced meat.
Step 5
Wrap the scallop in minced meat and roll into a ball shape, and dust some cornflour at the outside of the scallop meatball.
Step 6
Add 400ml of cooking oil into the pan and fry the meatballs over medium high heat oil until golden brown. Set aside.
Step 7
Add 1 tbsp of cooking oil. Stir fry mini bell peppers and onion over high heat until golden brown and fragrant. This is for the garnishing.
Step 8
To prepare the garlic ginger glazing sauce, place all the ingredients into a sauce pan and bring to boil. Simmer until reduced by half.
Step 9
Add the scallop meatballs into the sauce and continue to simmer until the sauce thickens.
Step 10
Serve and top with the garnishing (stir-fried bell peppers and red onion, spring onion curls and coriander leaves).