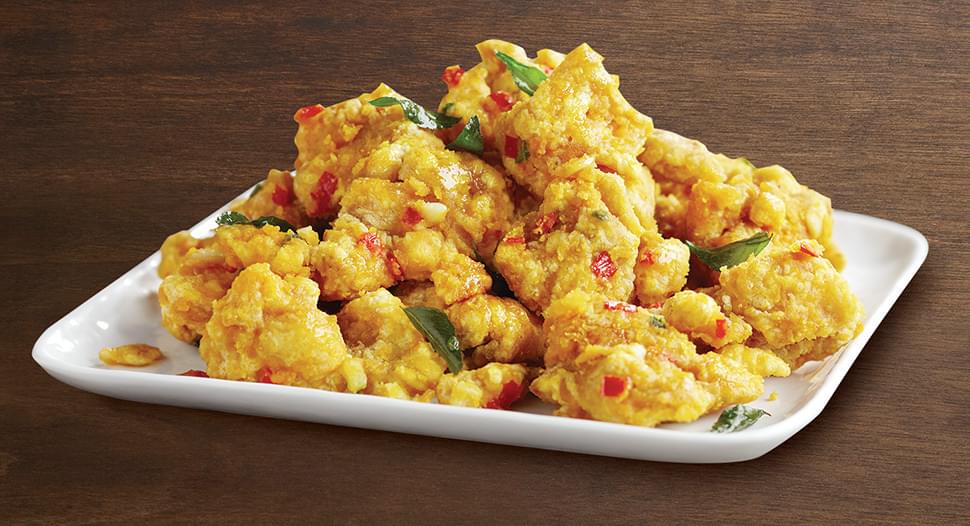 Golden Chicken Ingot
Ingredients
Chicken thigh (cubed)

250 g

Ginger juice

2 tbsp

salt

1 dash

white pepper

1 dash

Egg yolk lightly beaten

1

Corn flour

2 tbsp

Potato flour

1 tbsp

Oil for deep-frying

500 ml

Salted Egg Sauce

Oil

1⁄4 cup

Garlic

2 tsp

Sugar

1 tbsp

Red Chilli chopped

1

Curry leaves

1⁄4 cup

Knorr Salted Egg Powder

3⁄8 cup
How to cook
Step 1
Marinate chicken with ginger juice, salt, pepper and egg yolk for 15 mins. Coat meat with corn flour and potato flour evenly.
Step 2
Deep fry chicken until meat is about 80% cooked. Remove from oil and let it rest for 5 minutes.
Step 3
Meanwhile, saute garlic and sugar until sugar is lightly caramelised. Add red chilli and curry leaves.
Step 4
Refry meat until it turn golden brown. Drain oil completely and toss it into salted egg mixture and five a thorough toss.