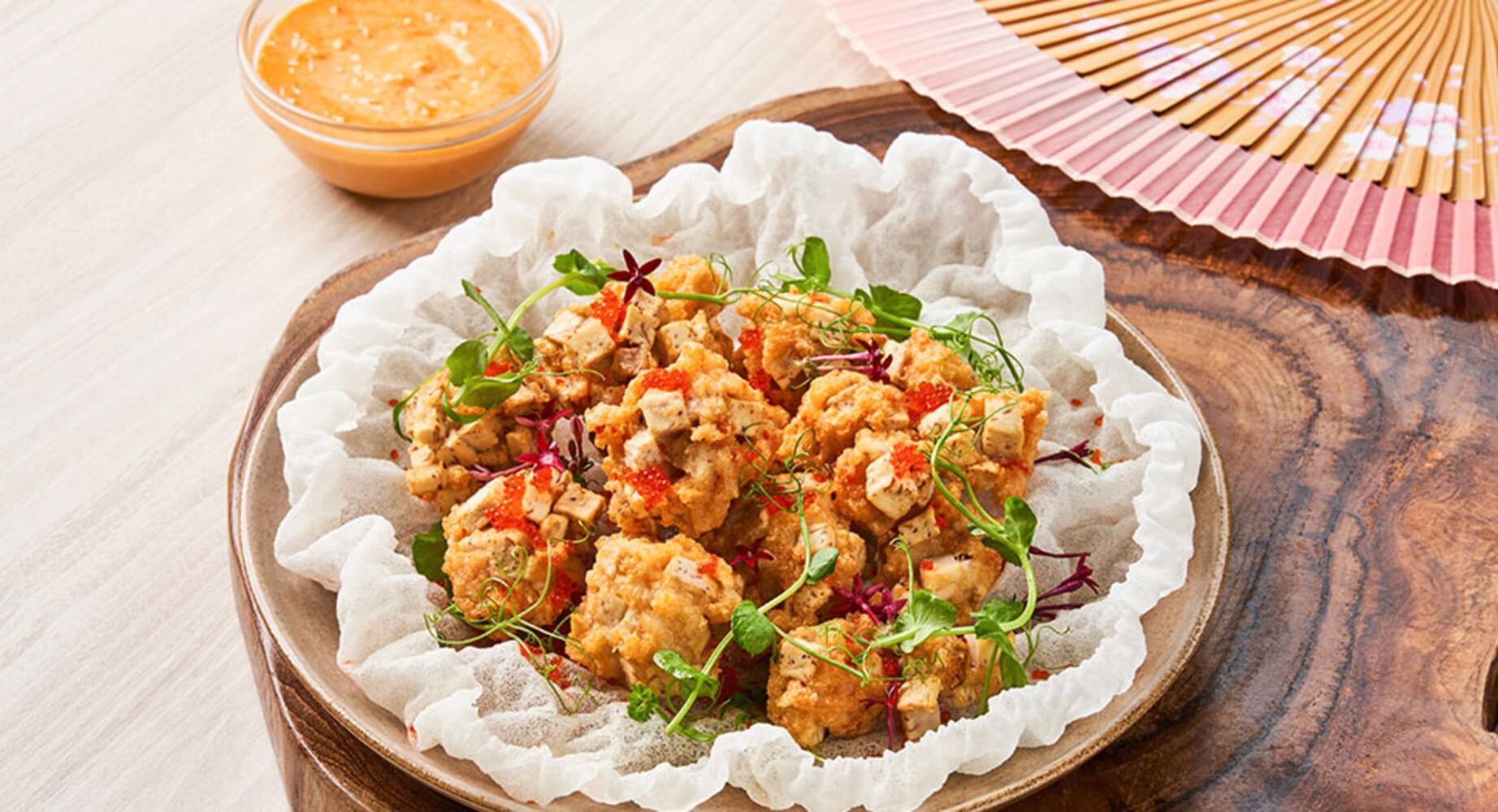 Golden Pearls In A Nest
Ingredients
Knife Brand 100% Pure Groundnut Oil

1 l

Golden Pearl (Yam Ball)

Yam (Small Diced)

300 g

Minced Prawn

200 g

Vietnamese Rice Paper

1

Marination for Yam & Prawns

Salt

1 tsp

Sugar

1 tsp

Corn Flour

2 tsp

Egg Yolk

1

Dipping Sauce

Thousand Island Sauce

200 g

Salted Egg Yolk

cooked & mashed

2

Curry Powder

1⁄2 tsp

Lemon Juice

1 tsp

Garnishing

Tobiko

2 tsp

Edible Flowers

Micro Cress

(purchase in-store)
How to cook
Step 1
Heat up 1 litre of Knife Brand 100% Pure Groundnut Oil in a deep pot up to 170°C.
Step 2
To prepare the dip – Mix the Thousand Island dressing with cooked salted egg yolk, curry powder and lemon juice. Set aside.
Step 3
Cut the yam into small dice and set aside.
Step 4
Slice the prawns into half and smash with the back of a clever to make into prawn paste.
Step 5
Add the prawn paste to the yam. Marinate with salt, sugar, cornflour and 1 egg yolk. Combine well. Then portion into 15 yam balls.
Step 6
Deep fry Vietnamese rice paper at 210°C (for the "nest"). Set aside.
Step 7
Deep fry yam balls at 170°C or lower about 165°C (medium high heat) until golden brown. Place the golden pearls on the crispy rice paper nest.
Step 8
Garnish with tobiko, edible flowers and micro cress and serve it with the dip.