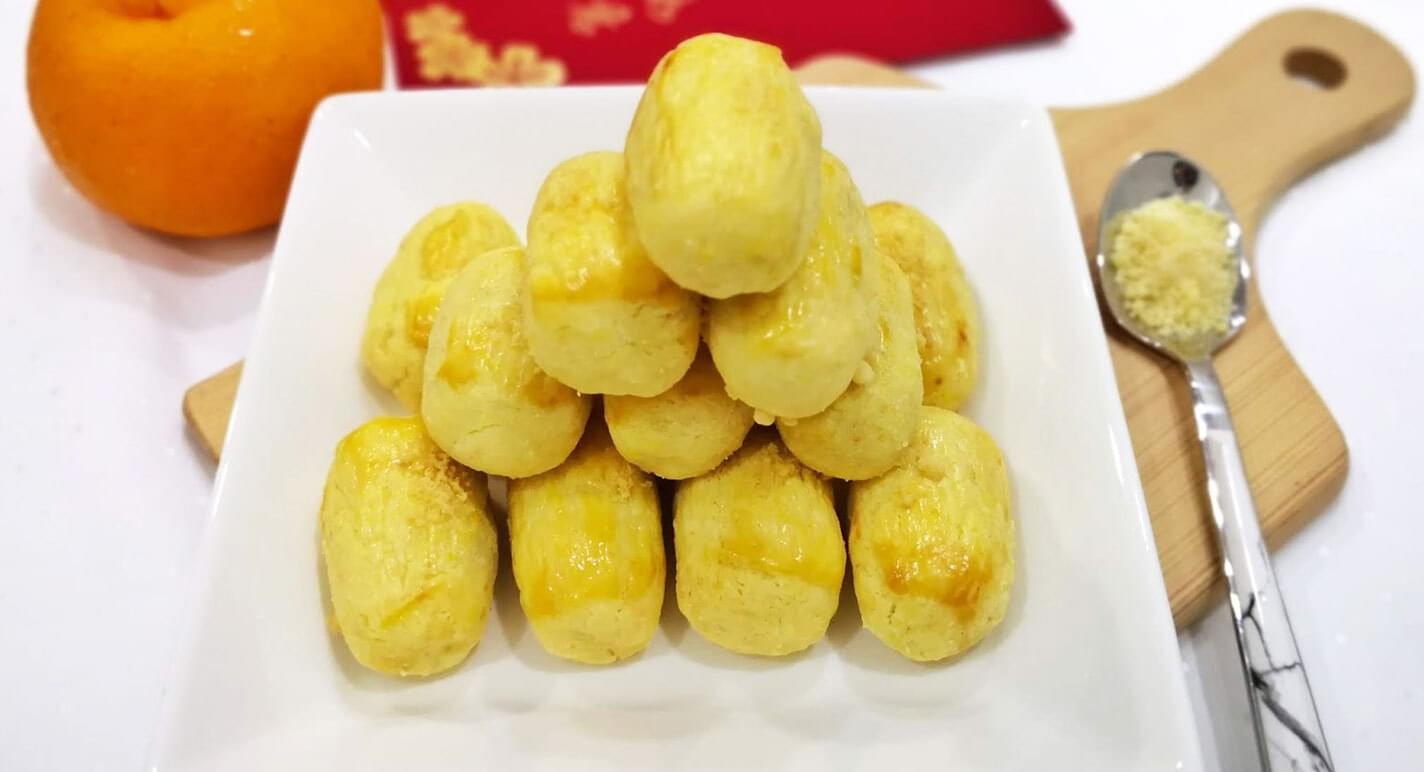 Golden Pillow Cheese Pineapple Tarts
Ingredients
Tart crust

Cake/Top Flour

155 g

Icing Sugar

15 g

Custard Powder

20 g

Parmesan Cheese finely grated

20 g

Salt

1 pinch

Butter, cold and unsalted

100 g

Wet Ingredients

Egg Yolk, beaten

1

Cold Water

or Milk

2 tsp

Egg wash

Egg Yolk, beaten

1

Milk

1 tsp

Oil

1⁄4 tsp
Filling

Pineapple Jam, ready-made

225 g
How to cook
Step 1
Sieve all the Dry ingredients, except the butter, into a cold mixing bowl.
Step 2
Add the cold butter and gently rub the butter onto the flour until the texture become like fine breadcrumbs. Take care not to overwork the dough.
Step 3
Add the egg yolk and gently knead to form the dough. To bind the dough, add a little cold water/ milk (bit by bit) until you get the desired texture.
Step 4
Divide the dough into 2 portions. Wrap in 2 cling-wrap batches and chill for at least 30 min till they become firm.
Step 5
Meanwhile, prepare the pineapple jam. Taking out the required amount from the ready-made pack, roll the pineapple jam into balls of 7g each.
Step 6
Preheat the airfryer at 145 degrees for 5 min.
Step 7
By now, the dough should be firm enough and ready. Roll into balls of 10g each.
Step 8
Roll each ball out flat and wrap the pineapple jam balls inside.
Step 9
Brush a layer of egg wash and top it off with some parmesan cheese.
Step 10
Bake the pineapple tarts at 145 degrees for 14 min. If you like it more golden-brown, continue for another 2 to 3 min.
Step 11
Cool the pineapple tarts well before storing in an airtight container. Enjoy!