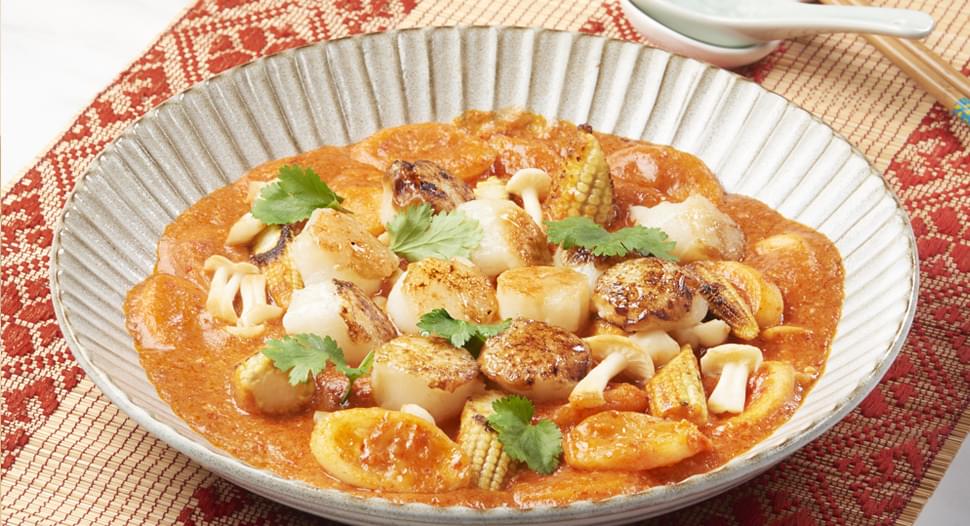 Golden Spicy Scallops
Ingredients
Fukuyama Frozen Hokkaido Scallops (seasoned with corn flour and salt)

12

Rice cake slices

130 g

Shimeji mushrooms

30 g

Baby corn (cut into chunks)

40 g

Salt

1 pinch

Cooking oil

for rice cakes

3 tbsp

Cooking oil

for mushrooms

1⁄2 tbsp

Cooking oil

for baby corn

1⁄2 tbsp

Coriander

for garnish

Spicy Sauce

Garlic (sliced)

3 cloves

Tomato sauce

1⁄3 cup

Chilli paste

1 tbsp

Miso paste

1 tbsp

Water

250 ml

Sugar

2 tbsp

Eggs (beaten)

2

Cooking oil

1⁄2 tbsp
How to cook
Step 1
Pan-fry rice cake slices in oil till crisp on the sides over high heat. Set aside.
Step 2
Season scallops with corn flour and salt.
Step 3
Pour away excess oil from pan and fry scallops on each side for 3 mins till golden brown. Set aside scallops and the juice from frying scallops for use later.
Step 4
Add oil and fry Shimeji mushrooms till brown. Set aside.
Step 5
Add oil and fry baby corn. Add a pinch of salt and fry till slightly charred. Set aside.
Step 6
Prepare Spicy Sauce by heating oil and sautéing sliced garlic. Add chilli paste, juice from frying scallops, water, miso paste, sugar and tomato sauce. Bring sauce to a boil.
Step 7
Add fried rice cakes and cook till rice cakes are soft.
Step 8
Slowly add beaten eggs into the sauce mixture till thickened.
Step 9
Place rice cakes and vegetables in a deep dish. Ladle in a portion of spicy sauce, then arrange scallops on top and ladle in the remainder of the sauce over scallops.
Step 10
Garnish with coriander leaves.