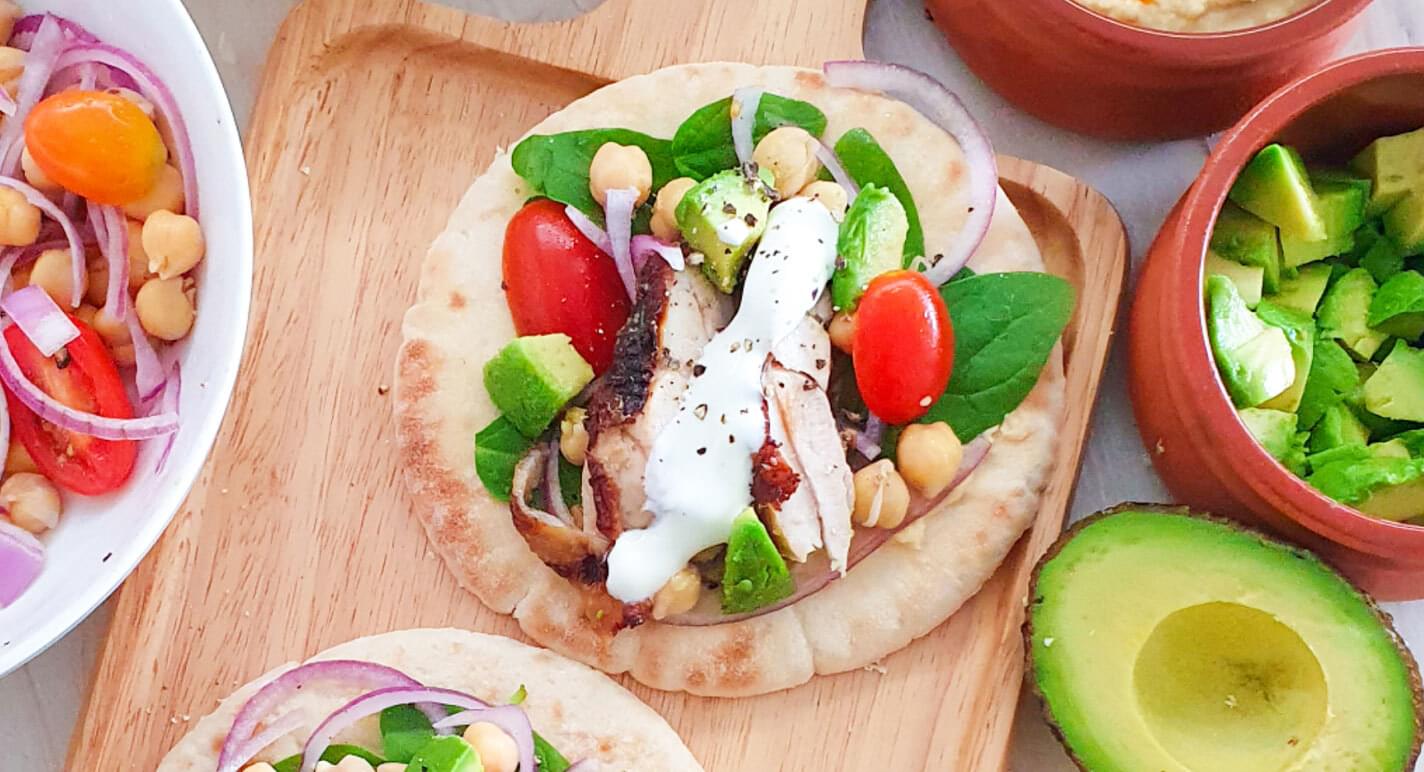 Grilled Chicken Pita
Ingredients
For Hummus

Cooked Chickpea/Garbanzo Beans

1 can

Lemon Juice

60 ml

Tahini

60 ml

Extra Virgin Olive Oil

30 ml

Water

30 ml

Garlic

1 clove

Salt

1 tsp

Paprika Powder

1 dash

For Grilled Chicken

Boneless, Skinless Chicken Breast OR Boneless Chicken Thigh

2

Mayonnaise

1⁄2 cup

Garlic

minced

1 tbsp

Mixed Herbs

2 tsp

Salt

1 tsp

Black Pepper

1 tsp

For Pita Filling

Pita Bread

1 packet

small Red Onion (Sliced Thinly)

1⁄2

small Avocado (Diced)

1

Baby Spinach

1 cup

Cherry Tomatoes (Sliced into halves)

1 cup

Cooked Chickpea/Garbanzo Beans

1 cup

Extra Virgin Olive Oil

1 tbsp

Black Pepper

1 tsp

Greek Yoghurt

1 cup

small Lemon

1
How to cook
Step 1
Combine all ingredients for grilled chicken and marinate for 2 hours or overnight.
Step 2
Grill on high heat for 6-8 mins on each side then set aside for 5 mins before slicing them to thick slices.
Step 3
Combine all ingredients for hummus in a food processor and blend till it becomes a fine paste.
Adjust the consistency with the amount of water and adjust the spiciness with the amount of paprika powder.
Step 4
In a mixing bowl, combine sliced red onion, cherry tomatoes, chickpeas with extra virgin olive oil and black pepper, then set aside.
Step 5
Grill the pita bread lightly and spread some hummus on one side.
Step 6
Add in baby spinach, sliced grilled chicken, chickpea mix and diced avocado.
Step 7
Add in 1-2 tbsp of Greek yoghurt and drizzle some lemon juice over the ingredients and dish is ready to serve.