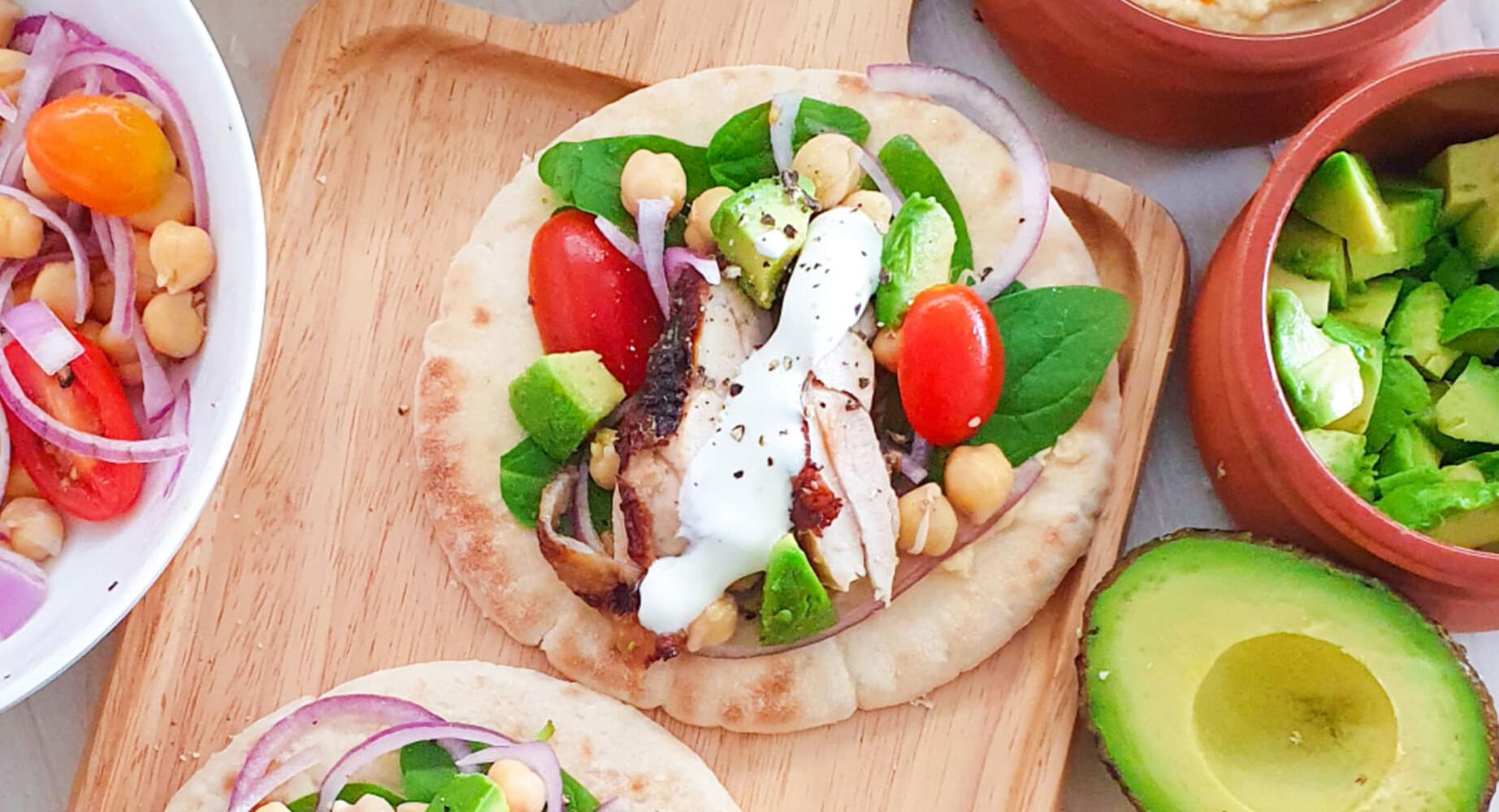 Ingredients
For Hummus

Garbanzo Beans

or cooked chickpea

1 can

Lemon

juice

60 ml

Tahini

60 ml

Garlic

1 clove

Paprika Powder

1 dash

Extra Virgin Olive Oil

30 ml

Salt

1 tsp

Water

30 ml

For Grilled Chicken

Skinless Chicken Breast

or Boneless Chicken Thigh

2

Mayonnaise

1⁄2 cup

Garlic

minced

1 tbsp

Mixed Herbs

2 tsp

Salt

1 tsp

Black Pepper

1 tsp

For Pita Filling

Pita Bread

1 packet

Avocado

diced

1

Lemon

juice

1

Red Onion

sliced thinly

1⁄2

Baby Spinach

1 cup

Cherry Tomatoes

sliced into halves

1 cup

Garbanzo Beans

or cooked chickpea

1 cup

Extra Virgin Olive Oil

1 tbsp

Greek Yoghurt

1 cup

Black Pepper

1 tsp
How to cook
Prepare chicken
Combine all ingredients for grilled chicken and marinate for 2 hours or overnight.
Grill on high heat for 6-8 mins on each side then set aside for 5 mins before slicing them into thick slices.
Prepare hummus
Combine all ingredients for hummus in a food processor and blend till it becomes a fine paste.
Adjust the consistency with the amount of water and adjust the spiciness with the amount of paprika powder.
Assemble & serve
In a mixing bowl, combine sliced red onion, cherry tomatoes, and chickpeas with extra virgin olive oil and black pepper, then set aside.
Grill the pita bread lightly and spread some hummus on one side.
Add in baby spinach, sliced grilled chicken, chickpea mix and diced avocado.
Add in some Greek yogurt and drizzle some lemon juice over the ingredients and the dish is ready to serve.
Tried this recipe? Rate it!