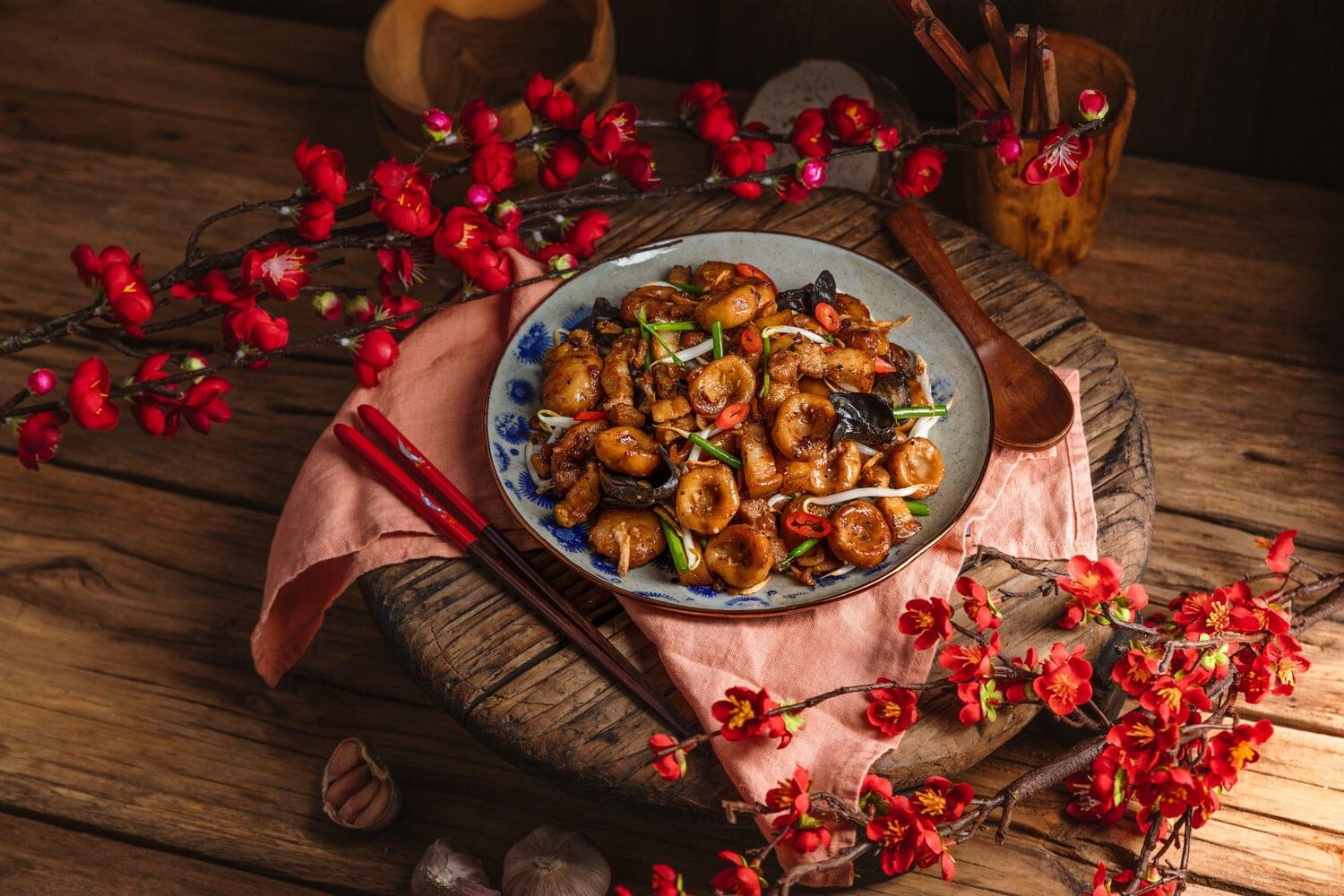 Ingredients
Yam Dough

Yam

cut into 2 cm cubes

300 g

Tapioca Flour

120 g

Salt

to taste

1 tsp

Boiling Water

1⁄4 cup
Pork Belly Marinade

Pork Belly

cut into bite-sized cubes

200 g

Corn Flour

1 tbsp

Sesame Oil

1 tsp

Salt

1 tsp

White Pepper

Stir Fry

Fresh Black Fungus

bite-sized

100 g

Bean Sprouts

80 g

Garlic Cloves

minced

3

Spring Onion

cut into 3 cm strips

2 stalks

Red Onion

medium sized, diced

1

Dried Shrimp

washed and chopped

2 tbsp

Shao Xing Wine

2 tbsp

Dark Soy Sauce

2 tbsp

Soy Sauce

2 tbsp

Oyster Sauce

1 tbsp

Chicken Stock Powder

1⁄2 tsp

Black Pepper

to taste

Garnish

Chilli

Spring Onion

Crispy Shallots
How to cook
Marinate the pork belly
Combine pork belly, corn flour, sesame oil, salt and white pepper in a bowl then set aside to marinate.
Prepare the yam dough
Steam the yam for 25-30 minutes until very soft.
Working quickly while still hot, mash the yam into a paste then mix in the tapioca flour and salt.
Add the boiling water 1 tablespoon at a time and knead it until the dough comes together - add more water or flour if needed.
The dough should not be sticky or have streaks of flour when it is ready.
Prepare the abacus
Portion the yam dough into 5g pieces and roll them into balls.
Make the signature indent by pressing the center of the ball with your thumb or index finger.
Heat a pot of water over medium heat until boiling and prepare a cold water bath to cool the cooked abacus.
Cook the abacus in boiling water until they float to top then cool them in the cold water bath to prevent the further cooking as we will still stir fry them.
Start cooking
In a wok over medium heat, heat 3 tablespoons of cooking oil.
Pan fry the marinated pork belly until brown and crisp on both sides then set it aside.
In the same pan fry onion, garlic and dried shrimp until the onion turns translucent and fragrant (about 45 seconds).
Deglaze the pan with Shao Xing wine.
Add the drained abacus and pork belly back into the pan and stir fry with dark soy sauce, soy sauce, pepper and oyster sauce.
Remove from heat then add in bean sprouts, black fungus and spring onion - mix to combine, letting the residual heat wilt the vegetables.
Garnish with additional spring onion, crispy shallot and chilli if desired.
Tried this recipe? Rate it!