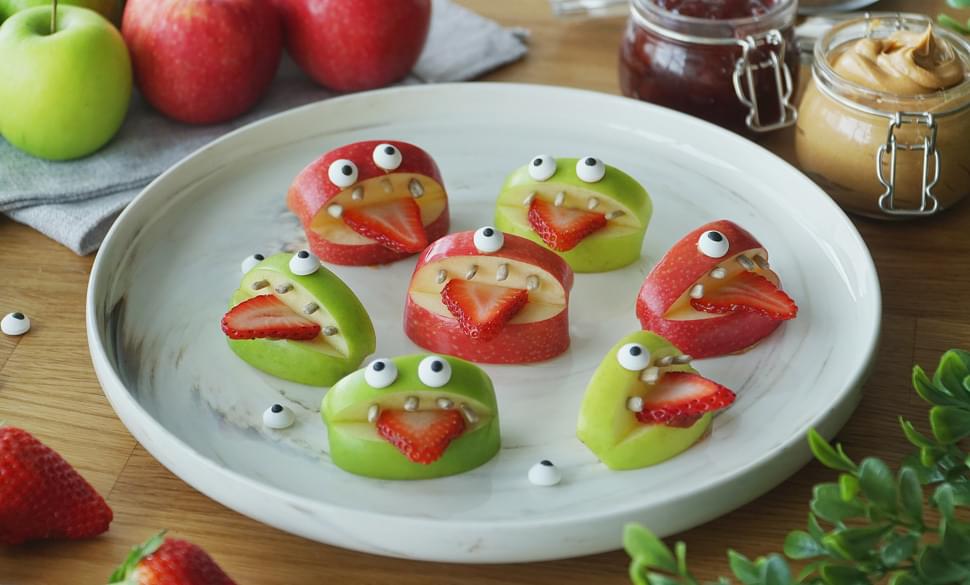 Halloween Silly Fruit Bites
Ingredients
| | |
| --- | --- |
| Red Apples | 2 |
| Green Apples | 2 |
| Strawberries | 4 |
| Sunflower Seeds | 1⁄4 cup |
| Peanut Butter | 1⁄4 cup |
| Raspberry Jam | 1⁄4 cup |
| Candy Eyes | 32 |
| Lemon juice mixed with water | 1 tbsp |
How to cook
Step 1
Cut apples into quarters and slice away the apple cores.
Step 2
Make cuts on the apple skin to form the shape of a mouth.
Step 3
Mix 1 tbsp of lemon juice to a bowl of water and dip the apple slices into it to prevent them from browning.
Step 4
Insert sunflower seeds into the apple slices' "mouth" to form "teeth".
Step 5
Cut strawberries into slices.
Step 6
Apply peanut butter or jam on one side of strawberry slice and stick it on the apple slice to form a "tongue".
Step 7
Stick the candy eyes on the apple slices with peanut butter. Create different variations of your silly fruit bites!