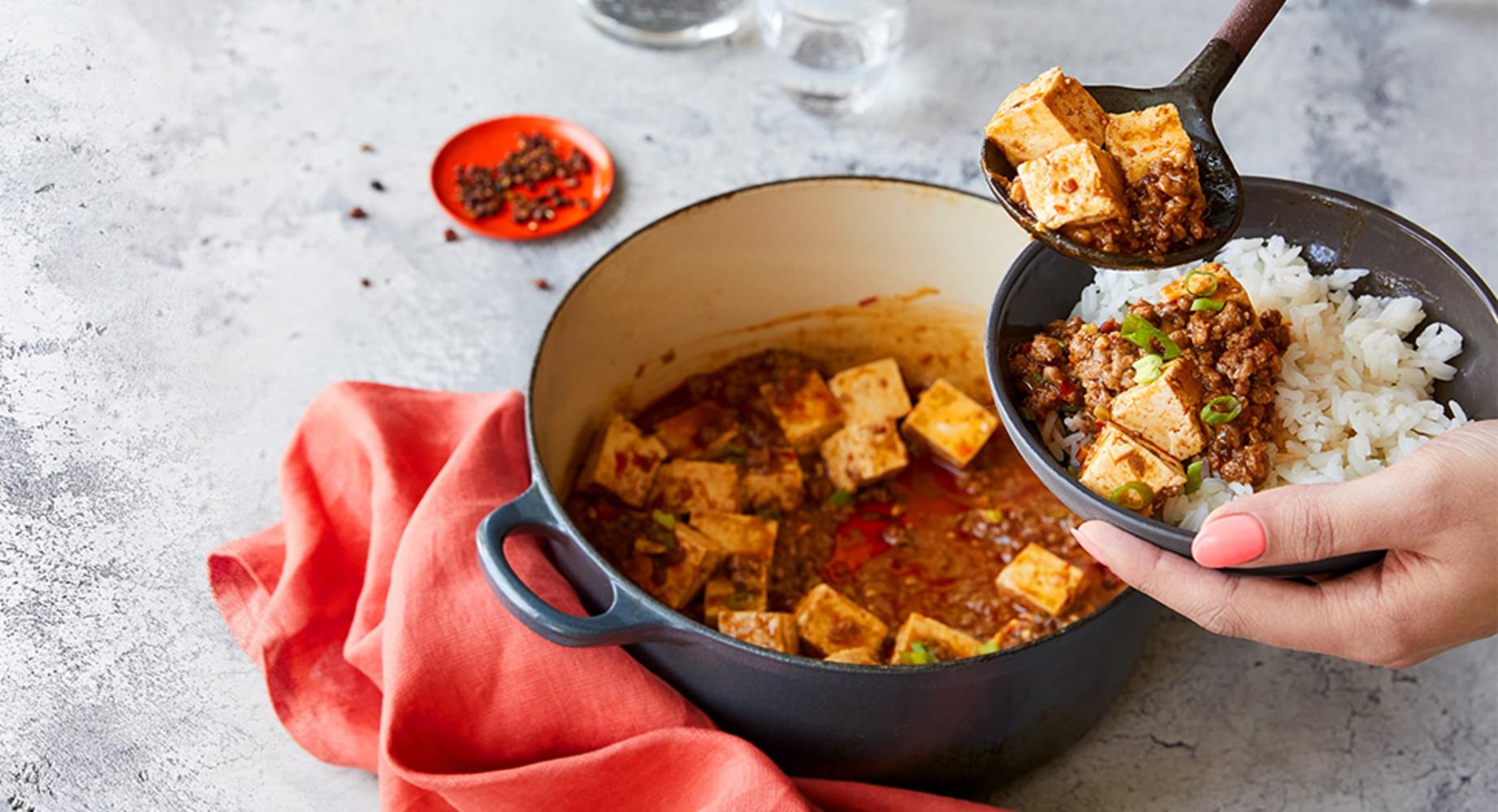 Ingredients
Medium Firm Tofu

790 g

Impossible Meat

340 g

Spring Onion

sliced

2

Ginger

minced

2 tsp

Garlic

minced

2 cloves

Spicy Bean Sauce

2 tbsp

Rice Wine

2 tbsp

Szechuan Pepper

2 tsp

Corn Starch

2 tbsp

Soy Sauce

2 tbsp

Oil

2 tbsp

Water
How to cook
Prepare the tofu
Soak the tofu with salted water for 20 minutes.
Rinse and pat dry the tofu with kitchen paper.
Cut the tofu into small pieces and set aside.
Prepare the Szechuan pepper oil
Heat 2 tablespoon of oil in a frying pan over medium heat then add in the Szechuan pepper and cook until fragrant (about 1 minute).
Turn the heat off, pour out the Szechuan pepper oil and set it aside (discard the Szechuan pepper).
Start cooking
Using the same frying pan over medium high heat, sauté minced garlic and minced ginger with 4 tablespoon of oil until fragrant.
Add in the Impossible Meat and cook until brown.
Add in spicy bean sauce and stir fry until fragrant.
Mix in in rice wine and soy sauce.
Add in water and bring it to a boil.
Add in the diced tofu, cover and let it simmer for 3-5 minutes.
Prepare corn starch water by adding 2 tablespoon of corn starch to 4 tablespoon of water and mix well.
Remove the lid, add in the corn starch water and cook until sauce is thickened.
Transfer to a serving plate, pour the Szechuan pepper oil over the tofu then sprinkle with spring onion and serve immediately.
Tried this recipe? Rate it!