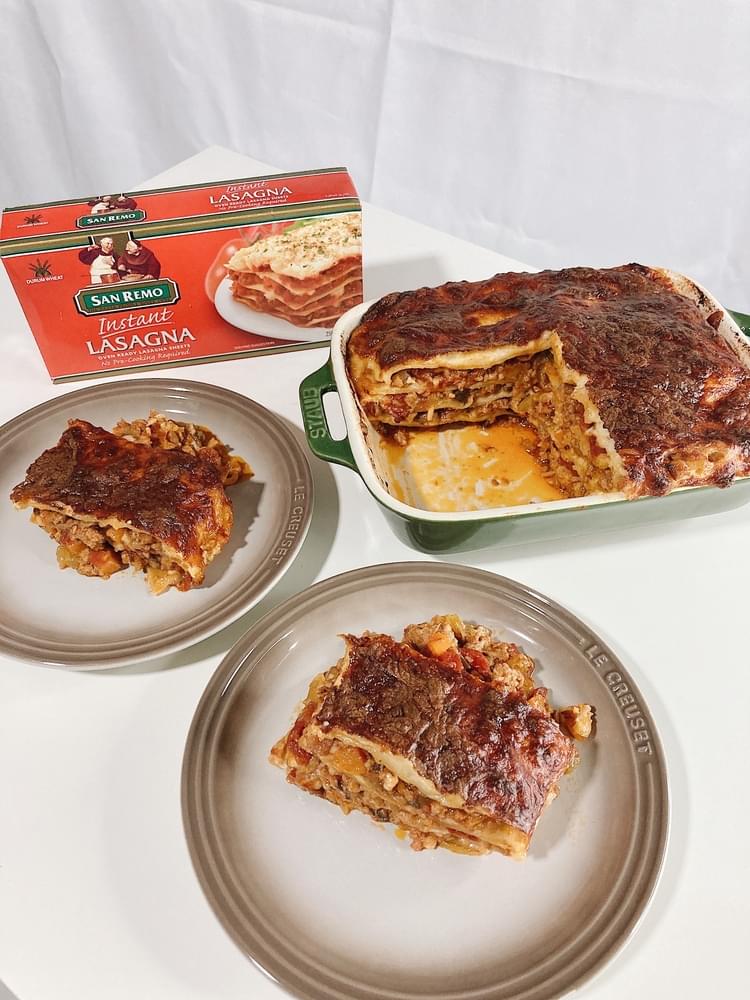 Jamie Oliver's Inspired Recipe Italian Lasagna
Ingredients
| | |
| --- | --- |
| Olive Oil | 30 ml |
| Butter | 30 g |
| White Onion | 100 g |
| Carrot | 100 g |
| Celery | 100 g |
| Garlic Cloves | 2 cloves |
| Minced Pork | 300 g |
| Bacon | 50 g |
| Tomato | 1 can |
| Basil Leave | 2 g |
| Tomato Sauce | 1 tbsp |
| Butter | 70 g |
| Plain Flour | 50 g |
| Milk | 2 cups |
| Salt | 1 tsp |
| Black Pepper | 1 tsp |
| Nutmeg Powder | 1 tsp |
| Lasagna Sheet | 8 pieces |
| Parmesan Powder | 30 g |
| mozzarella cheese | 100 g |
How to cook
Prepare the bolognese sauce
Heated dutch oven, (medium-low)add a layer of cooking oil + butter.
Cook onion, garlic, carrot, celery, button mushroom, minced pork, bacon and stir well.
Stir in bay leaves, basil leaves, canned tomato & tomato sauce.
Simmer, covered, for about 1-2 hours, stirring occasionally.
Prepare white sauce (bechamel sauce)
Meanwhile, we can prepare Bechamel Sauce(White Sauce).
Melt the butter in a saucepan, stir in the flour, milk, salt, pepper & grounded nutmeg until thickened. Remove from the heat and set aside.
Start baking
In a casserole dish, layer the bolognese sauce & bechamel sauce as shown in the photo.
1st layer: bolognese sauce.
2nd layer: lasagna sheet.
3rd layer: bechamel sauce.
4th layer: parmesan cheese.
Keep repeating until finish up all the ingredients.
Top layer: shredded mozarella cheese.
Baking time: 200°C, bake for 30 mins.
Tried this recipe? Rate it!