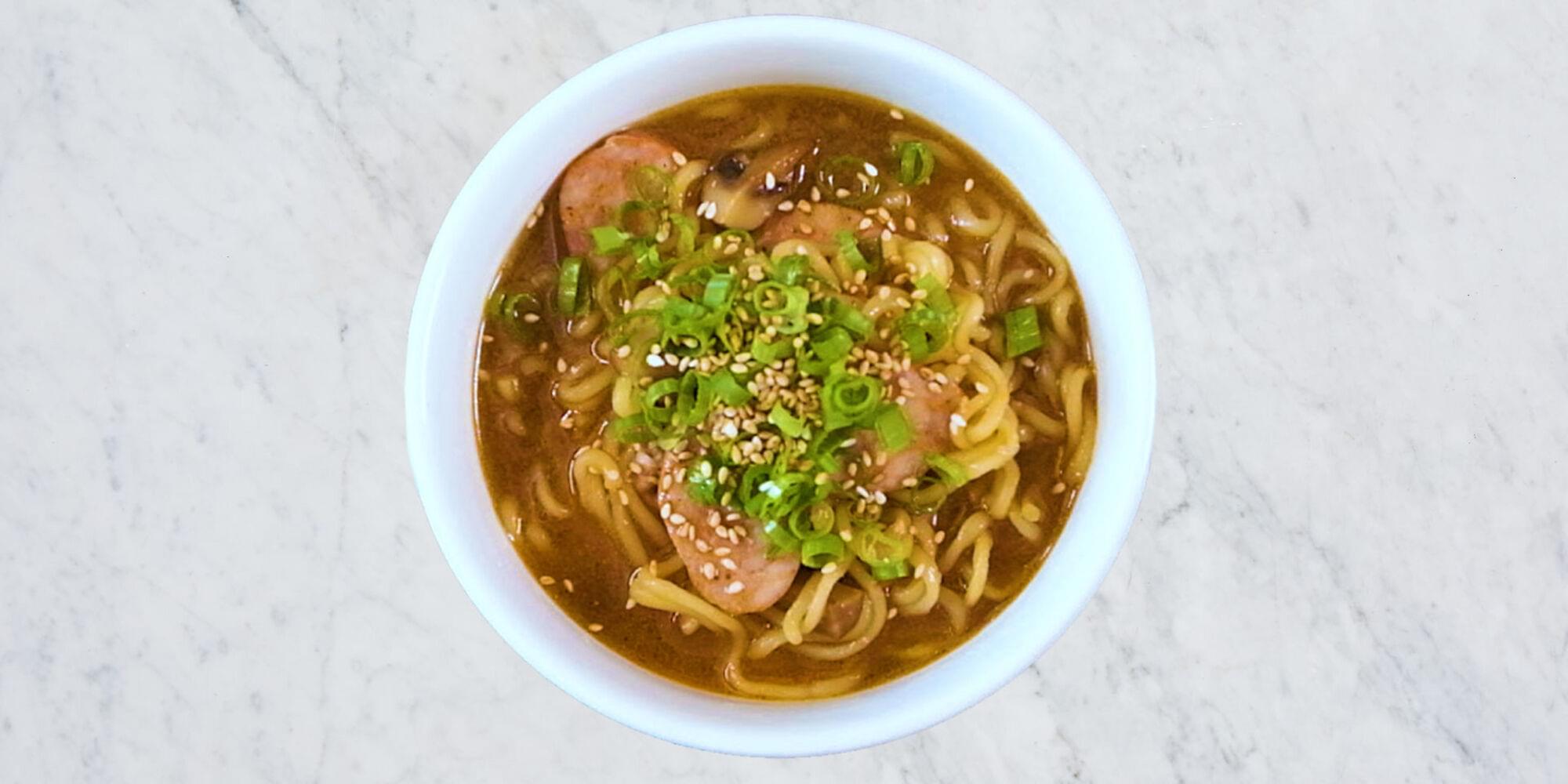 Japanese Soup w/ Ramen Noodles & Sausage
Ingredients
| | |
| --- | --- |
| Mushrooms | 20 |
| Garlic Cloves | 8 |
| Ginger | 1 tbsp |
| Extra Virgin Olive Oil | 2 tbsp |
| Chili Flakes | 1 tsp |
| Soy Sauce | 1⁄4 cup |
| Mirin | 1⁄4 cup |
| Rice Wine Vinegar | 1⁄4 cup |
| Vegetable Stock | 4 cups |
| White Miso Paste | 1⁄4 cup |
| Salt | 1 pinch |
| Japanese ramen | 170 g |
| Precooked Sausage | 115 g |
| Scallions | 2 |
| White Sesame Seeds | 1 1⁄2 tbsp |
How to cook
Prepare Vegetables
Trim off the ends of the mushrooms, then cut into quarters. Thinly slice the garlic and grate the ginger.
Build The Soup
In a medium pot, sauté mushrooms, garlic, ginger and chili flakes in oil over medium heat for 5 minutes.
Add soy sauce, mirin, vinegar and stock. Stir in miso.
Simmer for 5 minutes.
Check seasoning, adding salt to taste.
Add Ramen
Add noodles (fresh or dry) to soup and stir.
Depending on type of noodle, let simmer for 2 to 3 minutes or until tender.
Add Sausage
Slice the sausage and add to the soup. Heat through.
Serve
Thinly slice the scallions.
Ladle soup into bowls and garnish each with scallions and sesame seeds.