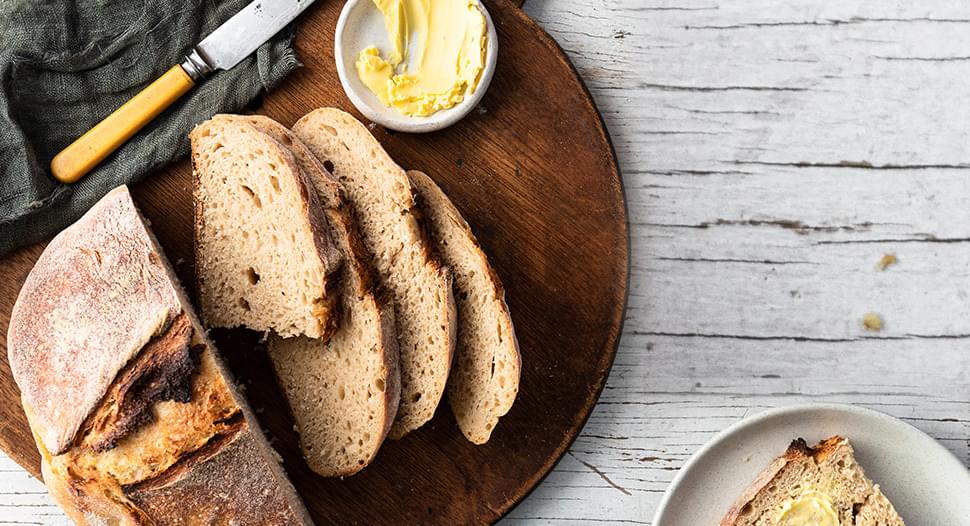 Kombucha Sourdough
Ingredients
Flour

125 g

Remedy Kombucha Apple Crisp

Any Remedy Kombucha flavour – our team recommends Remedy Kombucha Apple Crisp, which is what we have used in this recipe.

125 ml

Sourdough starter

For best results, create your starter a few days before baking. An easy way to remember starter ratios is 1+1 flour and liquid.
How to cook
Feed your sourdough starter
Feed your sourdough starter to get it active, 4 — 8 hours.
Make the levain
Combine your starter, flour and Remedy Kombucha Apple Crisp in a medium bowl.
Mix it until combined, and then cover with plastic wrap and leave it to stand in a nice warm part of the kitchen. Overnight works best.
By morning it should have expanded and look very bubbly.
Make the dough
Combine the levain with half the Remedy Kombucha Apple Crisp set aside for this stage, and then mix until smooth, add the remaining Remedy Kombucha Apple Crisp to the mix.
Sift the flour and salt, and then add to the wet ingredient mixture.
Mix this with a wooden spoon until you have a very basic rough looking dough. Cover this bowl with plastic wrap and set aside for an hour.
Unwrap the bowl and take a corner of the dough in one hand.
Stretch it away from the dough slightly, and then fold this stretched piece back on top of the dough.
Turn the bowl 90 degrees (a quarter turn) and repeat this step three more times.
Cover again with the plastic wrap, and set aside in a nice warm place for a further 30 minutes. Repeat this process four to five more times.
By this stage, the dough will look very uniform and smooth.
After the final folding, cover again and let it stand for about an hour until the dough is puffed.
Cut & Shape the Dough
Turn the dough out onto a well-floured surface.
Cut the dough into two pieces. Shape these two pieces into two loaves.
At this stage, you can use a loaf tin, proving baskets, a dutch oven, or a baking tray to shape the type of loaf you want. Use non-stick baking paper to line or place the loaf for baking.
Once shaped, cover your loaves with a floured tea towel, oiled plastic wrap or baking paper, and then stand somewhere warm and draught free for a final rising.
Bake the dough
Preheat the oven to 240 C (220 C fan forced).
Place the loaves in the oven and throw in a handful of ice cubes into the bottom of the oven. This will help create a great crust!
Bake for 20 minutes, then reduce the oven temperature by 20 degrees (220 C, or 200 C fan-forced).
Bake for another 15-20 minutes until the crust has a nice deep colour to it, and the loaf sounds hollow when tapped on the bottom.
Take the loaves out of the oven to cool on a wire rack for about an hour.