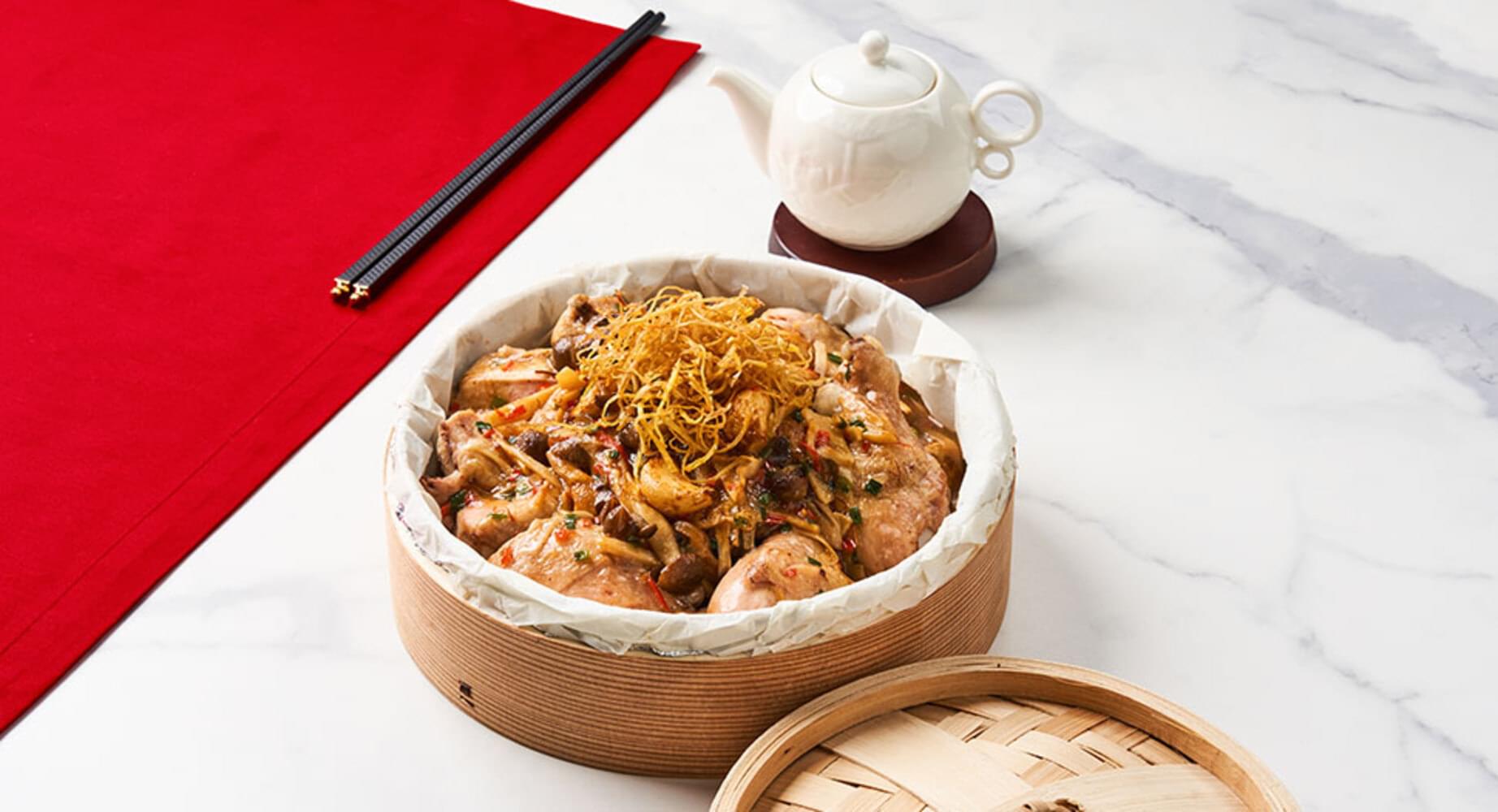 Lucky Basket
Ingredients
Whole Chicken (Cut into small pieces)

800 g

Young Ginger (Shredded)

40 g

FairPrice Canola Oil

200 ml

Salt

Pepper

Sauce

Lee Kum Kee Oyster Sauce with Dried Scallop

50 g

Garlic

8 cloves

Red Chilli (Seeded & Diced)

1

Spring Onion (Chopped)

10 g

Bamboo Shoot (Julienned)

100 g

Shimeiji Mushroom

1 packet

Sugar

1 tsp

Chicken Stock

500 ml

Corn Flour

20 g
How to cook
Step 1
Rinse and remove the impurities from the chicken stomach.
Step 2
Remove the legs, wings, backbone. Don't throw them away as they could be used to make chicken stock.
Step 3
Chop the chicken into small pieces and season with salt and pepper.
Step 4
Wrap the chicken in aluminium foil and greaseproof paper. Steam for about 12 to 15 minutes over high heat.
Step 5
Add 200ml of FairPrice Canola oil into a pan and deep fry garlic cloves over medium heat until golden brown.
Step 6
Remove and set aside, then continue to deep fry shredded ginger for garnishing. Strain the oil and set aside.
Step 7
To prepare the sauce – Slice the chili, remove the seeds and dice it. Julienne the bamboo shoots.
Step 8
Use the same oil from deep frying the garlic and ginger to stir fry the shimeji mushrooms until it turns brown, add in bamboo shoots to stir fry together.
Step 9
Add in diced chili, spring onion and Lee Kum Kee Oyster Sauce with Dried Scallop, then give it a toss.
Step 10
Add in chicken stock and bring to boil. Then add the fried garlic and sugar into the sauce before thickening up with corn starch.
Step 11
Remove access liquid from the steamed chicken and transfer the chicken to a dim sum basket/serving plate.
Step 12
Pour the sauce over the chicken and garnish with fried ginger. Dish is ready to serve.