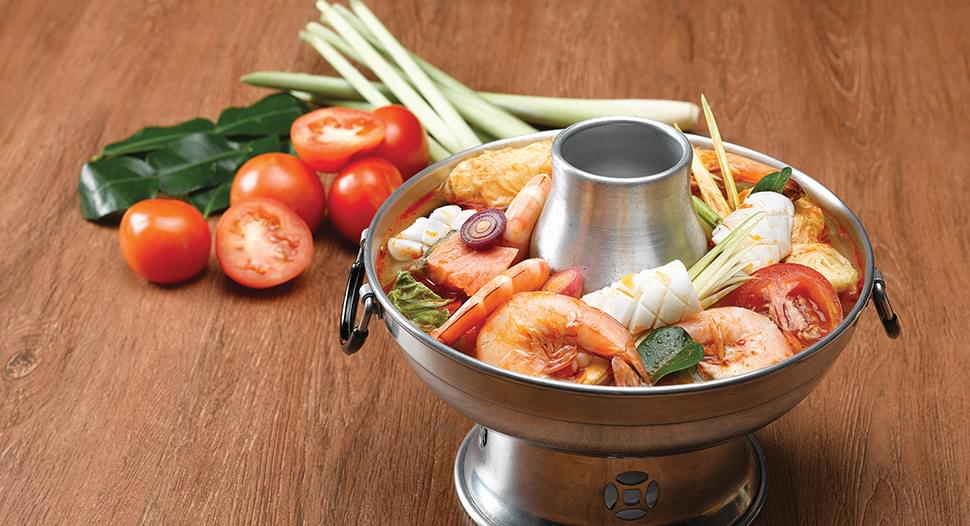 Lucky Steamboat
Ingredients
Ingredients

Straw mushrooms

1 cup

Long bean

100 g

Ripen tomatoes

50 g

Assorted seafood (mussels, scallops and fish fillets) 100g Fresh prawns (Clean and trimm off the whiskers) 8 prawns

Steamboat stock

cubes Knorr Tom Yam Cubes

2

Water

2.2 l

Spring onion bulbs (lightly smashed)

80 g

Coriander root

3 sprigs

Lemongrass (thinly sliced to halves)

3 slabs

Lime leaves (smashed)

4

Olive oil

1 tbsp
How to cook
Step 1
Heat up a pot with olive oil, lightly fry the shallots and spring onion bulbs a light brown.
Step 2
Add in 2 Knorr Tom Yam Cubes and the rest of the steamboat stock ingredients.
Step 3
Bring it to a boil, add in fresh prawns and simmer for 5 mins or until prawns turn bright red.
Step 4
Add in rest of steamboat ingredients and be ready to serve in 5 mins.