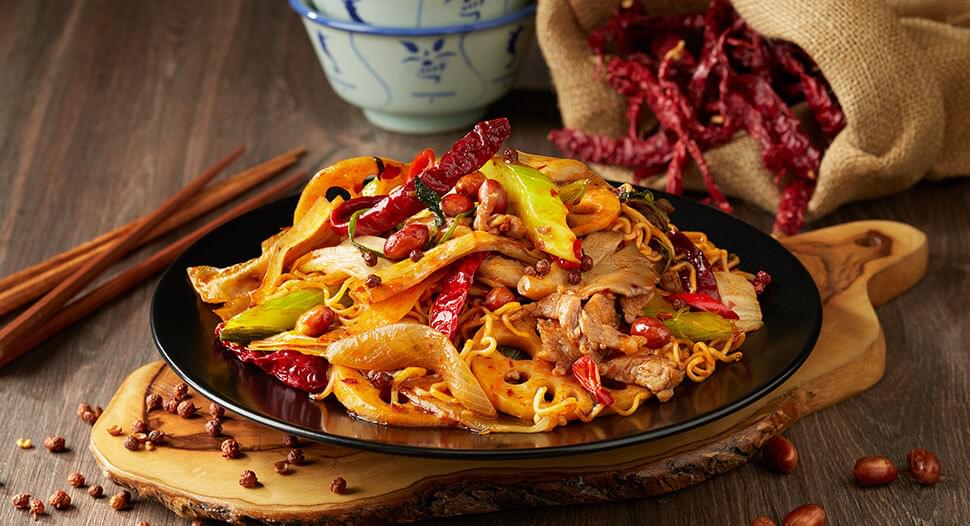 Mala Xiang Guo
Ingredients
| | |
| --- | --- |
| Knorr SavorRich | 2 tsp |
| Crispy chilli oil | 2 tbsp |
| Light soya sauce | 1 tbsp |
| Black vinegar | 1 tsp |
| Sesame oil | 1⁄2 tsp |
| Hua Tiao wine | 2 tbsp |
| Brown sugar | 1⁄2 tbsp |
| Pepper | |
| Celery, cut into chunks | 3 stalks |
| Oyster mushrooms | 150 g |
| Beancurd stick, soaked and cut into sections | 2 |
| Lotus roots, sliced thinly | 350 g |
| Sliced lean pork or pork belly | 200 g |
| Cabbage, sliced | 150 g |
| Black fungus, washed and soaked | 30 g |
| Instant noodles, blanched | 1 packet |
| Roasted peanuts | 1⁄4 cup |
| Spring onion, cut into sections | 1⁄2 cup |
| Coriander | 1⁄4 cup |
| Chinese parsley, cut into sections | 1⁄2 bunch |
| Onion, sliced | 1 |
| Dried chilli | 10 |
| Bird eye chilli | 3 |
| Sliced ginger | 4 |
| Minced garlic | 1 tbsp |
| Szechuan peppercorn | 1 tbsp |
| Cooking oil | |
How to cook
Step 1
Heat 1 tbsp of oil in a wok, saute szechuan pepper till fragrant.
Step 2
Add ginger, garlic, onion, dried chilli, spring onion, chinese parsley, bird eye chilli and fry for a few minutes.
Step 3
Cook sliced pork over medium fire. When it's almost cooked, add lotus roots, celery, cabbage, beancurd stick, oyster mushrooms, black fungus and fry for 3-5 minutes.
Step 4
Add instant noodles, continue to cook for another 3 minutes.
Step 5
Season mala vegetables with all the seasonings, taste and adjust the seasonings to your preference.
Step 6
Lastly, add roasted peanuts and coriander. Mix well and serve hot.