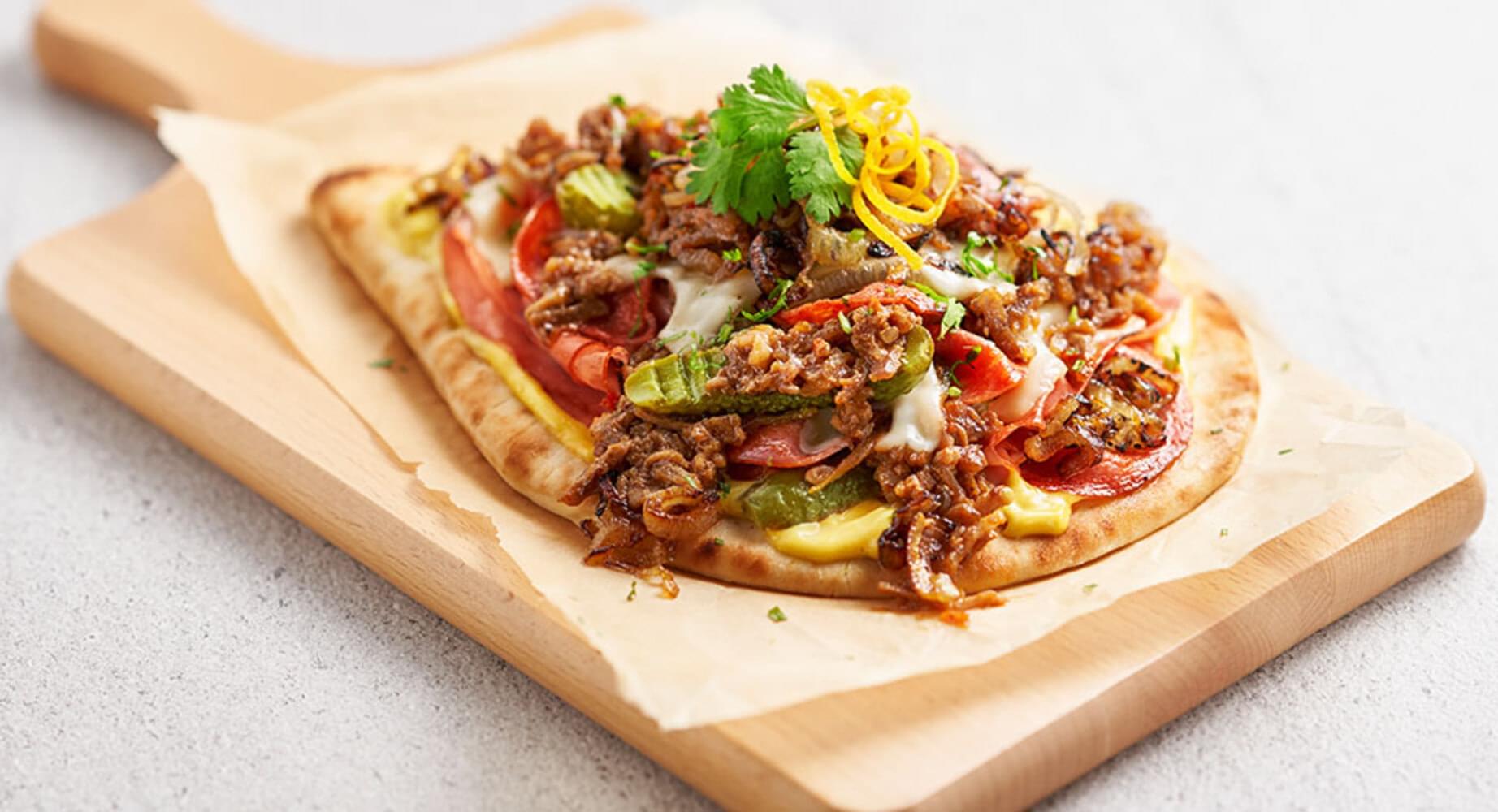 Ingredients
Naan

Plain Flour

3 1⁄2 cups

Low Fat Milk

warmed

3⁄4 cup

Greek Yoghurt

plain or natural

1⁄4 cup

Active Dry Yeast

1⁄2 tbsp

Honey

1 tbsp

Water

warm

3⁄4 cup

Salt

1⁄2 tbsp
Cubanos-style Toppings

Shabu-Shabu Pork Collar

defrosted

250 g

Honey-Baked Ham

thinly sliced or shaved

200 g

Milano Salami

100 g

Dijonnaise

3 tbsp

Swiss Cheese

8 slices

Barbecue Sauce

3⁄8 cup

Cumin Powder

1⁄4 tsp

Orange

juiced

1

Pickled Gherkins

1 jar

Fresh Coriander

100 g
How to cook
Prepare the naan
Mix the water, milk, yeast, salt, honey and yoghurt.
Mix in the flour thoroughly.
Let the dough mixture rest for 2 hours on the countertop loosely covered, or wrap and store it in the fridge overnight.
Prepare the barbecue sauce
Simmer barbecue sauce, orange juice, cumin powder, and a little water in a pan until the mixture has a loose syrup-like consistency.
Prepare the pork collar
In a non-stick pan on high heat, brown the slices of pork collar.
Stack the seared pork collar slices, roll them into a bundle, and slice thinly.
Mix the pork slices with the barbecue sauce.
Start cooking
Flour a work surface, punch down the dough and divide it into 4 portions.
Shape the naan by stretching and using your fingers to press the naan into shape.
Grill the naan in non-stick pan on high heat, flipping to prevent too much charring.
Brush the naan with Dijonnaise then layer the ham, pork collar slices, salami and pickles.
Top off with 2 slices of cheese, then bake in a preheated oven at 165°C for 5 minutes.
Garnish with coriander and serve immediately!
Tried this recipe? Rate it!