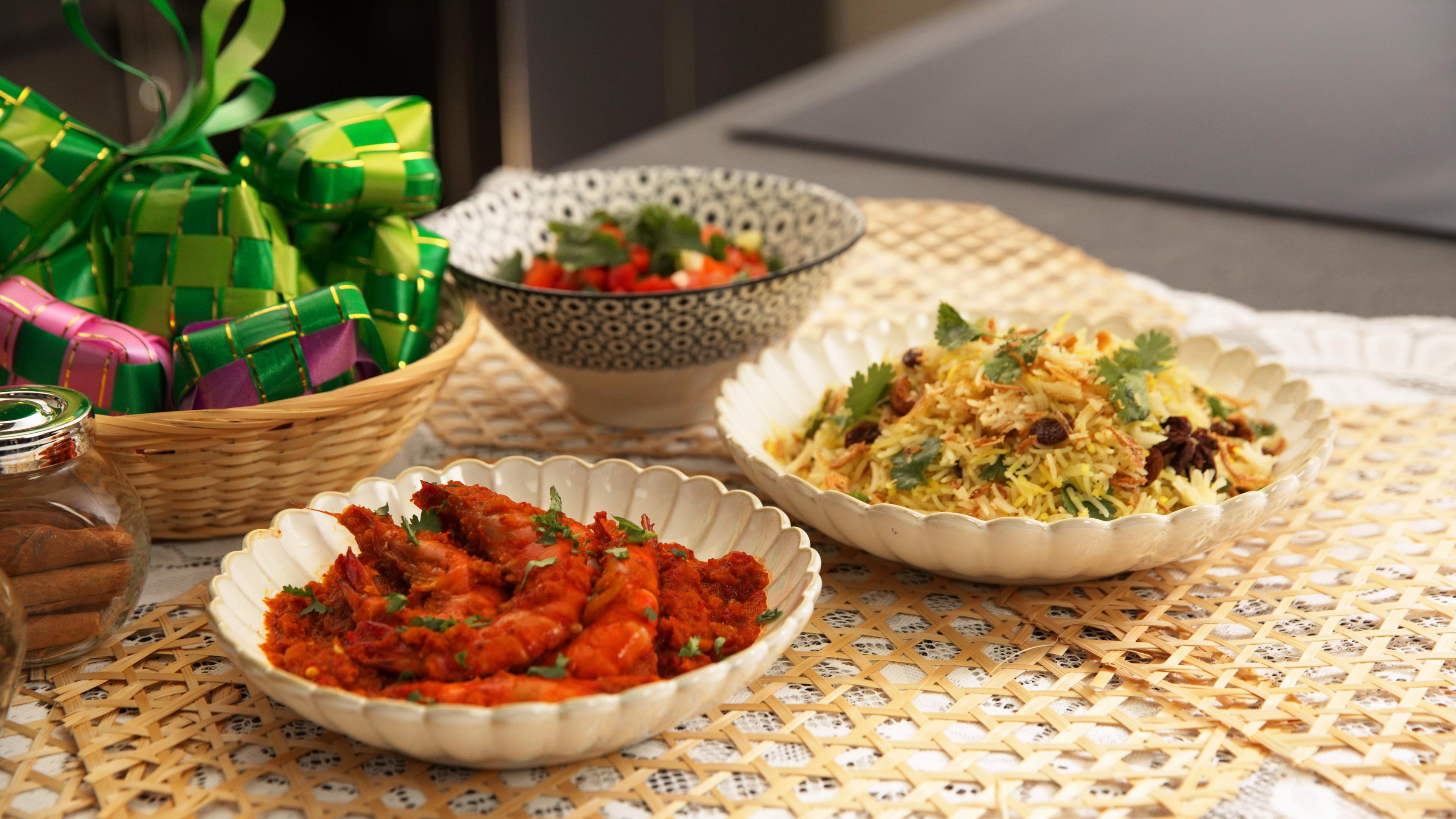 Nasi Minyak and Sambal Prawns with Arabic Salad
Ingredients
| | |
| --- | --- |
| Yellow Onion | 1 |
| Shallots | 3 |
| Garlic Clove | 3 |
| Lemongrass Stalk | 1 |
| Ginger | 2 cm |
| Ghee (melted) | 2 tbsp |
| Basmati Rice | 2 cups |
| Star Anise | 1 |
| Cinnamon Stick | 1 |
| Green Cardamom | 2 |
| Pandan Leaf (knotted) | 1 |
| Evaporated Milk (unsweetened) | 100 ml |
| Salt | 1⁄4 tsp |
| Turmeric Powder | 1⁄2 tsp |
| Coriander (for garnish) | 1 bunch |
| Dried Red Chillies (deseed half, cut into 1 inch segments) | 20 |
| Shrimp Paste | 1 tbsp |
| Large Onion (1/2 thinly sliced and the other 1/2 roughly chopped) | 1 |
| Sugar | 1 tbsp |
| Prawn (deshelled and deveined) | 500 g |
| Fresh Lime Juice | 1 tbsp |
| Large Cucumbers (deseeded and cut into 1cm cubes) | 2 |
| Tomatoes (deseeded and cut into 1cm cubes) | 2 |
| Red Bell Pepper (deseeded and cut into 1cm cubes) | 1 |
| Radishes (cut into 1cm cubes) | 4 |
| Fresh Parsley (washed and leaves only) | 1 bunch |
| Green Onions (green part only) | 2 |
| Olive Oil | 3 tbsp |
| Sea Salt | 1 tsp |
| Black Pepper | 1⁄2 tsp |
| Juice of Fresh Lemon | 1 |
How to cook
Nasi Minyak
Start with the Nasi Minyak
Step 1
Turn on rice cooker and select "cook" function. Warm up for 2 minutes.
Step 2
Add in the melted ghee. After 10seconds, add in the lemongrass stalk, shallots, onion and ginger. Sauté until soft. Add in the garlic and gently fry.
Step 3
Stir in the star anise, clove, cardamom pods and cinnamon stick and continue frying until fragrant.
Step 4
Add in the pandan leaf and stir for 30 seconds before adding in the washed rice.
Step 5
Add the evaporated milk, water and salt into the pot. Mix well and once it bubbles, close the lid and cook as per normal white rice function.
Step 6
Once the rice cooker is done, set it to "keep warm" function. Open the lid, remove the spices before mixing in the turmeric with water mixture.
Step 7
Add in the raisins and coriander. Mix thoroughly.
Step 8
To serve, garnish with crispy shallots, more coriander and roasted cashews.
Sambal Prawn
How to make the Sambal Prawn
Step 1
Deseed half the red chillis and cut them into 1inch segments. Soak them in a bowl of hot water for 15 minutes to rehydrate.
Step 2
In a blender, add in the roughly chopped half portion of onion, garlic, shrimp paste and drained chillies. Blend into a fine paste and set aside.
Step 3
If the paste is too dry, you can drizzle in water until it forms a paste-like consistency.
Step 4
Heat up a wok and cook the half portion of sliced onions and sauté until soft.
Step 5
Add in the sambal paste and continue frying for 2 minutes.
Step 6
Add in the water, salt and sugar to the mix and bring it to a simmer. Reduce heat and cook for 20 minutes until sambal is reduced and thickened.
Step 7
Add in the prawns, bring the heat back up and cook for about 3 minutes until the prawns are cooked.
Step 8
Turn off the stove and stir in the lime juice before serving.
Step 1
In a large mixing bowl, add in the cucumbers, tomatoes, red bell pepper and radish.
Step 2
Chop a whole bunch of fresh parsley and add it into the mixing bowl.
Step 3
Add in the green onions (green parts only)
Step 4
Add in the olive oil, lemon juice, salt and black pepper. Toss your salad well to combine.