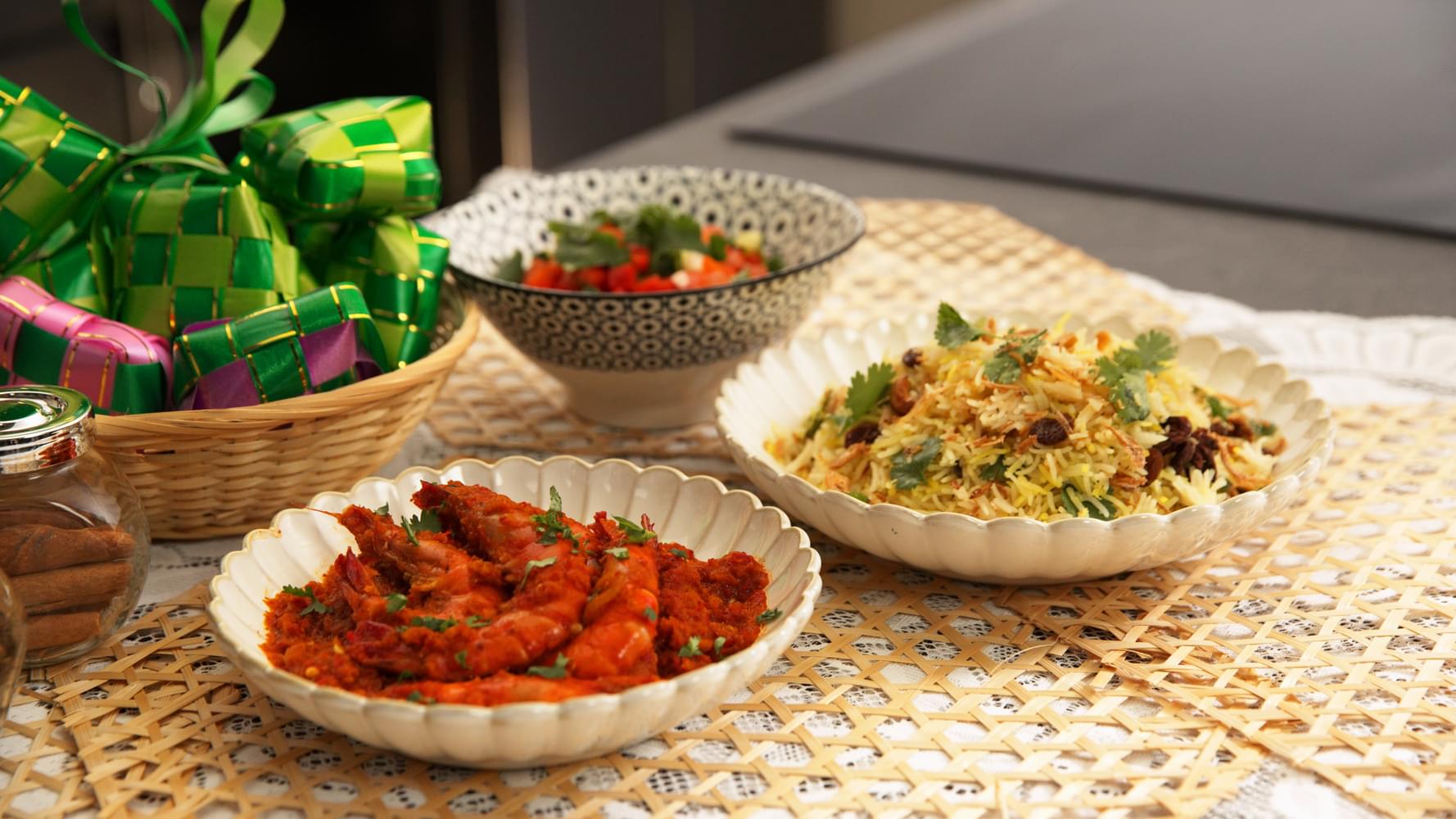 Nasi Minyak and Sambal Prawns with Arabic Salad
Ingredients
Prawn

deshelled and deveined

500 g

Yellow Onion

1

Shallots

3

Garlic

3

Lemongrass

1

Ginger

2 cm

Ghee

melted

2 tbsp

Basmati Rice

2 cups

Star Anise

1

Cinnamon Stick

1

Green Cardamom

2

Pandan Leaf

knotted

1

Evaporated Milk

unsweetened

100 ml

Salt

1⁄4 tsp

Turmeric Powder

1⁄2 tsp

Coriander

for garnish

1 bunch

Dried Red Chillies

deseed half, cut into 1 inch segments

20

Shrimp Paste

1 tbsp

Large Onion

1/2 thinly sliced and the other 1/2 roughly chopped

1

Sugar

1 tbsp

Lime

juice

1 tbsp

Cucumber

deseeded and cut into 1 cm cubes

2

Tomatoes

deseeded and cut into 1 cm cubes

2

Red Bell Pepper

deseeded and cut into 1 cm cubes

1

Radish

cut into 1cm cubes

4

Fresh Parsley

washed and leaves only

1 bunch

Green Onion

green part only

2

Olive Oil

3 tbsp

Sea Salt

1 tsp

Lemon

juice

1

Black Pepper

1⁄2 tsp
How to cook
Prepare nasi minyak
Turn on rice cooker and select "cook" function. Warm up for 2 minutes.
Add in the melted ghee. After 10 seconds, add in the lemongrass stalk, shallots, onion and ginger.
Saute until soft. Add in the garlic and gently fry.
Stir in the star anise, clove, cardamom pods and cinnamon stick and continue frying until fragrant.
Add in the pandan leaf and stir for 30 seconds before adding in the washed rice.
Add the evaporated milk, water and salt into the pot.
Mix well and once it bubbles, close the lid and cook as per normal white rice function.
Once the rice cooker is done, set it to "keep warm" function.
Open the lid and remove the spices before mixing the turmeric with the water mixture.
Add in the raisins and coriander. Mix thoroughly.
To serve, garnish with crispy shallots, more coriander and roasted cashews.
Prepare sambal prawns
Deseed half the red chillis and cut them into 1-inch segments.
Soak them in a bowl of hot water for 15 minutes to rehydrate.
In a blender, add in the roughly chopped half portion of onion, garlic, shrimp paste and drained chillies.
Blend into a fine paste and set aside.
If the paste is too dry, you can drizzle in water until it forms a paste-like consistency.
Heat up a wok and cook the half portion of sliced onions and saute until soft.
Add in the sambal paste and continue frying for 2 minutes.
Add the water, salt and sugar to the mix and bring it to a simmer.
Reduce heat and cook for 20 minutes until sambal is reduced and thickened.
Add in the prawns, bring the heat back up and cook for about 3 minutes until the prawns are cooked.
Turn off the stove and stir in the lime juice before serving.
Prepare salad
In a large mixing bowl, add cucumbers, tomatoes, red bell pepper and radish.
Chop a whole bunch of fresh parsley and add it to the mixing bowl.
Add in the green onions (green parts only).
Add in the olive oil, lemon juice, salt and black pepper.
Toss your salad well to combine.
Tried this recipe? Rate it!