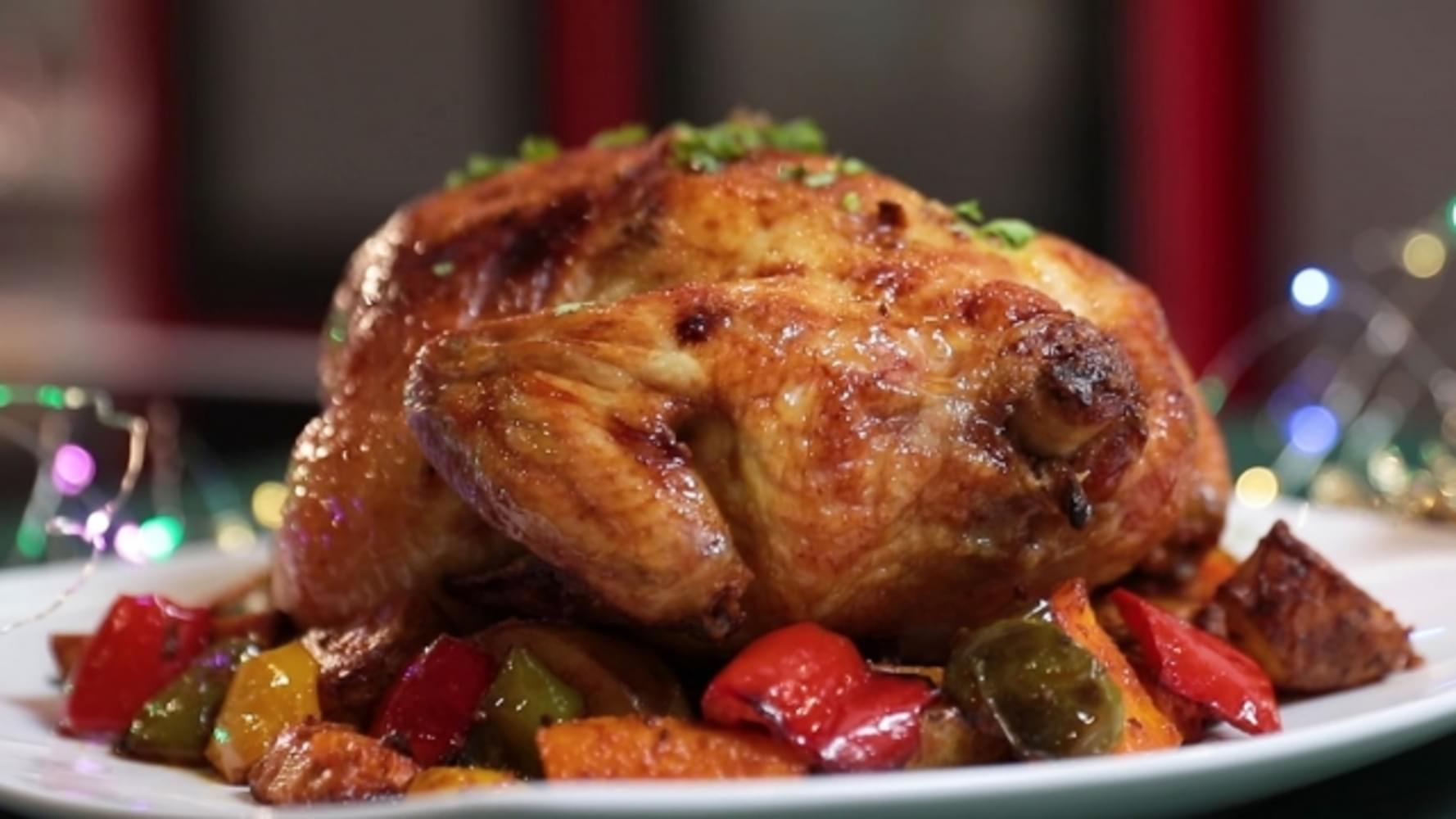 Oven Roasted Curry Chicken with Vegetables
Ingredients
Chicken

remove the head and feet

1 kg

Potatoes

deskinned and cut into large pieces

500 g

Carrots

deskinned and cut into large pieces

2

Green Capsicum

deseeded and cut into square pieces

1

Yellow Capsicum

deseeded and cut into square pieces

1

Red Capsicum

deseeded and cut into square pieces

1

Butter

softened

150 g

Plain Greek Yoghurt

120 g

Coriander

chopped coarsely

5 sprigs

Garlic

minced

4 cloves

Ginger

minced

1

Lemon Zest

1

Lemon

goes into chicken's cavity

1⁄2

Curry Powder

3 tbsp

Coriander

chopped, for garnish

Salt

2 tsp

Kitchen String
How to cook
Marinade the chicken
In a large bowl, mix the garlic, ginger, plain Greek yoghurt, softened butter, lemon zest, curry powder, coriander and salt together.
Rub ¾ of the marinade on the chicken, beneath the skin and the in chicken's cavity.
Insert the lemon into the chicken's cavity.
Tie up the thighs and wings using the kitchen's string.
Set aside and let it marinate for at least 20 minutes.
Marinade the vegetables
Cut the vegetables into equal sizes.
Mix the remaining marinade with the vegetables.
Spread the marinated vegetables on a baking tray lined with aluminium foil.
Start cooking
Pre-heat the oven at 180°C for 20 minutes.
Place the marinated chicken on the wire rack and place it on the middle tray of the oven.
Place the marinated vegetables on the lower tray insert.
Bake the chicken for 1 hour and 20 minutes.
Let it rest in the oven for 20 minutes before serving to keep the chicken moist and tender.
Tried this recipe? Rate it!