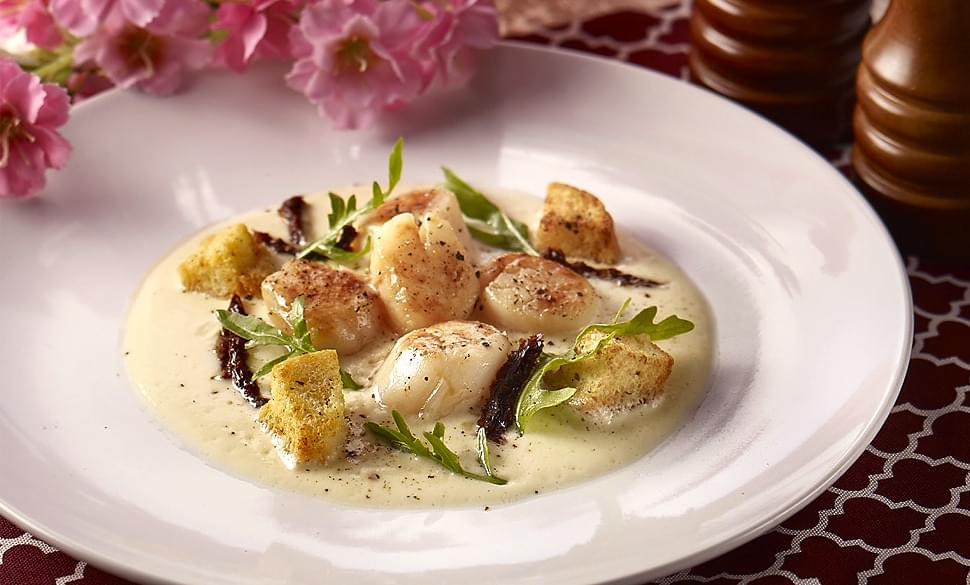 Pan Fried Fukuyama Scallops with Citrus Tofu Sauce
Ingredients
Fukuyama Scallops, thawed and rinsed

300 g

Sliced Sundried Tomatoes in Oil

2

Salt to season the scallops

crushed black pepper

1 dash

Arugula Salad

100 g

Croutons

50 g

Citrus Tofu Sauce

Kalamansi Juice

50 ml

Orange Juice

100 ml

Silken Tofu

1 packet

Sesame Oil

1 tsp

Ginger, finely grated

1 tsp

Honey

1 tbsp

Olive Oil

50 ml
How to cook
Step 1
Pat the scallops dry with a clean kitchen towel and season with a pinch of salt.
Step 2
Pan fry the Fukuyama Scallops till golden brown over high heat with 1 tbsp of oil.
Step 4
To prepare the Citrus Tofu Sauce, place all the ingredients in a food processor and blend till the texture is smooth.
Step 5
Place the citrus tofu sauce in the center of the plate and top it with the seared scallops.
Step 6
Garnish with arugula, croutons, sundried tomatoes and dash of black pepper.