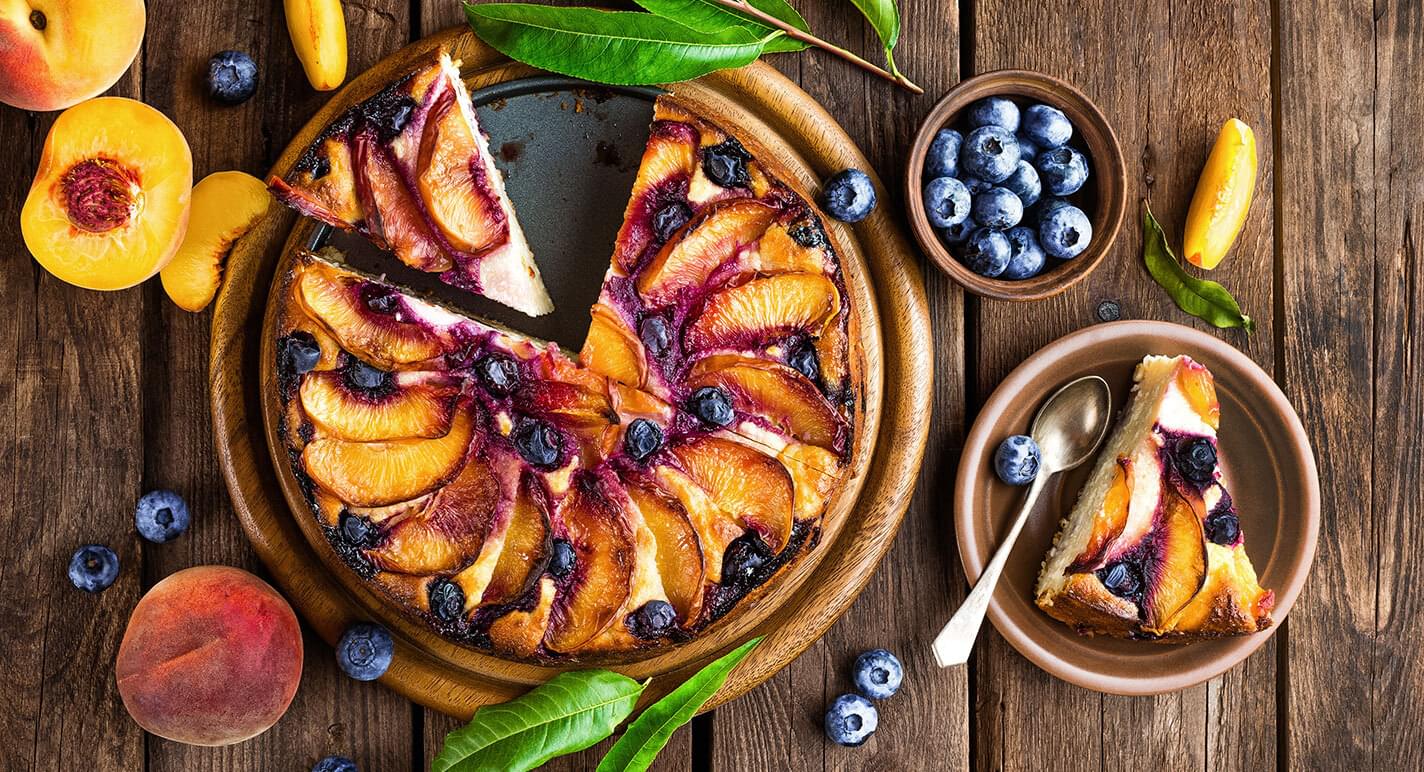 Peach & Blueberry Cheesecake
Ingredients
For the Crust

Walnuts (Grounded)

2⁄3 cup

Sugar

2 tbsp

Butter

3⁄8 cup

Graham Cracker Crumbs

1⁄3 cup
For Blueberry Compote

Fresh Blueberries

2 cups

Corn Starch

1 tbsp

Sugar

1⁄4 cup

Water

1⁄4 cup

Lemon Juice

1 tbsp

For Cheesecake Filling

Cream Cheese (Soften)

650 g

Greek Yoghurt

1 cup

Sugar

1 cup

Corn Starch

1 tbsp

Vanilla Extract

1 tsp

Eggs

4

Peaches (Thinly Sliced)

3

Fresh Blueberries

1 cup
How to cook
Step 1
Preheat oven to 180 degrees Celsius.
Step 2
Combine walnuts with graham cracker crumbs, melted butter, and sugar. Press into the bottom of the 9-inch spring form pan.
Step 3
Bake for 10 minutes and remove from oven and cool completely.
Step 4
Combine 1 cup of blueberries with lemon juice, water, and corn starch over medium heat. Stir occasionally for 2-3mins until thickened.
Step 5
Add 1 cup of blueberries to the compote and turn the fire off to allow it to cool completely.
Step 6
Beat the softened cream cheese in an electric mixer and add sugar and yogurt, vanilla extract and corn starch and mix until combined.
Step 7
Add one egg at a time until just combined then pour it over the crust.
Step 8
Add spoonfuls of blueberry compote to the top and swirl with a knife.
Step 9
Bake for 1 hour. Then cool for an hour on the counter before removing it from the spring form pan.
Step 10
Cool it completely in the fridge for at least 6 hours or overnight.
Step 11
When it's ready to serve, decorate the top of the cake with the thinly sliced peach and blueberries. Serve and enjoy!