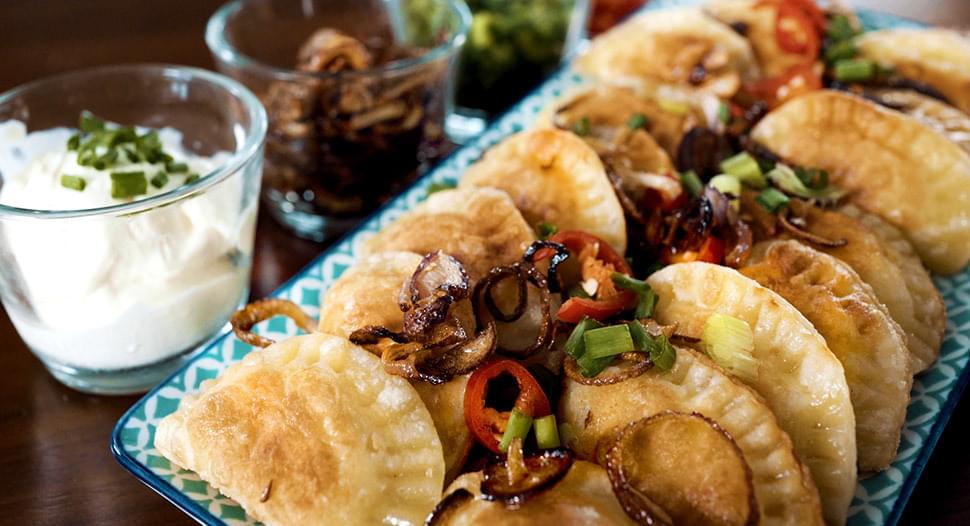 Pierogi with Potato Fillings
Ingredients
Dough

Plain Flour

2 cups

Greek Yoghurt

1⁄2 cup

Egg

1

Butter (Room Temperature)

1⁄4 cup

Salt

1⁄2 tsp
Fillings

Potato

1

Greek Yoghurt

2 tbsp

Shredded Cheese

1 cup

Salt and Black Pepper (To Taste)

Toppings

Spring Onions

2

Shallots

2

Canola Oil

2 tbsp

Red Chillies or Chilli Padi

2

Light Sour Cream (To Serve)
How to cook
Step 1
Mix the flour, salt and egg. Continue mixing with butter and yoghurt until the dough becomes a slightly rough, sticky ball.
Step 2
Knead and fold the dough without adding flour until it is less sticky, yet retains some moisture.
Step 3
Cover in cling wrap and refrigerate for 30 mins.
Step 4
Boil the skinned and cubed potato until soft. Mash cheese and yoghurt into the potato, then season with salt and black pepper.
Step 5
Roll and flatten the dough into thin sheets, then use a 5cm wide and round cutter to cut into circles.
Step 6
Place 1 ½ teaspoons of the filling on each dough circle. Gently fold over to pinch before sealing with a fork.
Step 7
Boil the pierogi. Remove from the water once it floats to the surface, then pat dry and pan fry until golden brown.
Step 8
Slice the shallots thinly and fry them in some canola oil.
Step 9
Garnish with fried shallots, red chillies and spring onions. Serve with some light sour cream on the side!