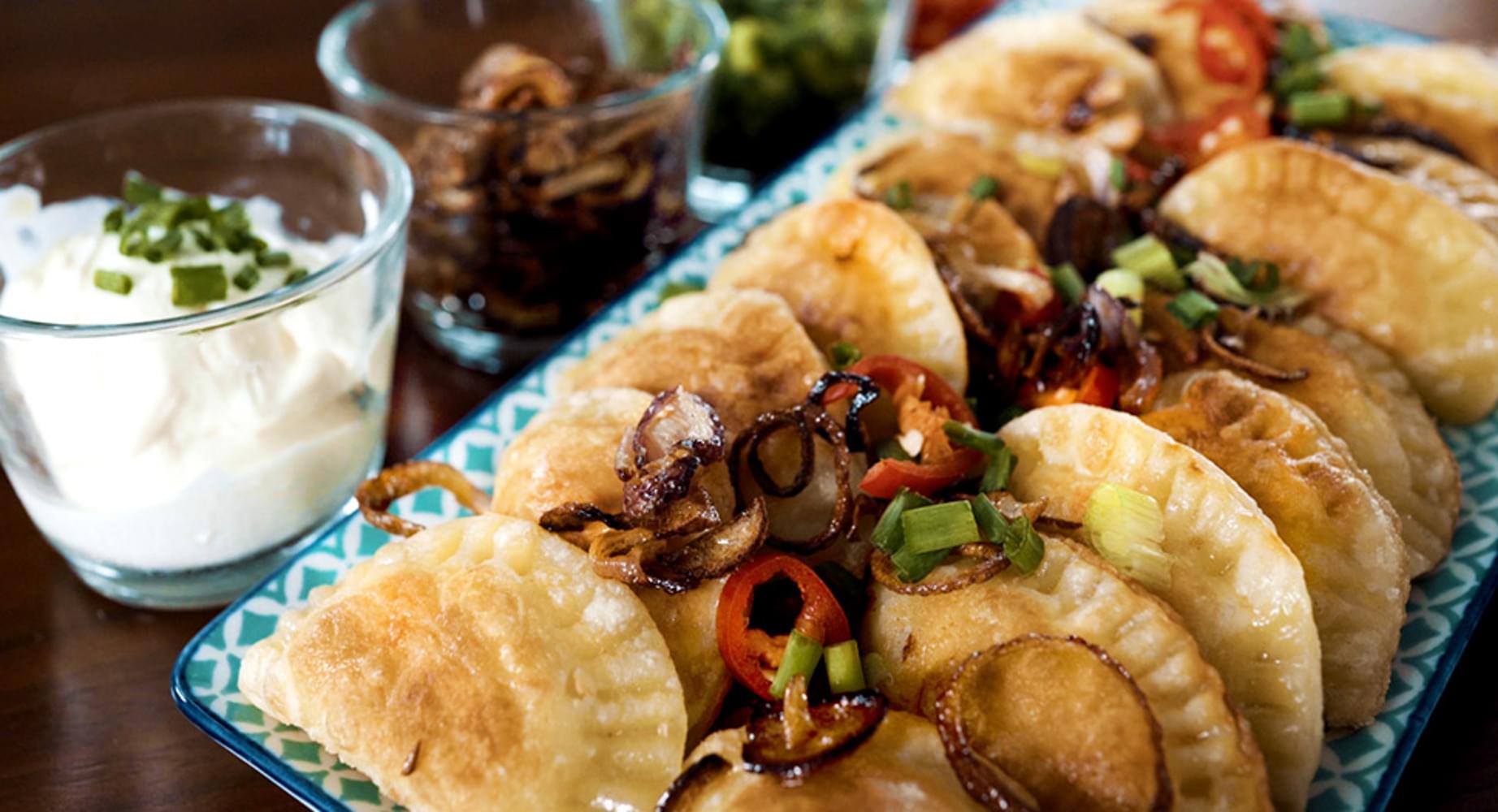 Pierogi with Potato Fillings
Ingredients
Cooking Oil

2 tbsp

For Dough

Plain Flour

2 cups

Greek Yoghurt

1⁄2 cup

Egg

1

Butter

room temperature

1⁄4 cup

Salt

1⁄2 tsp
For Fillings

Potato

1

Greek Yogurt

2 tbsp

Shredded Cheese

1 cup

Salt

to taste

Black Pepper

to taste

For Toppings

Spring Onions

chopped

2

Shallots

fried

2

Red Chillies

sliced

2

Light Sour Cream

to serve
How to cook
Prepare dough
Mix the flour, salt and egg. Continue mixing with butter and yogurt until the dough becomes a slightly rough, sticky ball.
Knead and fold the dough without adding flour until it is less sticky, yet retains some moisture.
Cover in cling wrap and refrigerate for 30 mins.
Prepare filling
Boil the skinned and cubed potato until soft. Mash cheese and yogurt into the potato, then season with salt and black pepper.
Fried shallots
Slice the shallots thinly and fry them in some canola oil. Set aside.
Start cooking
Roll and flatten the dough into thin sheets, then use a 5cm wide and round cutter to cut into circles.
Place 1 ½ teaspoon of the filling on each dough circle.
Gently fold over to pinch before sealing with a fork.
Boil the pierogi. Remove from the water once it floats to the surface, then pat dry and pan fry until golden brown.
Garnish with fried shallots, red chillies and spring onions.
Serve with some light sour cream on the side!
Tried this recipe? Rate it!