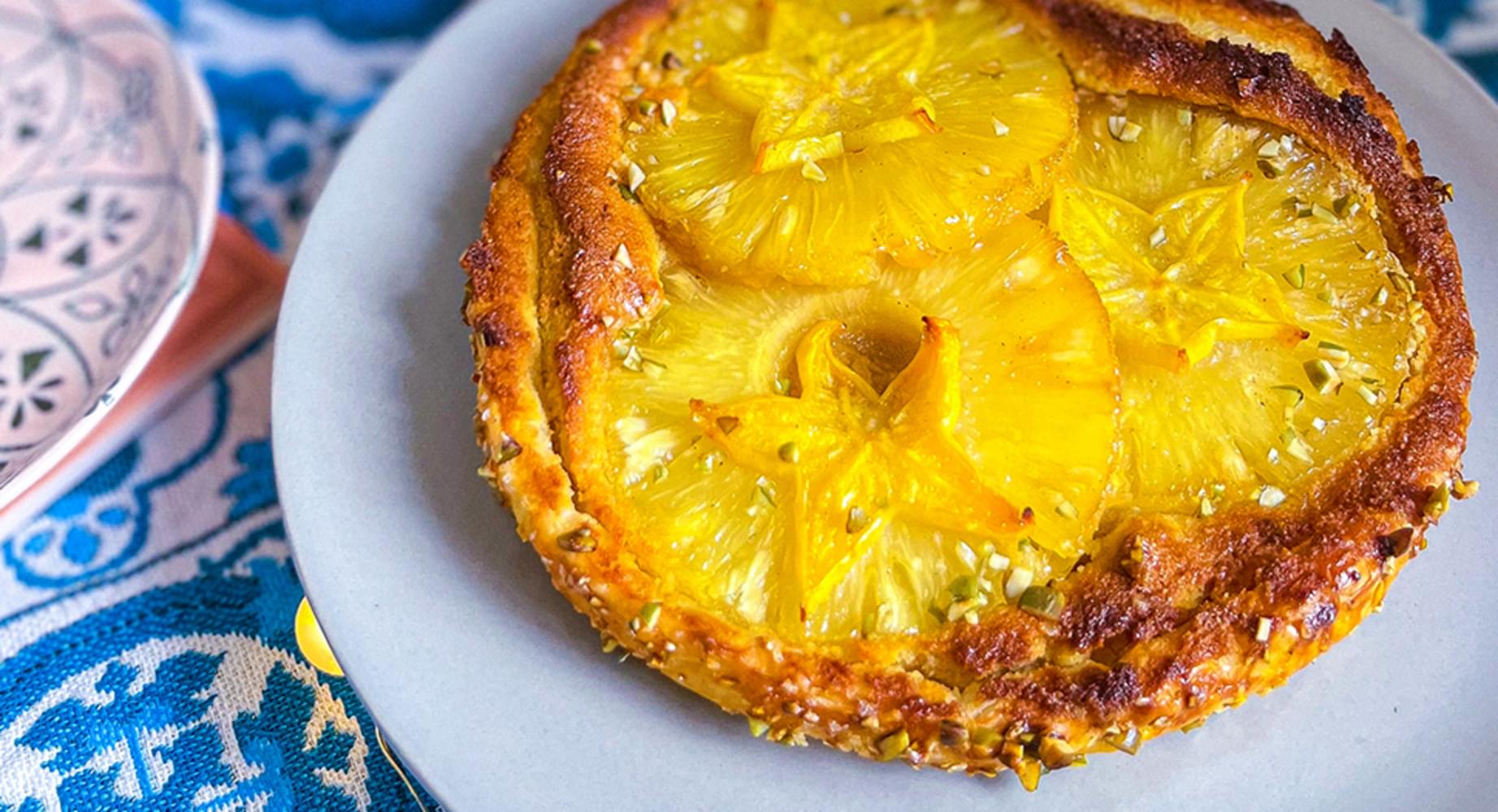 Pineapple and Starfruit Prata Galette
Ingredients
Roti Prata

3 slices

Egg

beaten, for glazing

1

Sugar

for sprinkling

2 tbsp

For Frangipane Filling

Butter

softened

50 g

Light Brown Sugar

50 g

Egg

1

Ground Almonds

100 g

Corn Flour

1 tbsp

Vanilla Essence

1 tsp

Lemon

juice

1⁄2

Pineapple Slices

drained with the syrup reserved

1 can

Starfruit

1

Icing Sugar

3 tbsp
How to cook
Prepare prata sheets
Dust some flour on the baking paper and lay the Prata sheet.
Dock it with a fork.
Prepare pumpkin seeds & sugar
Chop the pumpkin seeds.
And mix it with sugar and set it aside.
Prepare frangipane filling
Beat the butter and sugar together until it becomes pale and fluffy.
Add the egg and whisk again, then fold in the ground almonds to make a paste.
Prepare starfruit & pineapple
Cut the starfruit if you're using it into thin slices and remove the seeds.
Put lemon juice, icing sugar & corn flour in a bowl. Combine well.
Add in starfruit, pineapple slices and grated nutmeg. Mix well.
The corn flour should be fully dissolved and the fruits thoroughly coated in the mixture.
Galette assembly
Smooth the frangipane filling over the middle of the pastry with a spatula, leaving a 3cm border around the edges.
Arrange the fruits over the top in a circular pattern.
Fold in the edges of the Prata pastry to overlap with the fruits slightly.
Brush with the beaten egg.
Sprinkle the edges with sugar & pumpkin seeds.
Bake at 180°C for 30-40 mins until the pastry turns a golden colour.
Remove from the oven to cool down slightly at room temperature.
Heat the reserved syrup from the canned pineapple slices in the microwave for a few seconds, or in a small pan until warm and runny.
Glaze with warm reserved syrup. Cut a slice & enjoy!
Tried this recipe? Rate it!