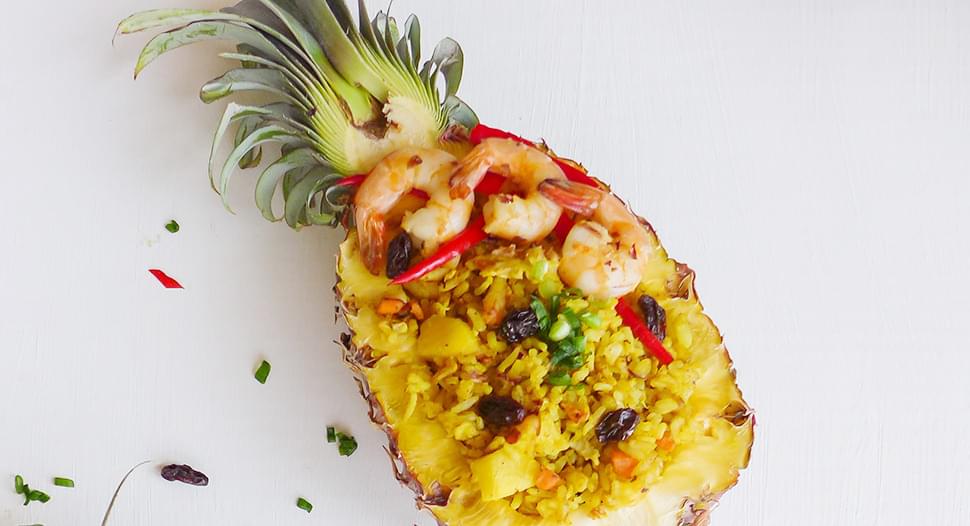 Pineapple Fried Rice
Ingredients
Shrimp (4 whole, 4 chopped)

8

Egg

1

FairPrice Thai Hom Mali Superior Rice

1 1⁄2 cups

Onions (Diced)

1⁄4 cup

Carrots (Diced)

1⁄4 cup

Soy Sauce

1 tbsp

Fish Sauce

1 tsp

FairPrice Pure Cane Sugar

1 tsp

Salt

1⁄4 tsp

Curry Powder

1 tsp

White Pepper

1⁄4 tsp

Cut Pineapple

1⁄2 cup

Raisins

2 tbsp

Unsalted Cashew

1⁄2 cup

Green Onions (Chopped)

2 stalks

Tomatoes (Diced)

1⁄2 cup
Optional

Cucumber Slices
How to cook
Step 1
Cook the rice in water and salt until the rice is soft and fluffy. Then stir to loosen it and keep for later.
Step 2
In a separate well-oiled wok, sear the shrimps until done and set aside.
Step 3
In the same wok, cook the eggs and scramble it slightly. When the eggs are half-cooked, toss in the rice, diced onions and diced carrots.
Step 4
Add curry powder, white pepper, sugar, salt, soy and fish sauce and mix well with the rice.
Step 5
Adding the cut pineapple, raisins, cashew and chopped shrimps, toss the dish until the pineapples start to darken slightly and the rice is dry.
Step 6
Lastly, turn off the heat and mix in the tomatoes and green onions.
Step 7
Top the dish off with the whole shrimps and cucumber slices and there you have it!