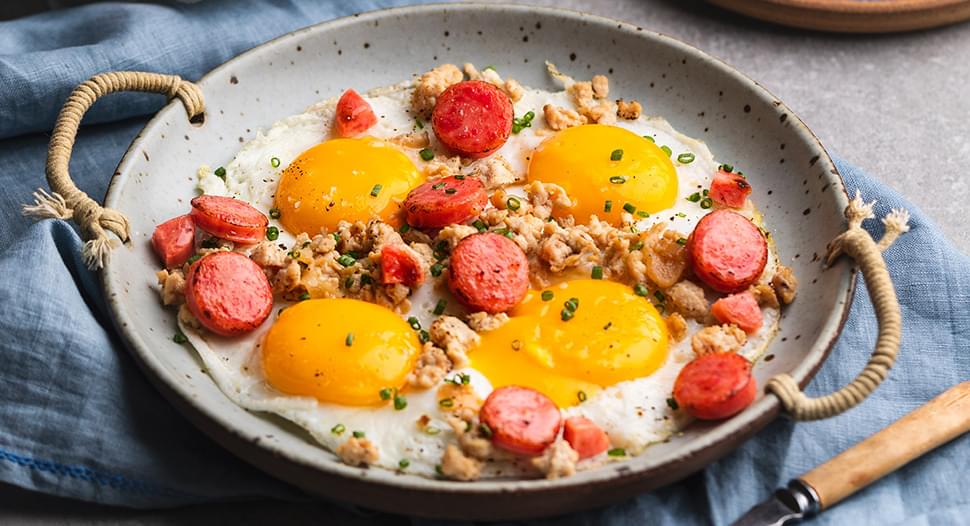 Quick Thai Breakfast Pan Eggs
Ingredients
Eggs

4

Chinese sausage, sliced

1

Minced Chicken

60 g

Garlic Clove, sliced thinly

1

Soy Sauce or Fish Sauce

1 tbsp

Salt & pepper

to taste

Garnish (optional)

Spring Onion, chopped

Bread
How to cook
Step 1
Season minced chicken with soy sauce, salt and pepper to taste.
Step 2
Fry with sliced garlic in a pan over medium heat for 2-3mins until cooked. Stir constantly to break up any lumps and set aside in a bowl for later.
Step 3
Fry the Chinese sausage slices for about 2 mins until lightly brown on both sides. Set aside. Use the same oil to flavour and cook the eggs.
Step 4
Fry the eggs in the same pan over medium-low heat. Cover with a lid (or some aluminum foil) and cook for about 3 mins or until the egg yolks are still slightly runny or to your own liking.
Step 5
Remove the pan from heat.
Step 6
Top your eggs with lots of pepper, minced meat and Chinese sausage. Garnish with some chopped spring onions. Best to enjoy it with warm bread!