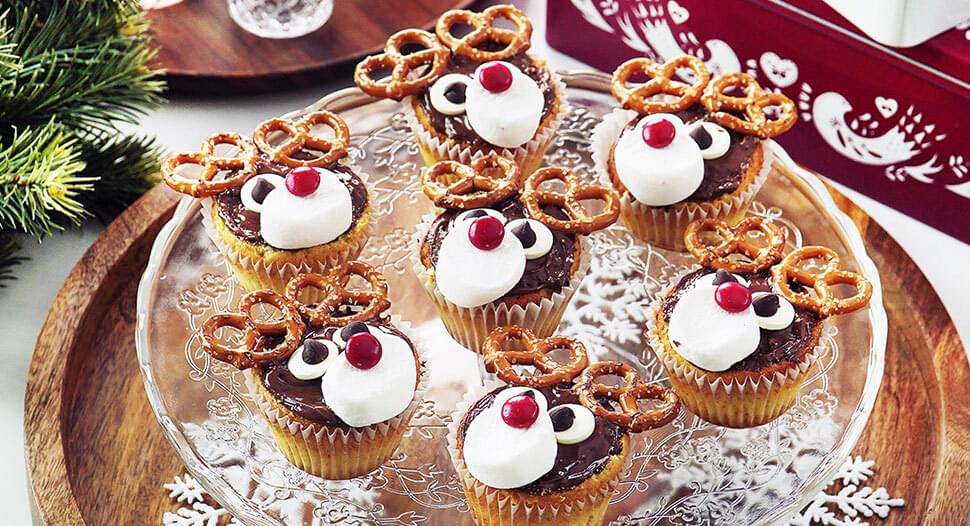 Rudolph Butter Cupcakes
Ingredients
| | |
| --- | --- |
| SCS unsalted butter (soften) | 1⁄2 |
| Plain flour | 170 g |
| Baking powder | 2 tsp |
| Salt | 1⁄2 tsp |
| Caster sugar | 200 g |
| Eggs | 2 |
| Vanilla extract | 2 tsp |
| Full fat sour cream | 120 g |
| Dried cranberries | 1⁄2 cup |
| Pretzels | 24 |
| Red M&M | 1⁄2 cup |
| Chocolate chips | 1⁄2 cup |
| Round milk candy | 1 pack |
| Nutella chocolate spread | 1 cup |
| Marshmallows (each cut into half) | 6 |
How to cook
Step 1
In a mixer, beat butter and caster sugar until pale white.
Step 2
Mix in one egg at a time, followed by vanilla extract and full fat sour cream.
Step 3
Mix plain flour, baking powder and salt in a bowl. Slow mix in the flour mixture into the batter.
Step 4
Mix in dried cranberries evenly into the batter.
Step 5
Divide batter among 12 cupcake liners in a cupcake baking tray.
Step 6
Bake in 180°C for 18 to 20 minutes. Remove cupcakes from oven and set aside to cool down complete.
Step 7
Trim and flatten the top of the cupcakes. Spread the top with Nutella chocolate spread.
Step 8
Using the milk candy topped with chocolate chips to form the eyes, marshmallows along with red M&M to form the nose and face.
Step 9
Lastly use a pair of pretzels to form the Rudolph ears.