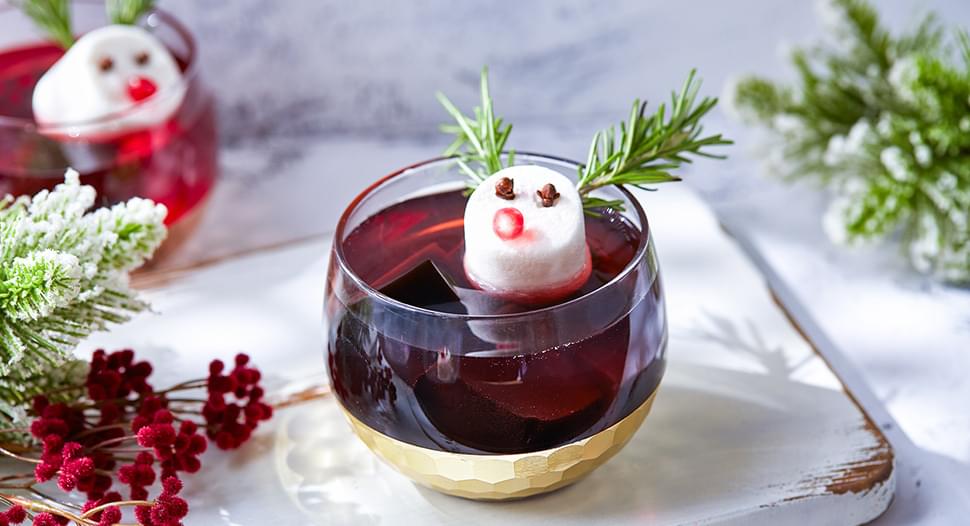 Rudolph's Gin-gle
Ingredients
| | |
| --- | --- |
| Tanqueray London Dry Gin | 28 g |
| Ice cubes | 1 cup |
| Big grass jelly cubes | 6 |
| Pomegranate juice | 1⁄2 cup |
| Champagne | 1⁄2 cup |
| Fresh Rosemary | 4 sprigs |
| Toothpicks | 2 |
| Marshmallows | 2 |
| Pomegranate seeds | 2 g |
| Cloves | 4 |
How to cook
Step 1
Pour ice cubes into a glass to chill it. Remove once chilled.
Step 2
Cut grass jelly into approximately 3cm x 3cm cube.
Step 3
Add grass jelly followed by gin, pomegranate juice and champagne.
Step 4
Insert 2 rosemary stalks into each marshmallow to create antlers.
Step 5
Break a toothpick into half. Insert into the front of the marshmallow and attach the pomegranate for the nose.
Step 6
Place 2 cloves between the nose and antlers to form the eyes.