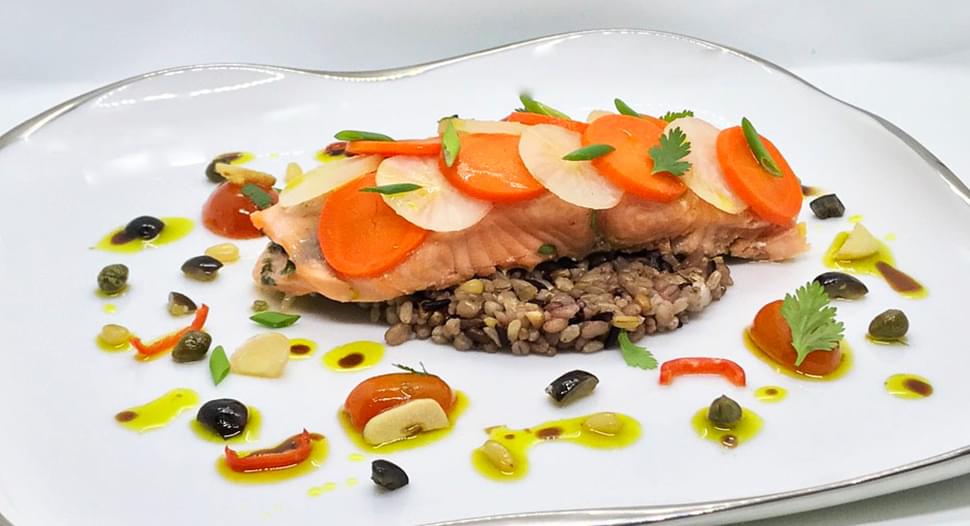 Salmon Fillet "Comme A La Maison"
Ingredients
| | |
| --- | --- |
| Salmon Fillet, around 125g, boneless and skinless | 4 |
| Basil, washed and chopped | 20 g |
| Coriander, washed and chopped | 20 g |
| Salt to taste | |
| Black Pepper to taste | |
| Olive Oil | 30 ml |
| Ginger (4cm), peeled and diced | 1 piece |
| Garlic, peeled and diced | 6 cloves |
| Shallot, peeled and diced | 3 |
| Red Chilli, skin and seeds removed | 1 |
| punnet Cherry Tomato, washed and cut into half | 1 bunch |
| Large Carrot, peeled | 1 |
| Small Daikon, peeled | 1 |
| Capers | 1 tbsp |
| Pine Nuts | 1 tbsp |
| Black Olive | 1 tbsp |
| Columbia Winery Chardonnay, optional | 300 ml |
| Foodpeople 16 Multigrain Rice, washed | 300 g |
| Terrecreta Organic Greek Extra Virgin Olive Oil/Grove Avocado Oil | 20 ml |
How to cook
Step 1
Wash the fresh herbs, basil and coriander. Finely slice the fresh herbs.
Step 2
Butterfly the salmon by slicing it in half. Stuff with basil and coriander. Season to taste with salt and pepper.
Step 3
In a pot, bring 1L salted water to boil. Add half the ginger and half the garlic.
Step 4
Add in the whole carrot and daikon. Allow to simmer for 20 minutes.
Step 5
Strain. Reserve the water, daikon and carrot. We will use the water to cook the multi grain rice later.
Step 6
Slice the carrot and daikon at 5mm thickness. Extract little discs with a ring cutter.
Step 7
Place the little discs on top of the salmon, alternating the colours to make a pattern. Set aside.
Step 8
Heat the olive oil in a pan. Fry the remaining garlic, ginger and shallot until fragrant.
Step 9
Add chilli, capers, pine nuts and olive. Deglaze with white wine (or replace with carrot/daikon water). Reduce heat by half. Add tomato.
Step 10
Transfer content to a baking dish to double boil. Place the salmon on top of the cooked mixture. Cover with a cling film and double boil for 8 min.
Step 11
Remove from double boiler. Allow to rest for 1 minute and remove cling film.
Step 12
In a rice cooker, cook the multi grain rice in the carrot stock (450ml) for 15 minutes. Fluff and serve on the side.
Step 13
Drizzle with extra olive oil.