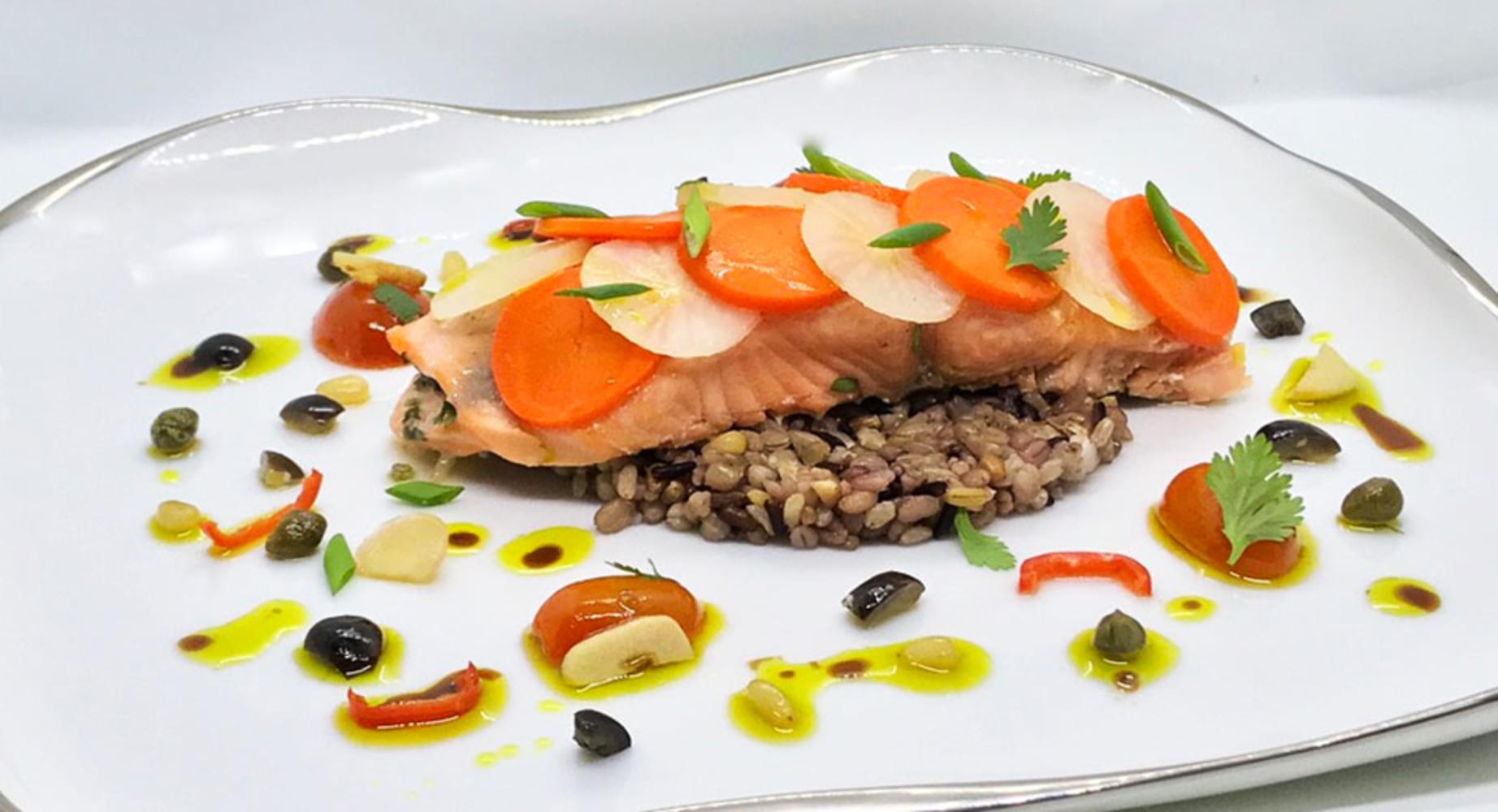 Salmon Fillet "Comme A La Maison"
Ingredients
Salmon Fillet

around 125g, boneless and skinless

4

Multigrain Rice

washed

300 g

Chardonnay

or replace with carrot or daikon water

300 ml

Basil

washed and chopped

20 g

Coriander

washed and chopped

20 g

Cherry Tomato

washed and cut into half

1 bunch

Garlic

peeled and diced

6 cloves

Shallot

peeled and diced

3

Ginger

4cm, peeled and diced

1 piece

Red Chilli

skin and seeds removed

1

Carrot

large sized, peeled

1

Daikon

small sized, peeled

1

Capers

1 tbsp

Pine Nuts

1 tbsp

Black Olive

1 tbsp

Olive Oil

30 ml

Extra Virgin Olive Oil

or avocado oil, for garnish

20 ml

Salt

to taste

Black Pepper

to taste
How to cook
Marinate the salmon
Butterfly the salmon by slicing it in half.
Stuff the salmon with basil and coriander.
Season to taste with salt and pepper.
Prepare the vegetables
In a pot, bring 1L of salted water to boil, then add half the ginger and half the garlic.
Add in the whole carrot and daikon then simmer for 20 minutes.
Strain and reserve the water, daikon and carrot.
Slice the carrot and daikon at 5mm thickness, extract little discs with a ring cutter.
Place the little discs on top of the salmon, alternating the colours to make a pattern then set aside.
Prepare the rice
Use the reserved water (about 450ml) to cook the multigrain rice for 15 minutes.
Start cooking
Heat the olive oil in a pan and fry the remaining garlic, ginger and shallot until fragrant.
Add chilli, capers, pine nuts and olives.
Deglaze with white wine (or carrot or daikon water) then reduce heat by half and add in the tomatoes.
Transfer the cooked mixture to a baking dish to double boil.
Place the salmon on top of the cooked mixture, cover with a cling film and double boil for 8 minutes.
Remove from double boiler, let it rest for 1 minute then remove the cling film.
Fluff the cooked rice and serve on the side.
Drizzle with extra olive oil.
Tried this recipe? Rate it!