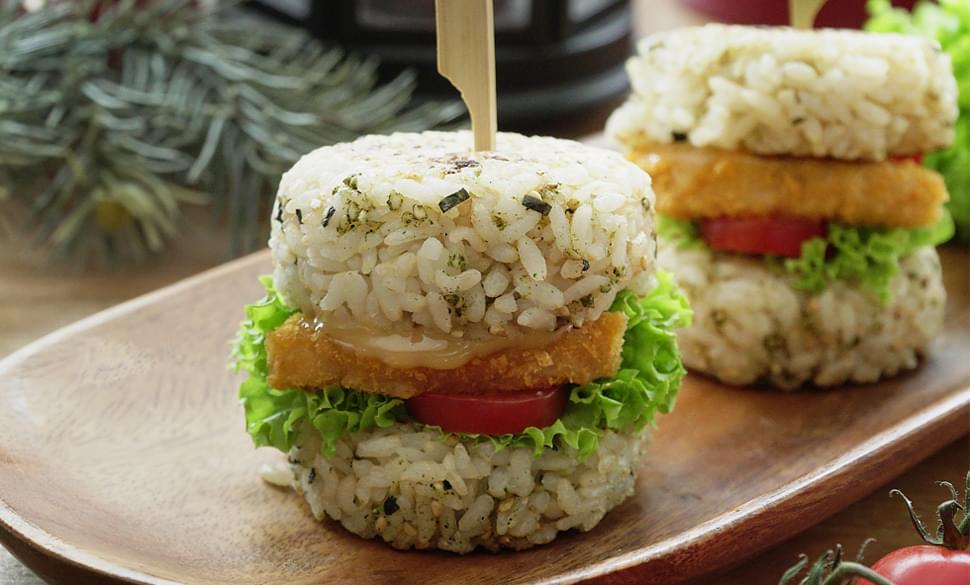 Santa's Little Sliders
Ingredients
Farmpride Chicken Burger Patty

2

Rice

250 g

Water

(adjust to the rice packaging details)

375 ml

Sesame Oil

1 tbsp

Toasted Black Sesame Seeds

1 tbsp

Toasted White Sesame Seeds

1 tbsp

Seaweed Flakes

1 tbsp

Leaves of Green Carol Lettuce

4

Slices of Cherry Tomatoes

Japanese Mayo

1⁄2 cup

Honey (Adjust to taste)

3 tbsp

Light Soy Sauce

1 tbsp
How to cook
Step 1
Cook rice according to instructions on packaging.
Step 2
Mix in sesame oil, sesame seeds and seaweed flakes
Step 3
Place a 5cm ring mold on a cling wrap. Divide rice into 16 portions.
Step 4
Mold and compress rice in the ring mold. Repeat to produce all the rice burgers. Chill in the fridge until ready to cook.
Step 5
Sear both sides of the rice burger until crisp.
Step 6
For honey soy mayo, in a bowl mix: Japanese mayo, honey and soy.
Step 7
Deep-fry or air-fry Farmpride Chicken Burger Patty until golden brown. Cut into quarters.
Step 8
Layer sliders with rice burger, carol lettuce, cherry tomatoes, chicken burger patty, honey soy mayo and another rice burger. Repeat for the rest.