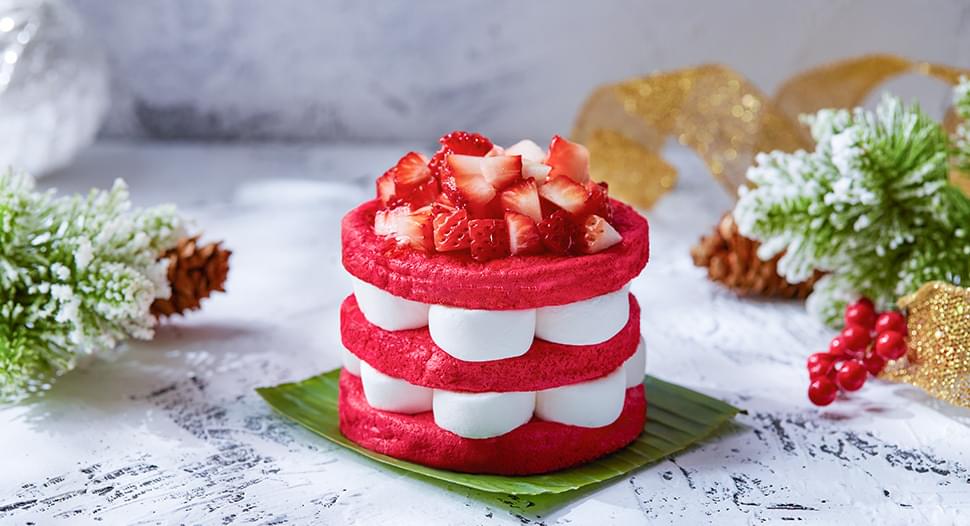 Santa's Tower
Ingredients
Honey

Capilano Pure Honey

50 ml

Egg whites

5

Lemon juice

2 tbsp

Egg yolks

4

Fresh milk

50 ml

Oil

40 ml

Flour

60 g

Red food colouring

3 tbsp

White marshmallows

7

Banana leaf

1

Strawberries

cubed

4

Honey

1 tbsp
How to cook
Step 1
Add the egg whites, honey and lemon juice in a bowl. With a mixer, beat until the mixture turns white and forms a firm peak, creating the meringue.
Step 2
Combine the egg yolks, milk and oil in a bowl and whisk to form the cake batter.
Step 3
Add flour and continue whisking till all the ingredients are incorporated.
Step 4
Add red food colouring to achieve the colour desired.
Step 5
Combine the meringue and cake batter together.
Step 6
Place the baking paper in a circular, 12cm baking tin.
Step 7
Spread the cake mix onto each baking tin.
Step 8
Bake for 25 minutes at 150°C.
Step 9
Cut a banana leaf into a square to make the Ang Ku Kueh leaf. Place the cake on the banana leaf.
Step 10
Place the marshmallows across the cake. Stack another layer of red cake on top of the marshmallow layer. Repeat this to get the layers desired.
Step 11
Top the cake with strawberry cubes and drizzle honey over the cake.