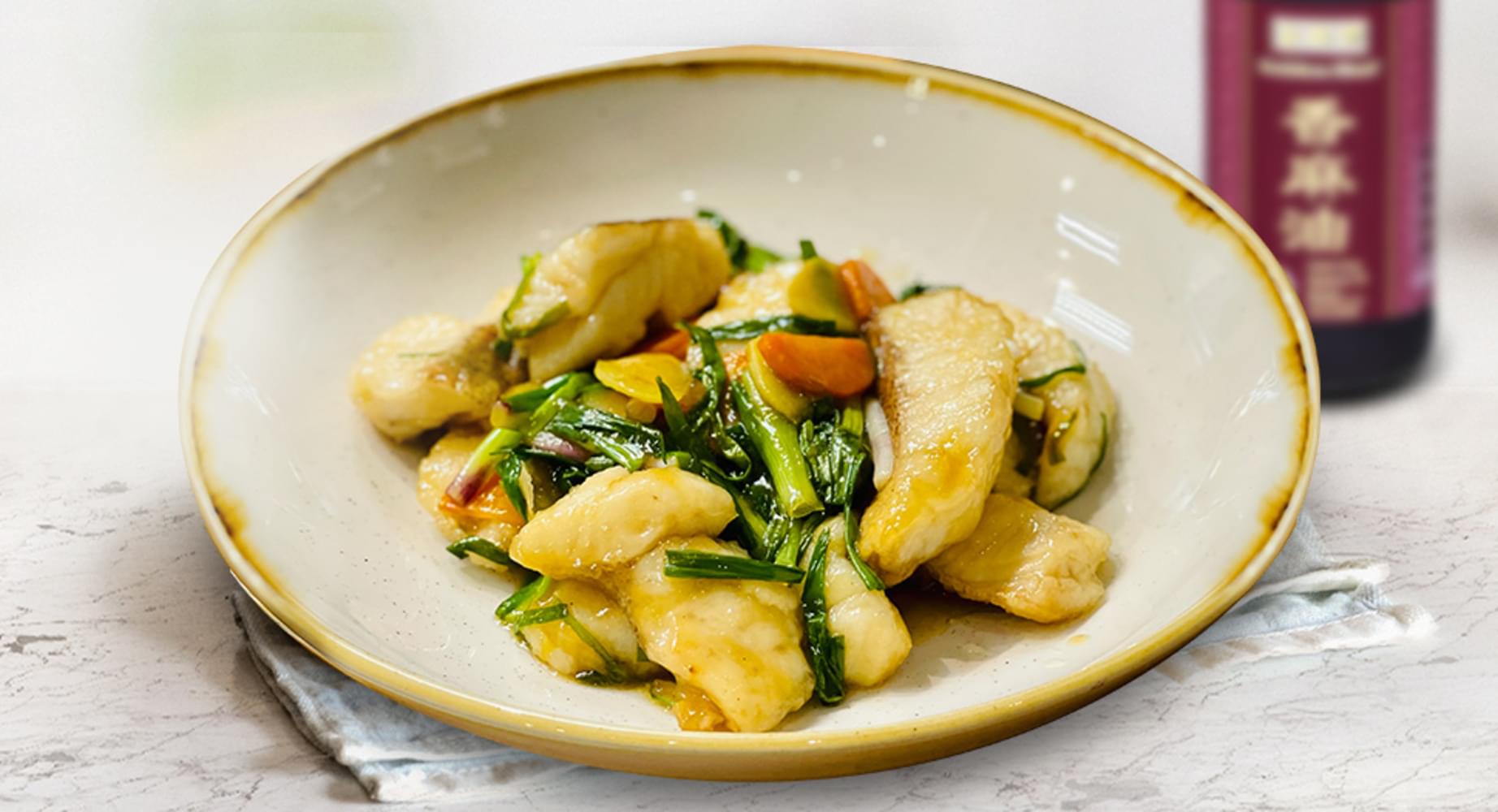 Stir-Fried Spring Onion Ginger Fish with Fragrant Sesame Oil
Ingredients
Grouper Fillet, sliced

300 g

Peeled Carrots, diced

10 g

Fresh Young Ginger, sliced

10 g

Spring Onions, cut into 5cm

50 g

Cooking Oil

Fine Salt

1⁄2 tsp

Fine Sugar

1⁄2 tsp

Corn Starch

Corn Flour

2 tsp

Chicken Powder

optional

1 g

Golden Chef 100% Pure Sesame Oil

1 tbsp

Golden Chef Abalone Sauce

2 tsp

Fine Salt

1⁄2 tsp

Fine Sugar

1 tsp

Water/Chicken Stock

1⁄4 cup

Hua Tiao Chiew

2 tsp

Chicken Powder

1 g

Corn Starch

(½ tsp potato flour + 1 tsp water)
How to cook
Step 1
Rinse and clean fish fillet. Pat dry and slice it into 2cm thickness, set aside.
Step 2
Mix the ingredients for seasoning sauce and set aside.
Step 3
In another bowl, add the sliced fish and ingredients needed for seasoning it. Mix evenly and set aside.
Step 4
Heat up oil in wok over medium-high heat. Add the seasoned sliced fish and blanch for 1 min. Drain and set aside.
Step 5
Using the same wok, stir-fry ginger with sesame oil and add carrots and spring onions.
Step 6
Add the seasoning sauce, cooked sliced fish, corn starch and sesame oil. Continue to stir evenly over high heat.