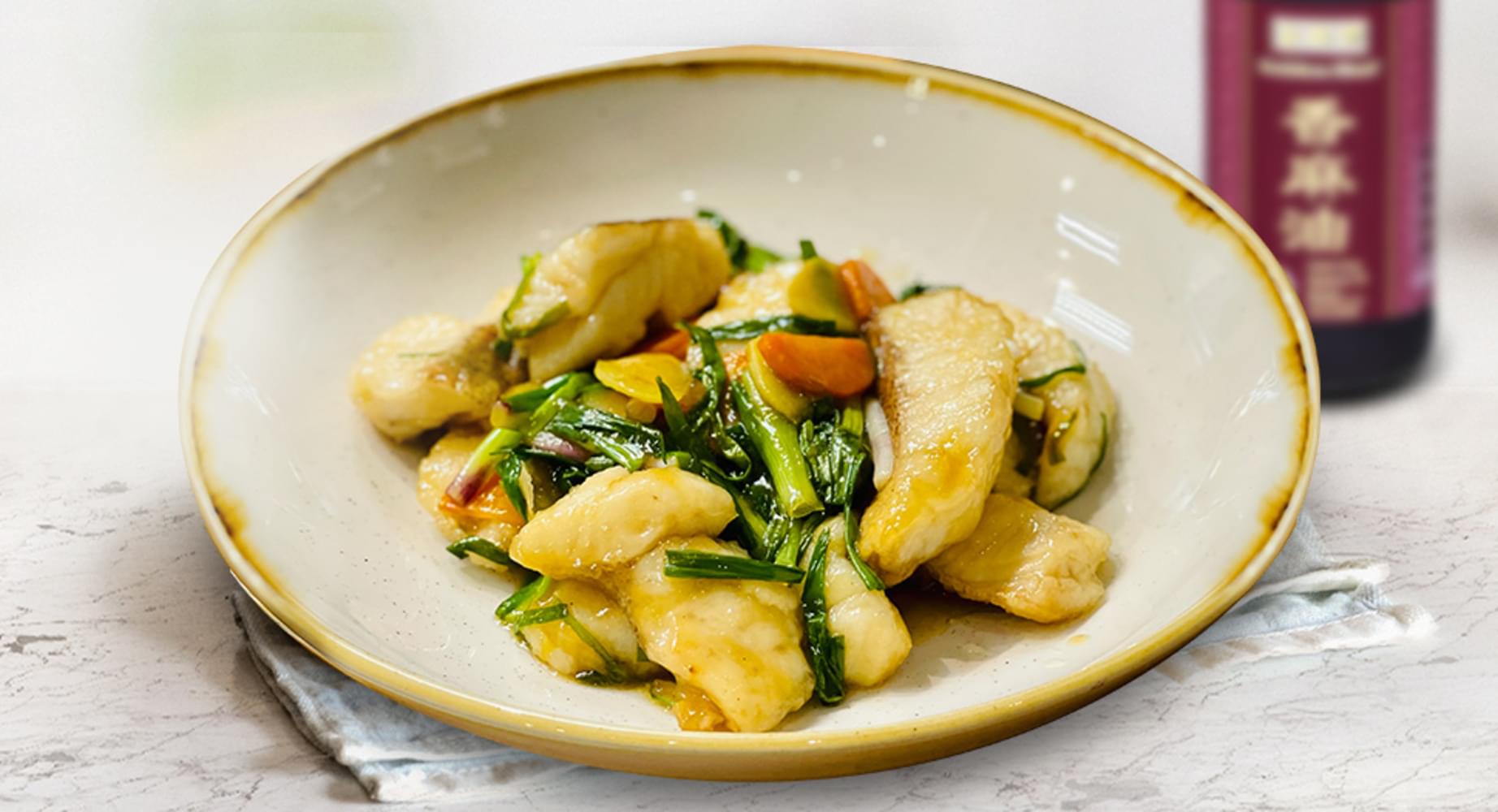 Stir-Fried Spring Onion Ginger Fish with Fragrant Sesame Oil
Ingredients
Grouper Fillet

sliced

300 g

Spring Onions

cut into 5cm

50 g

Carrots

peeled and diced

10 g

Fresh Young Ginger

sliced

10 g

Cooking Oil

Fish Marinade

Corn Starch

Corn Flour

2 tsp

Chicken Powder

optional

1 g

Fine Sugar

1⁄2 tsp

Fine Salt

1⁄2 tsp
Seasoning Sauce

Chicken Stock

or water

1⁄4 cup

Sesame Oil

1 tbsp

Abalone Sauce

2 tsp

Hua Tiao Chiew

2 tsp

Potato Starch Slurry

½ teaspoon of potato flour and 1 teaspoon of water

1⁄2 tsp

Chicken Powder

1 g

Fine Sugar

1 tsp

Fine Salt

1⁄2 tsp
How to cook
Marinate the fish
Rinse and clean the fish fillet then pat dry and slice it into 2cm thickness.
Add salt, sugar, corn starch, corn flour and chicken powder.
Mix evenly and set aside.
Prepare the seasoning sauce
Mix the sesame oil, abalone sauce, chicken stock, Hua Tiao Chiew, potato starch slurry, chicken powder, salt and sugar then set aside.
Start cooking
Heat up oil in wok over medium-high heat.
Add the seasoned sliced fish and blanch for 1 minute then drain and set aside.
Using the same wok, stir-fry ginger with sesame oil then add in the carrots and spring onions.
Add the seasoning sauce, cooked sliced fish, corn starch and sesame oil then continue to stir evenly over high heat.
Ready to serve.
Tried this recipe? Rate it!