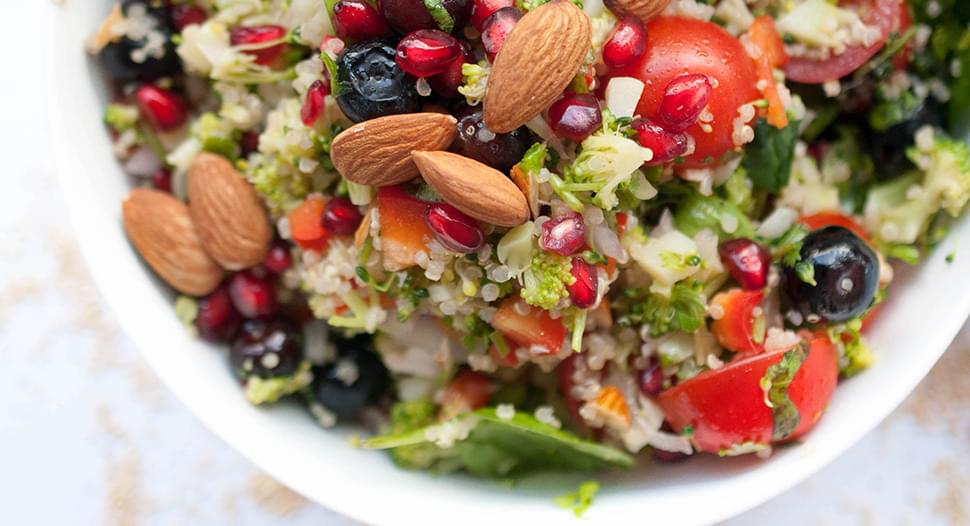 Superfood Quinoa Salad
Ingredients
| | |
| --- | --- |
| White Quinoa | 1⁄2 cup |
| Broccoli | 1 packet |
| Cherry Tomatoes | 20 |
| Spinach Leaves | 1 cup |
| Red Onion | 1⁄2 |
| Pomegranate | 1⁄2 cup |
| Raw Almonds | 1⁄2 cup |
| Chopped Flat Leaf Parsley | 1⁄4 cup |
| Red Bell Pepper | 1 |
| Lemon (Juiced) | 1 |
| Olive Oil | 2 tbsp |
| Sea Salt and Cracked Pepper | 1 pinch |
How to cook
Prepare the quinoa
Place quinoa in a medium sauce pan with 1 cup of water, bring water to boil, reduce to low heat, cover and simmer for 15-20 minutes until most of the liquid has been absorbed.
Add more water if needed. Fluff with a fork and leave covered to cool.
Prepare salad vegetables
Chop the broccoli into small florets and steam lightly over boiling water in a steaming basket for 3-4 minutes. Only partially steam to keep as many good nutrients as possible.
Wash and chop spinach and parsley and add to a large salad bowl.
Add diced red onions, chilies, cherry tomatoes and red bell bell pepper to salad.
Deseed the pomegranate and add the seeds and roughly chopped almonds.
Prepare salad dressing
In a small jar with a lid, add the juice of one lemon, olive oil, salt and pepper and shake well.
Assemble and serve
Add cooked quinoa, broccoli and dressing and toss through the salad.